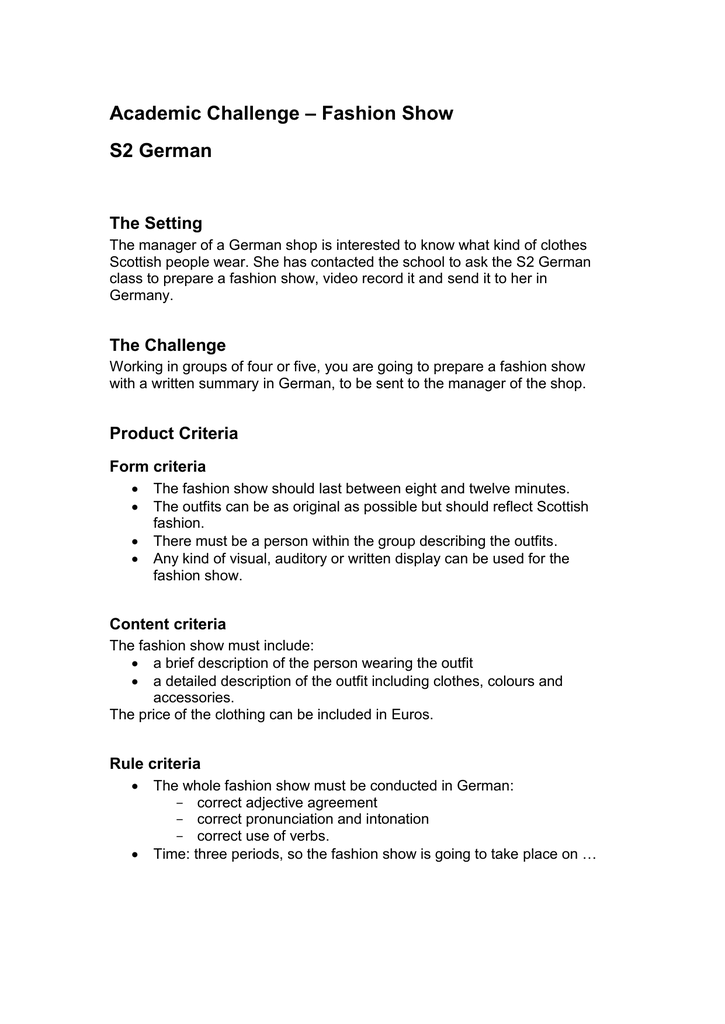 Academic Challenge – Fashion Show
S2 German
The Setting
The manager of a German shop is interested to know what kind of clothes
Scottish people wear. She has contacted the school to ask the S2 German
class to prepare a fashion show, video record it and send it to her in
Germany.
The Challenge
Working in groups of four or five, you are going to prepare a fashion show
with a written summary in German, to be sent to the manager of the shop.
Product Criteria
Form criteria




The fashion show should last between eight and twelve minutes.
The outfits can be as original as possible but should reflect Scottish
fashion.
There must be a person within the group describing the outfits.
Any kind of visual, auditory or written display can be used for the
fashion show.
Content criteria
The fashion show must include:
 a brief description of the person wearing the outfit
 a detailed description of the outfit including clothes, colours and
accessories.
The price of the clothing can be included in Euros.
Rule criteria


The whole fashion show must be conducted in German:
- correct adjective agreement
- correct pronunciation and intonation
- correct use of verbs.
Time: three periods, so the fashion show is going to take place on …
Skills



Co-operative working
Imagination in the outfits, setting, etc
Written and speaking skills
Specific Observable Behaviours
Each student in the group completes a task assigned.
Each student has to value other students' ideas.