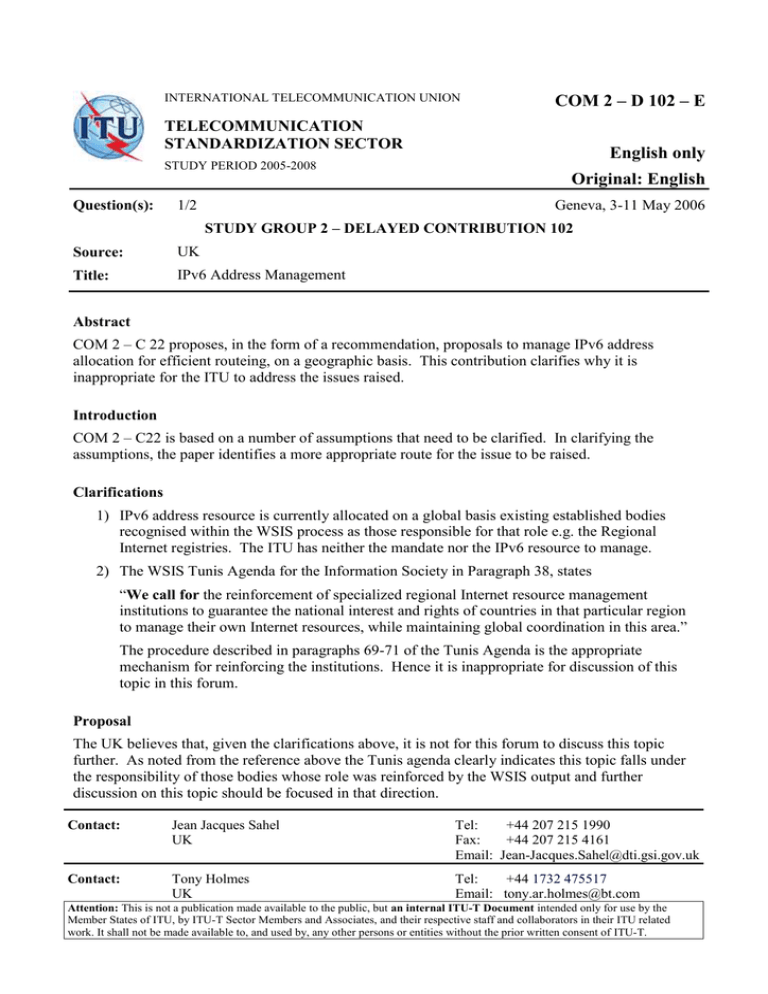 INTERNATIONAL TELECOMMUNICATION UNION
COM 2 – D 102 – E
TELECOMMUNICATION
STANDARDIZATION SECTOR
English only
STUDY PERIOD 2005-2008
Original: English
Question(s):
1/2
Geneva, 3-11 May 2006
STUDY GROUP 2 – DELAYED CONTRIBUTION 102
Source:
UK
Title:
IPv6 Address Management
Abstract
COM 2 – C 22 proposes, in the form of a recommendation, proposals to manage IPv6 address
allocation for efficient routeing, on a geographic basis. This contribution clarifies why it is
inappropriate for the ITU to address the issues raised.
Introduction
COM 2 – C22 is based on a number of assumptions that need to be clarified. In clarifying the
assumptions, the paper identifies a more appropriate route for the issue to be raised.
Clarifications
1) IPv6 address resource is currently allocated on a global basis existing established bodies
recognised within the WSIS process as those responsible for that role e.g. the Regional
Internet registries. The ITU has neither the mandate nor the IPv6 resource to manage.
2) The WSIS Tunis Agenda for the Information Society in Paragraph 38, states
"We call for the reinforcement of specialized regional Internet resource management
institutions to guarantee the national interest and rights of countries in that particular region
to manage their own Internet resources, while maintaining global coordination in this area."
The procedure described in paragraphs 69-71 of the Tunis Agenda is the appropriate
mechanism for reinforcing the institutions. Hence it is inappropriate for discussion of this
topic in this forum.
Proposal
The UK believes that, given the clarifications above, it is not for this forum to discuss this topic
further. As noted from the reference above the Tunis agenda clearly indicates this topic falls under
the responsibility of those bodies whose role was reinforced by the WSIS output and further
discussion on this topic should be focused in that direction.
Contact:
Jean Jacques Sahel
UK
Tel:
+44 207 215 1990
Fax:
+44 207 215 4161
Email: Jean-Jacques.Sahel@dti.gsi.gov.uk
Contact:
Tony Holmes
UK
Tel:
+44 1732 475517
Email: tony.ar.holmes@bt.com
Attention: This is not a publication made available to the public, but an internal ITU-T Document intended only for use by the
Member States of ITU, by ITU-T Sector Members and Associates, and their respective staff and collaborators in their ITU related
work. It shall not be made available to, and used by, any other persons or entities without the prior written consent of ITU-T.