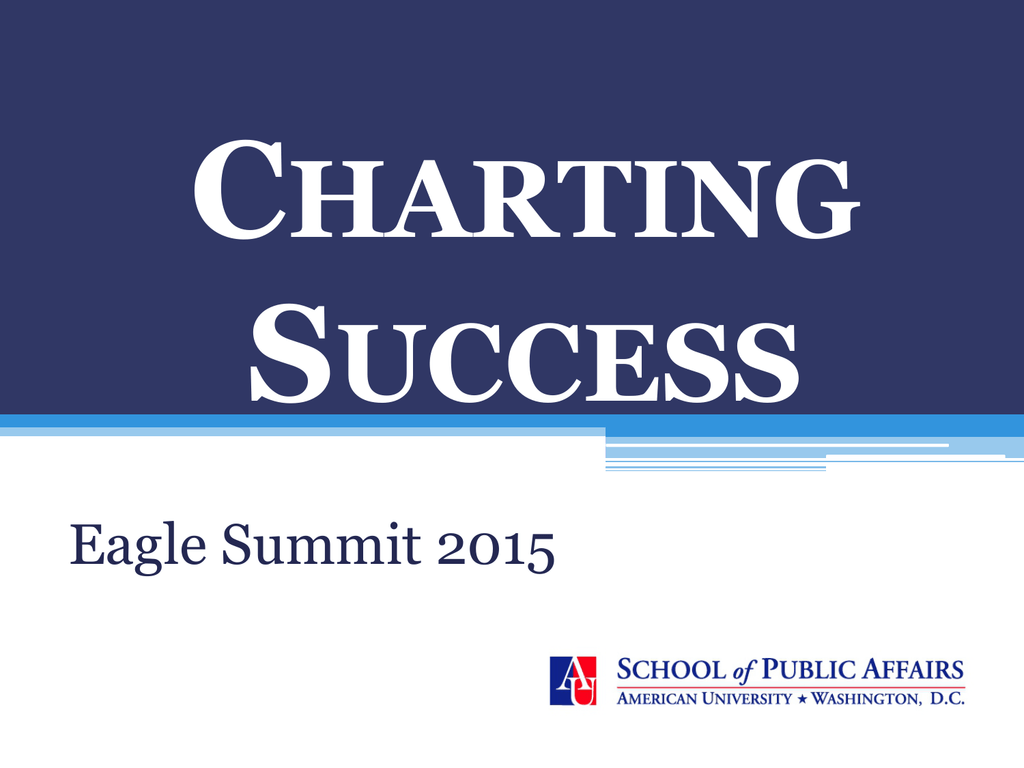 CHARTING
SUCCESS
Eagle Summit 2015
CHARTING YOUR
STUDENT'S SUCCESS
Jessica L. Waters, J.D.
Associate Dean for Undergraduate Education
Justin Williams, M.S.
Undergraduate Recruitment & Retention Manager
PREPPING FOR THE JOURNEY
Registration:
Online Math Placement
Pre-Registration Planner is Submitted
Language Placement Exams (if needed)
Credit by Exam – AP/IB
Eagle Summit – congrats on completing this!
Participate in Welcome Week activities
The First Year
•  Encourage your student to meet with their Academic Counselor & Professors –
should occur every semester
•  Become familiar with the resources (offices) available (use all 4 years)
Academic Support & Access Center (ASAC)
Writing Center
Math & Stats Tutoring Lab
Counseling Center
Dean of Students
•  Encourage exploration of majors & career interests
•  Get Involved!
SPA Academic Welcome – Friday before classes begin
Student Involvement Fair – within the first couple of weeks
The Second Year
•  Officially declare the major with their academic counselor
•  Develop an academic plan that completes all degree requirements needed for
graduation; include major concentrations, double majors, minors
•  Decide about studying abroad (just over 70% of AU students do, about 50% of
SPA students do)
•  Start planning for credit-bearing internships (quality over quantity)
•  Explore undergraduate research opportunities
•  Continue getting involved but think about running for office, applying to be an
RA or OL, joining a fraternity/sorority, etc.
The Third Year
•  Update the academic plan based on any changes
•  Study abroad (if you are planning for this)
•  Complete a credit-bearing internship (quality over quantity)
•  Complete an undergraduate research project – maybe in a group
•  Continue involvement & leadership opportunities
•  Develop a professional network – attend a career fair and/or networking
reception
•  Begin planning for post graduation plans - graduate/law school entrance
exams
The Fourth Year
•  Finalize all academic plans & make sure all requirements will be complete with
academic counselor so that you can apply for graduation
•  Complete a credit-bearing internship (quality over quantity)
•  Complete/present an undergraduate research project– consider individual
project
•  Continue developing your professional network
•  Continue working on post graduation plans – apply for jobs, apply for
graduate/law school, etc.
•  Apply to be the Undergraduate Student Speaker at Commencement
•  GRADUATE!
Parent & Family Checklist
Tuition Insurance
Must submit the application before the first
day of classes
Academic Calendar
Add/Drop, last day to drop a class &
change a grade type, Registration, final
exams, breaks
Academic Integrity Code
Forming your own thoughts & arguments
and citing when you use other sources
Academic Regulations
Degree requirements, Freshman
Forgiveness, Academic Standing,
Interruption of studies
FERPA
We may not be able to give out information,
but we can always take it in. Portal access is
not the same thing.