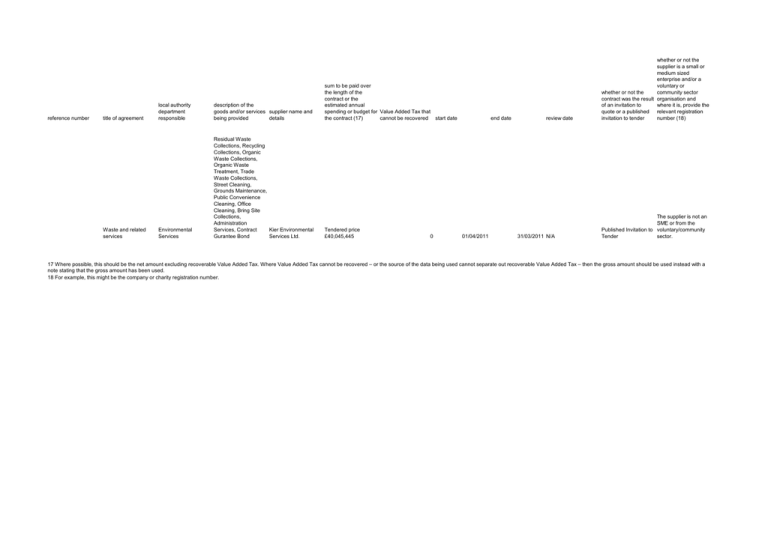 reference number
title of agreement
Waste and related
services
local authority
department
responsible
description of the
goods and/or services supplier name and
being provided
details
Environmental
Services
Residual Waste
Collections, Recycling
Collections, Organic
Waste Collections,
Organic Waste
Treatment, Trade
Waste Collections,
Street Cleaning,
Grounds Maintenance,
Public Convenience
Cleaning, Office
Cleaning, Bring Site
Collections,
Administration
Services, Contract
Kier Environmental
Gurantee Bond
Services Ltd.
sum to be paid over
the length of the
contract or the
estimated annual
spending or budget for Value Added Tax that
the contract (17)
cannot be recovered start date
Tendered price
£40,045,445
0
end date
01/04/2011
review date
31/03/2011 N/A
whether or not the
supplier is a small or
medium sized
enterprise and/or a
voluntary or
whether or not the
community sector
contract was the result organisation and
of an invitation to
where it is, provide the
quote or a published relevant registration
invitation to tender
number (18)
The supplier is not an
SME or from the
Published Invitation to voluntary/community
Tender
sector.
17 Where possible, this should be the net amount excluding recoverable Value Added Tax. Where Value Added Tax cannot be recovered – or the source of the data being used cannot separate out recoverable Value Added Tax – then the gross amount should be used instead with a
note stating that the gross amount has been used.
18 For example, this might be the company or charity registration number.