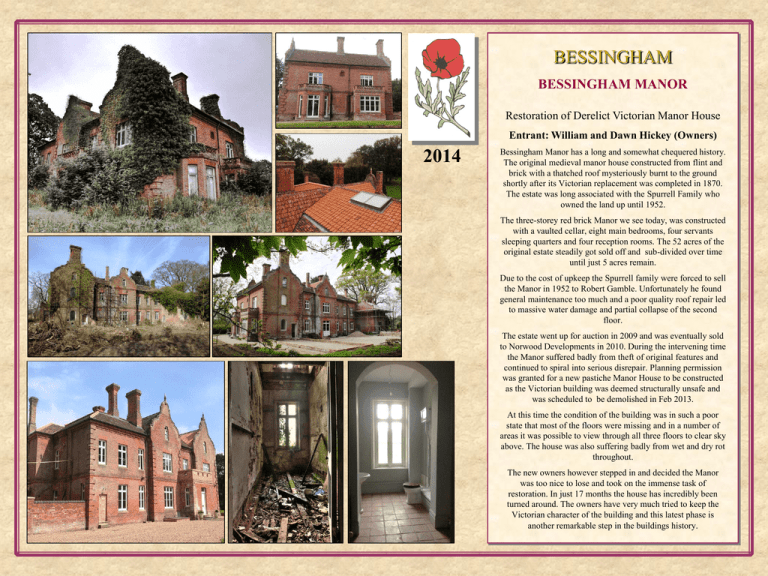 BESSINGHAM
BESSINGHAM MANOR
Restoration of Derelict Victorian Manor House
Entrant: William and Dawn Hickey (Owners)
2014
Bessingham Manor has a long and somewhat chequered history.
The original medieval manor house constructed from flint and
brick with a thatched roof mysteriously burnt to the ground
shortly after its Victorian replacement was completed in 1870.
The estate was long associated with the Spurrell Family who
owned the land up until 1952.
The three-storey red brick Manor we see today, was constructed
with a vaulted cellar, eight main bedrooms, four servants
sleeping quarters and four reception rooms. The 52 acres of the
original estate steadily got sold off and sub-divided over time
until just 5 acres remain.
Due to the cost of upkeep the Spurrell family were forced to sell
the Manor in 1952 to Robert Gamble. Unfortunately he found
general maintenance too much and a poor quality roof repair led
to massive water damage and partial collapse of the second
floor.
The estate went up for auction in 2009 and was eventually sold
to Norwood Developments in 2010. During the intervening time
the Manor suffered badly from theft of original features and
continued to spiral into serious disrepair. Planning permission
was granted for a new pastiche Manor House to be constructed
as the Victorian building was deemed structurally unsafe and
was scheduled to be demolished in Feb 2013.
At this time the condition of the building was in such a poor
state that most of the floors were missing and in a number of
areas it was possible to view through all three floors to clear sky
above. The house was also suffering badly from wet and dry rot
throughout.
The new owners however stepped in and decided the Manor
was too nice to lose and took on the immense task of
restoration. In just 17 months the house has incredibly been
turned around. The owners have very much tried to keep the
Victorian character of the building and this latest phase is
another remarkable step in the buildings history.