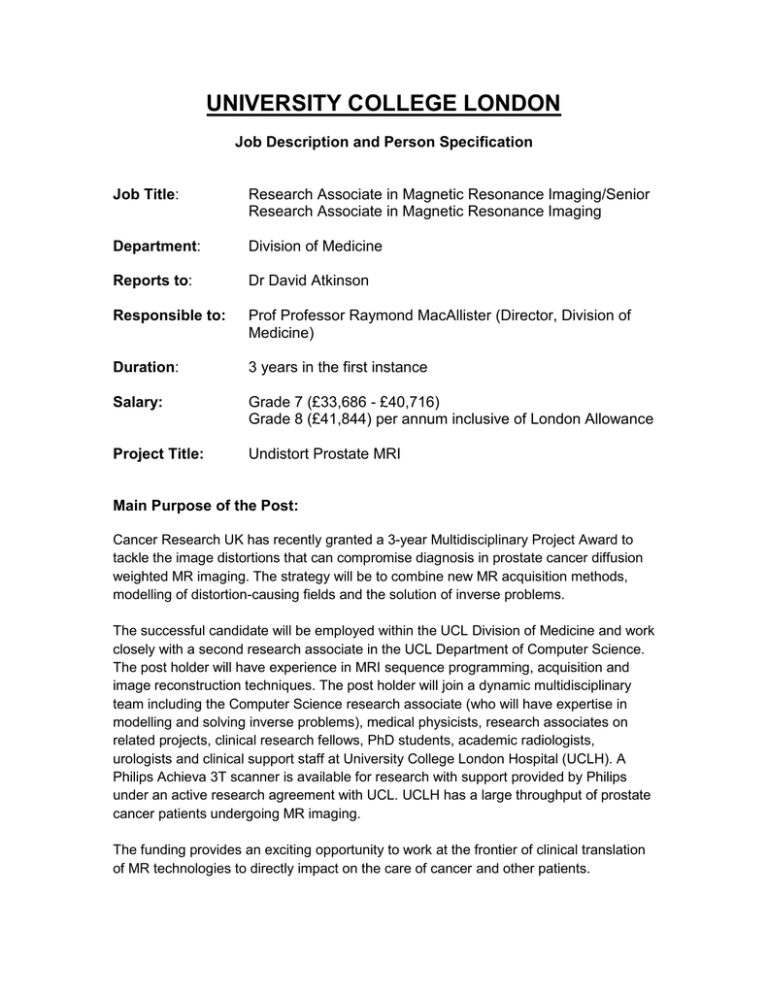 UNIVERSITY COLLEGE LONDON
Job Description and Person Specification
Job Title:
Research Associate in Magnetic Resonance Imaging/Senior
Research Associate in Magnetic Resonance Imaging
Department:
Division of Medicine
Reports to:
Dr David Atkinson
Responsible to:
Prof Professor Raymond MacAllister (Director, Division of
Medicine)
Duration:
3 years in the first instance
Salary:
Grade 7 (£33,686 - £40,716)
Grade 8 (£41,844) per annum inclusive of London Allowance
Project Title:
Undistort Prostate MRI
Main Purpose of the Post:
Cancer Research UK has recently granted a 3-year Multidisciplinary Project Award to
tackle the image distortions that can compromise diagnosis in prostate cancer diffusion
weighted MR imaging. The strategy will be to combine new MR acquisition methods,
modelling of distortion-causing fields and the solution of inverse problems.
The successful candidate will be employed within the UCL Division of Medicine and work
closely with a second research associate in the UCL Department of Computer Science.
The post holder will have experience in MRI sequence programming, acquisition and
image reconstruction techniques. The post holder will join a dynamic multidisciplinary
team including the Computer Science research associate (who will have expertise in
modelling and solving inverse problems), medical physicists, research associates on
related projects, clinical research fellows, PhD students, academic radiologists,
urologists and clinical support staff at University College London Hospital (UCLH). A
Philips Achieva 3T scanner is available for research with support provided by Philips
under an active research agreement with UCL. UCLH has a large throughput of prostate
cancer patients undergoing MR imaging.
The funding provides an exciting opportunity to work at the frontier of clinical translation
of MR technologies to directly impact on the care of cancer and other patients.
Duties and Responsibilities:
 To undertake research as stated in the main purpose.
 To play an active role in the Centre for Medical Imaging (CMI) contributing to
meetings and overall activities.
 To actively engage with clinical collaborators in order to better understand the
clinical problems which motivate the research and to ensure that the solutions
developed are clinically viable.
 To disseminate the results of the research among project collaborators, and
among the wider scientific community via publications in peer-reviewed, highimpact scientific journals and presentations at national and international scientific
conferences.
 To follow the Open Access and Data Management plans agreed with the
sponsor, CRUK.
 To attend regular meetings, workshops and training as required.
 To help and support submission of research grant proposals.
 To contribute to the drafting and submitting of papers to appropriate peer
reviewed journals.
 To participate in departmental and faculty seminars aimed at sharing research
outcomes and building interdisciplinary collaboration within and outside the
department.
 To help in the preparation of public presentations of the group's research
activities.
 To actively promote the research and raise the public profile of the host
department.
 To assist with the supervision and teaching of MSc and PhD students within the
group as requested.
 To carry out any other duties as are within the scope, spirit and purpose of the
post.
 To actively follow UCL policies including equal opportunities and race equality
policies;
 To maintain awareness and observation of fire and health and safety regulations;
 To undertake work in accordance with the principals of good clinical practice;
As duties and responsibilities change the job description will be reviewed and amended
in consultation with the post holder.
Person Specification: Research Associate in Magnetic Resonance Imaging
Special Requirements:
 You may be required to work irregular hours in accordance with the needs of the
role.
 Information of a confidential nature must be kept strictly confidential and should
never be disclosed either inside or outside work. It should be noted that breach of
confidentiality is a serious offence which may lead to dismissal.
 This appointment is subject to Occupational Health clearance.
CRITERIA
E
S
S
E
N
T
I
A
L
D
E
S
I
R
A
B
L
E
HOW IDENTIFIED
AND ASSESSED
AP = application
AS = assessment
I = interview
P = presentation
R = references
Education/qualification and training
PhD in relevant discipline, or experience demonstrating the person
could carry out the appropriate responsibilities of the post.
x
AP
Good BSc/MSc or equivalent in a numerate discipline
x
AP
Knowledge/skills
Knowledge of diffusion MRI
(Essential for Grade 8, Desirable for Grade 7)
X
Experience and skills in MRI Acquisition
X
AP,I
Experience and skills in MRI Reconstruction
X
AP,I
Experience in MRI Sequence Programming
X
AP,I
Experience and skills in Computer programming e.g. MATLAB,
Python, C/C++
X
AP, I
Good written and spoken English
X
I,P
Demonstrated aptitude for research
X
I,R
A high level of problem solving ability
X
I,R
Ability to work in a multidisciplinary and collaborative team
X
I
Ability to work without close supervision
X
I
Awareness of Good Clinical Practice and ethics issues
(Essential for Grade 8, Desirable for Grade 7)
X
X
X
AP
I
Evidence of good publication record in peer-reviewed publications
consistent with career history.
x
Working in a multidisciplinary environment
AP
x
AP,I
Working in a clinical research environment (Essential for Grade 8)
X
X
AP, I
Presentations at International Conferences
(Essential for Grade 8, Desirable for Grade 7)
X
x
AP, I
Personal characteristics/other requirements
Clarity of presentation and expression
x
I
Willingness and aptitude for interdisciplinary communication
X
I
Conscientious
X
I
Ability to supervise relevant staff and students
X
I
Ability to work to deadlines
x
I
Further Information:
Informal enquiries can be made to Dr David Atkinson (D.Atkinson@ucl.ac.uk).