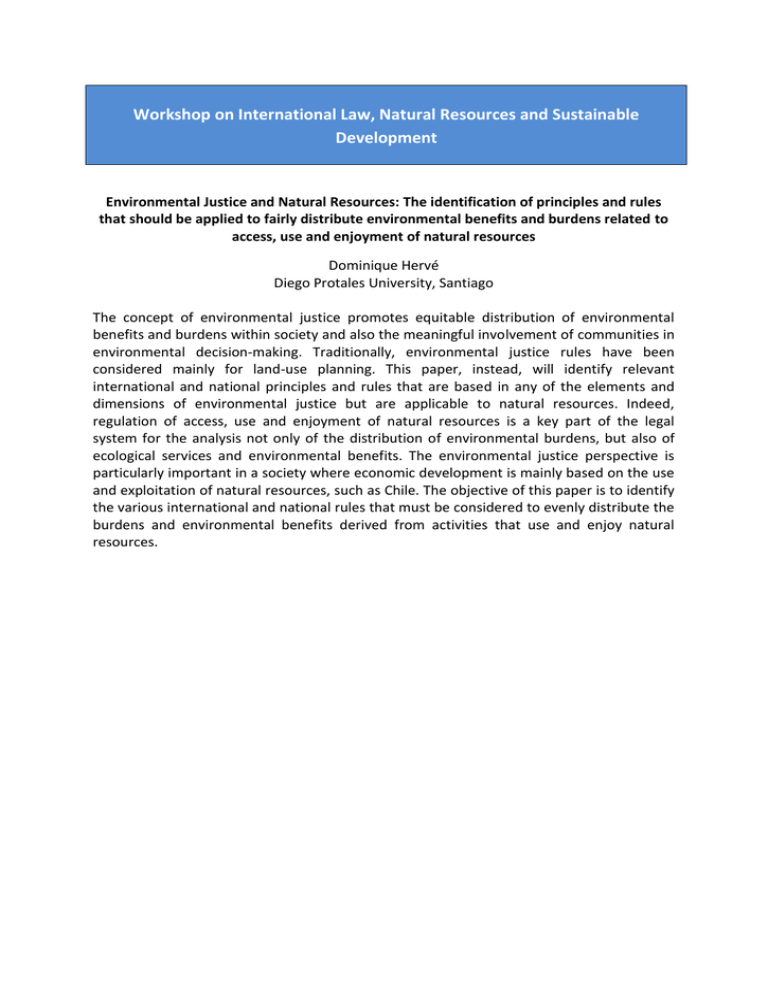 Workshop on International Law, Natural Resources and Sustainable
Development
Environmental Justice and Natural Resources: The identification of principles and rules
that should be applied to fairly distribute environmental benefits and burdens related to
access, use and enjoyment of natural resources
Dominique Hervé
Diego Protales University, Santiago
The concept of environmental justice promotes equitable distribution of environmental
benefits and burdens within society and also the meaningful involvement of communities in
environmental decision-making. Traditionally, environmental justice rules have been
considered mainly for land-use planning. This paper, instead, will identify relevant
international and national principles and rules that are based in any of the elements and
dimensions of environmental justice but are applicable to natural resources. Indeed,
regulation of access, use and enjoyment of natural resources is a key part of the legal
system for the analysis not only of the distribution of environmental burdens, but also of
ecological services and environmental benefits. The environmental justice perspective is
particularly important in a society where economic development is mainly based on the use
and exploitation of natural resources, such as Chile. The objective of this paper is to identify
the various international and national rules that must be considered to evenly distribute the
burdens and environmental benefits derived from activities that use and enjoy natural
resources.