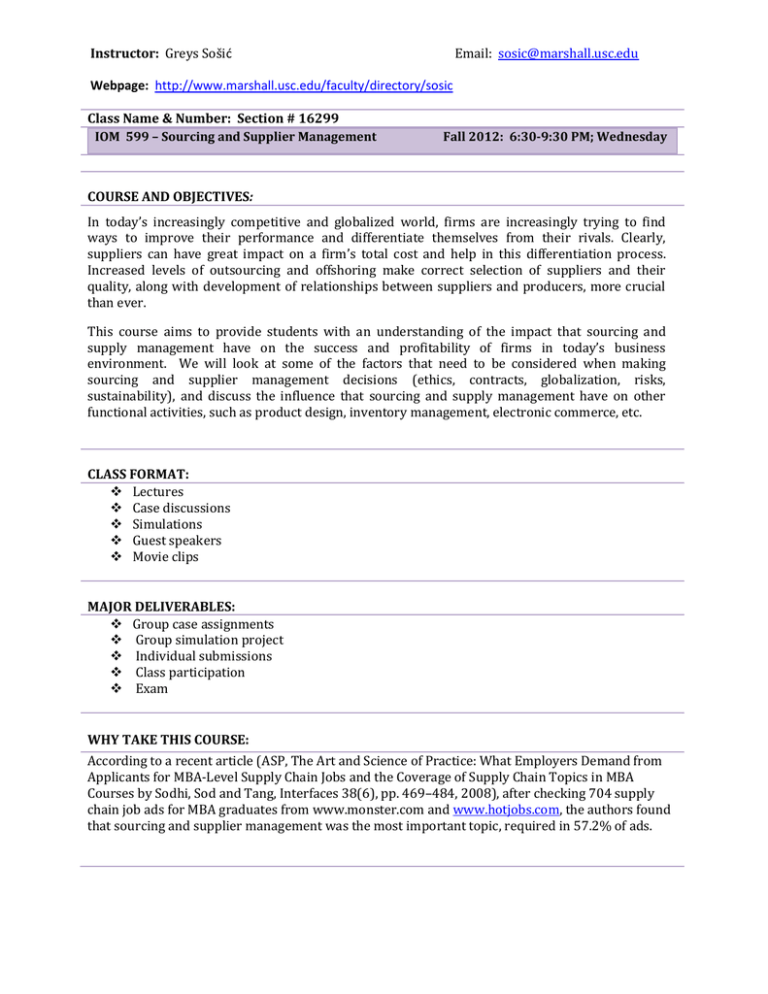 Instructor: Greys Sošić
Email: sosic@marshall.usc.edu
Webpage: http://www.marshall.usc.edu/faculty/directory/sosic
Class Name & Number: Section # 16299
IOM 599 – Sourcing and Supplier Management
Fall 2012: 6:30-9:30 PM; Wednesday
COURSE AND OBJECTIVES:
In today's increasingly competitive and globalized world, firms are increasingly trying to find
ways to improve their performance and differentiate themselves from their rivals. Clearly,
suppliers can have great impact on a firm's total cost and help in this differentiation process.
Increased levels of outsourcing and offshoring make correct selection of suppliers and their
quality, along with development of relationships between suppliers and producers, more crucial
than ever.
This course aims to provide students with an understanding of the impact that sourcing and
supply management have on the success and profitability of firms in today's business
environment. We will look at some of the factors that need to be considered when making
sourcing and supplier management decisions (ethics, contracts, globalization, risks,
sustainability), and discuss the influence that sourcing and supply management have on other
functional activities, such as product design, inventory management, electronic commerce, etc.
CLASS FORMAT:
 Lectures
 Case discussions
 Simulations
 Guest speakers
 Movie clips
MAJOR DELIVERABLES:
 Group case assignments
 Group simulation project
 Individual submissions
 Class participation
 Exam
WHY TAKE THIS COURSE:
According to a recent article (ASP, The Art and Science of Practice: What Employers Demand from
Applicants for MBA-Level Supply Chain Jobs and the Coverage of Supply Chain Topics in MBA
Courses by Sodhi, Sod and Tang, Interfaces 38(6), pp. 469–484, 2008), after checking 704 supply
chain job ads for MBA graduates from www.monster.com and www.hotjobs.com, the authors found
that sourcing and supplier management was the most important topic, required in 57.2% of ads.