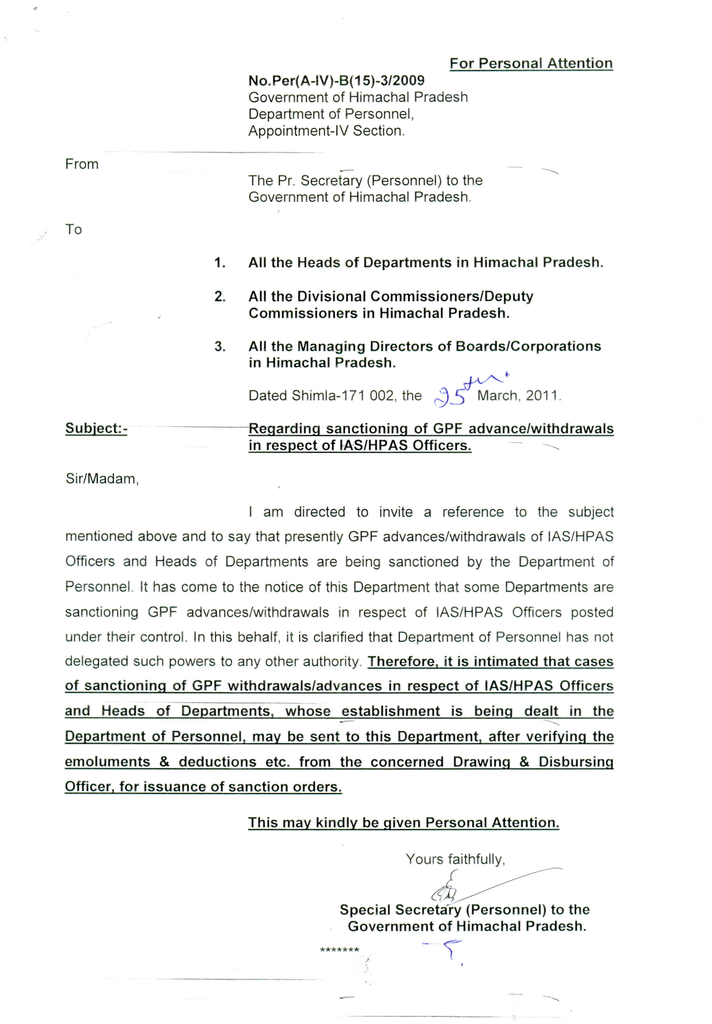 No. Per(A-IV)-B(15)-3/2009
Government of Himachal Pradesh
Department of Personnel,
Appointment-IV Section.
The Pro Secretary (Personnel) to the
Government of Himachal Pradesh.
2.
All the Divisional CommissionerslDeputy
Commissioners in Himachal Pradesh.
3.
All the Managing Directors of Boards/Corporations
in Himachal Pradesh.
~~
~
March, 2011.
Regarding sanctioning of GPF advance/withdrawals
in respect of IA-S/HPAS Officers.
---..
am directed
to invite
a reference
mentioned above and to say that presently GPF advances/withdrawals
Officers
and Heads of Departments
Personnel.
are being sanctioned
subject
of IAS/HPAS
by the Department
It has come to the notice of this Department that some Departments
sanctioning
GPF advances/withdrawals
in respect
of IAS/HPAS
under their control. In this behalf, it is clarified that Department
delegated such powers to any other authority. Therefore,
of sanctioning
and
to the
Heads
Department
emoluments
of GPF withdrawals/advances
of
Departments,
of Personnel,
& deductions
whose
Officers
posted
it is intimated that cases
is being
may be sent to this Department,
etc. from the concerned
are
of Personnel has not
in respect of IAS/HPAS
establishment
-
of
dealt
---..
Officers
in the
after verifying the
Drawing
& Disbursing
Officer, for issuance of sanction orders.
Yours faithfully,
~~
Special Secretary (Personnel) to the
Government of Himachal Pradesh.