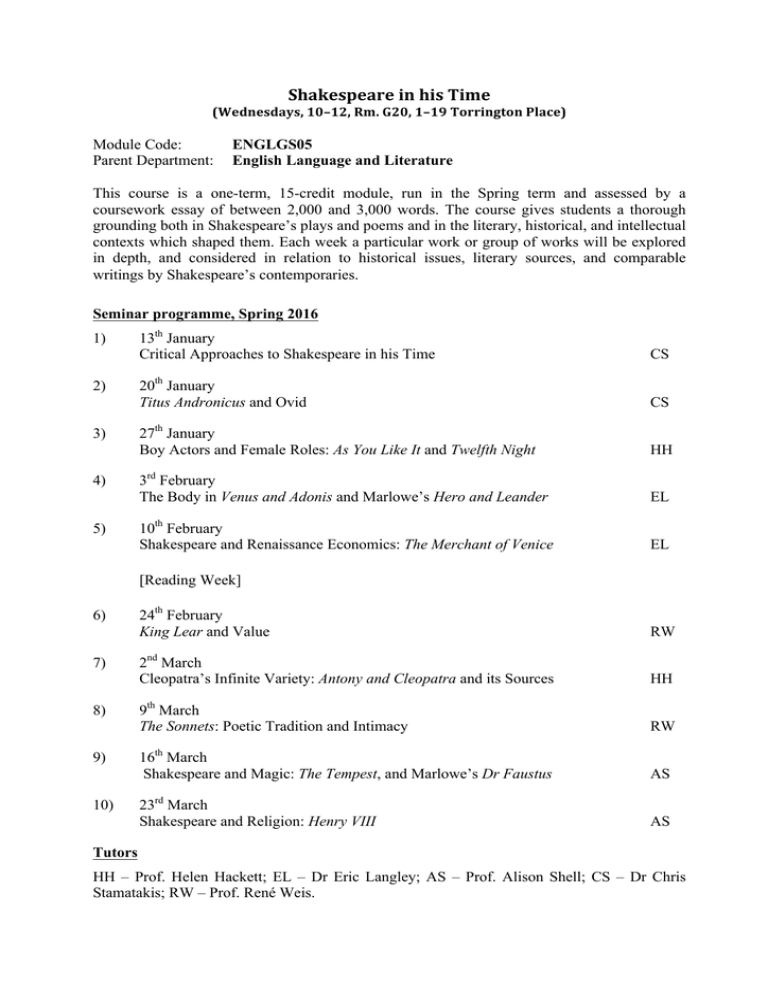 ShakespeareinhisTime
(Wednesdays,10–12,Rm.G20,1–19TorringtonPlace)
Module Code:
Parent Department:
ENGLGS05
English Language and Literature
This course is a one-term, 15-credit module, run in the Spring term and assessed by a
coursework essay of between 2,000 and 3,000 words. The course gives students a thorough
grounding both in Shakespeare's plays and poems and in the literary, historical, and intellectual
contexts which shaped them. Each week a particular work or group of works will be explored
in depth, and considered in relation to historical issues, literary sources, and comparable
writings by Shakespeare's contemporaries.
Seminar programme, Spring 2016
1)
2)
3)
4)
5)
13th January
Critical Approaches to Shakespeare in his Time
CS
20th January
Titus Andronicus and Ovid
CS
27th January
Boy Actors and Female Roles: As You Like It and Twelfth Night
HH
3rd February
The Body in Venus and Adonis and Marlowe's Hero and Leander
EL
10th February
Shakespeare and Renaissance Economics: The Merchant of Venice
EL
[Reading Week]
6)
7)
8)
9)
10)
24th February
King Lear and Value
RW
2nd March
Cleopatra's Infinite Variety: Antony and Cleopatra and its Sources
HH
9th March
The Sonnets: Poetic Tradition and Intimacy
RW
16th March
Shakespeare and Magic: The Tempest, and Marlowe's Dr Faustus
AS
23rd March
Shakespeare and Religion: Henry VIII
AS
Tutors
HH – Prof. Helen Hackett; EL – Dr Eric Langley; AS – Prof. Alison Shell; CS – Dr Chris
Stamatakis; RW – Prof. René Weis.