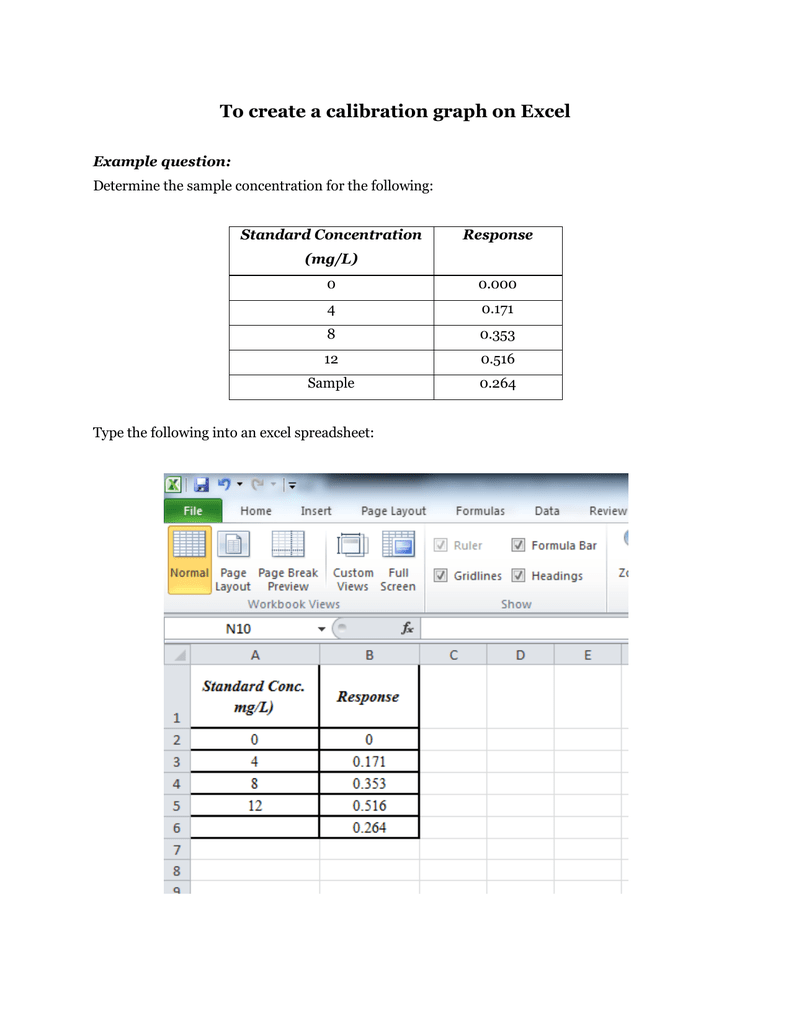 To create a calibration graph on Excel
Example question:
Determine the sample concentration for the following:
Standard Concentration
Response
(mg/L)
0
0.000
4
0.171
8
0.353
12
0.516
Sample
0.264
Type the following into an excel spreadsheet:
Select only cells A2 : B5 - Never include the sample value in your calibration graph.
Select the "Insert" tab and choose "scatter"
Select the "chicken-pox" looking chart (Scatter with only Markers)
On the chart produced, right click on one of the blue markers and select "Add trendline"
Choose "linear" and tick the last two boxes before selecting "close":
Equation of the line and R2 value will now be displayed on the chart and can be moved to a
better position of you like:
With chart selected (just click on it) you can add x and y axis labels and give the chart a title
under "chart tools" then "layout"
Equation of the line is:
y = mx + b
where y = reading
m = gradient
x = concentration
b = y intercept
For our sample we know the reading – in this case 0.264 and we want to calculate
concentration.
To do this we re-arrange equation to make x (concentration) the subject:
x = (y – b) / m
In the above example you can type the following into cell A6 and get excel to do the maths for
you 
=(B6–0.0005)/0.0433
A result of 6.085 should now appear in cell A6 (which is in mg/L).