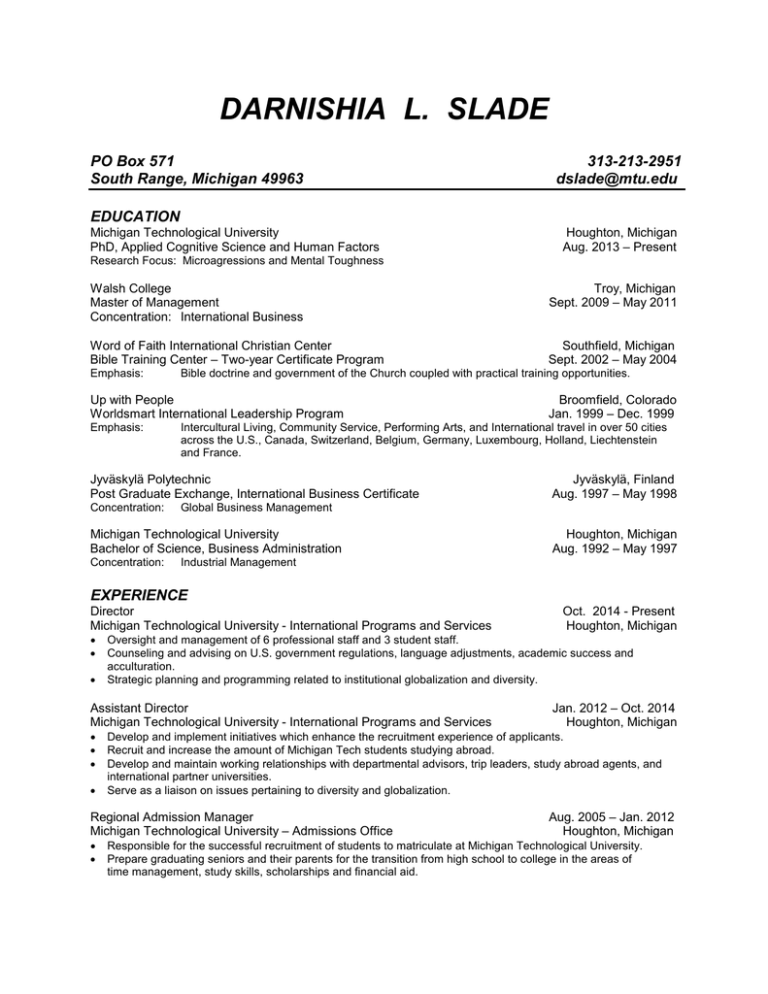 DARNISHIA L. SLADE
PO Box 571
South Range, Michigan 49963
313-213-2951
dslade@mtu.edu
EDUCATION
Michigan Technological University
PhD, Applied Cognitive Science and Human Factors
Houghton, Michigan
Aug. 2013 – Present
Research Focus: Microagressions and Mental Toughness
Walsh College
Master of Management
Concentration: International Business
Troy, Michigan
Sept. 2009 – May 2011
Word of Faith International Christian Center
Bible Training Center – Two-year Certificate Program
Southfield, Michigan
Sept. 2002 – May 2004
Emphasis:
Bible doctrine and government of the Church coupled with practical training opportunities.
Up with People
Worldsmart International Leadership Program
Emphasis:
Intercultural Living, Community Service, Performing Arts, and International travel in over 50 cities
across the U.S., Canada, Switzerland, Belgium, Germany, Luxembourg, Holland, Liechtenstein
and France.
Jyväskylä Polytechnic
Post Graduate Exchange, International Business Certificate
Concentration:
Jyväskylä, Finland
Aug. 1997 – May 1998
Global Business Management
Michigan Technological University
Bachelor of Science, Business Administration
Concentration:
Broomfield, Colorado
Jan. 1999 – Dec. 1999
Houghton, Michigan
Aug. 1992 – May 1997
Industrial Management
EXPERIENCE
Director
Michigan Technological University - International Programs and Services
•
•
•
Oversight and management of 6 professional staff and 3 student staff.
Counseling and advising on U.S. government regulations, language adjustments, academic success and
acculturation.
Strategic planning and programming related to institutional globalization and diversity.
Assistant Director
Michigan Technological University - International Programs and Services
•
•
•
•
Jan. 2012 – Oct. 2014
Houghton, Michigan
Develop and implement initiatives which enhance the recruitment experience of applicants.
Recruit and increase the amount of Michigan Tech students studying abroad.
Develop and maintain working relationships with departmental advisors, trip leaders, study abroad agents, and
international partner universities.
Serve as a liaison on issues pertaining to diversity and globalization.
Regional Admission Manager
Michigan Technological University – Admissions Office
•
•
Oct. 2014 - Present
Houghton, Michigan
Aug. 2005 – Jan. 2012
Houghton, Michigan
Responsible for the successful recruitment of students to matriculate at Michigan Technological University.
Prepare graduating seniors and their parents for the transition from high school to college in the areas of
time management, study skills, scholarships and financial aid.
Darnishia L. Slade
Page 2
EXPERIENCE continued
Youth Support Director
Mosaic Youth Theatre
•
•
•
•
Monitor emotional health, academic success, and personal well-being of 110 young artists.
Coordinate schedule, merchandise sales, logistics, and sponsor relations during road trips.
Develop and maintain relationships with colleges and universities in an effort to provide matriculation and
scholarship opportunities for graduating young artists.
Design and implement program evaluation process.
Treatment Coordinator
Boys and Girls Republic Treatment Facility
•
•
•
•
•
•
•
•
•
•
•
•
•
May 1997 - Aug. 1997
Pontiac, Michigan
Summer supervisor of four separate chassis departments.
Conducted daily quality gate meeting with co-workers and superintendent.
Assisted and supported upper management in implementing"Competitive Manufacturing" concept to hourly
employees.
Communicated production defects to fellow supervisors, which enabled me to be pro-active on quality issues.
Distributed end of the shift downtime reports to co-workers and superintendent.
International House Program Assistant
Michigan Technological University, Office of Residence Life
•
•
May 1998 – Aug. 1998
Houghton, Michigan
Supervised 8 head counselors and their counseling staffs of 12-15 people.
Facilitated 2-day counselor orientation and training.
Responsible for scheduling, hiring, interviewing, and overall operation of 5 summer camps.
24-hour resident hall contact for disciplinary and troubleshooting issues.
Summer Intern
General Motors Corporation, Pontiac East Assembly Plant
•
•
•
Aug. 1998 – Jan. 1999
Warren, Michigan
Worked in Human Resources Department; duties included recruiting university students for permanent positions
and coordinating interviews for employment candidates.
Scheduled training courses for managers.
Researched recruiting statistics and generated a report based on my research.
Assistant Coordinator
Michigan Technological University, Summer Youth Programs
•
•
•
Jan. 2000 – Dec. 2000
Broomfield, Colorado
Planned, facilitated, and implemented educational and community service programs for a cast of 115 students
from 23 different countries.
Traveled to over 60 cities in U.S., Canada, Italy, Switzerland, Austria, Germany, Belgium, Chez Republic,
Slovakia, England, Holland, Luxembourg, and France.
Counseled students on personal and professional development.
Worked closely with 5 students from Germany, Holland, Japan, Bermuda, and Norway. Each student
participated in a 6-week internship; they assisted in coordinating educational and community service activities.
Winter Intern
General Motors Corporation, Small Car Division
•
June 2001 – July 2002
Farmington Hills, Michigan
Facilitated a 90-minute group process program with 15 adjudicated young women between the ages of 12 – 18.
Conducted individual monthly assessment reports to monitor client's development in the program.
Managed weekly treatment team meetings with a 16 member staff.
Education and Community Service Coordinator
Up with People, Worldsmart International Leadership Program
•
July 2002 – Aug. 2005
Detroit, Michigan
May 1996 - May 1997
Houghton, Michigan
Organized monthly Global Perspective diversity programs for university residence halls.
Coordinated efforts with International Student Services and Admissions office to recruit more International and
American students into the International House (I-House).
Worked with Dining Services to create more diverse meal entrees for I-House residents.
Managed and oversaw I-House residents with painting wall murals of their country flags.
Worked closely with Residence Hall Coordinator to develop and publish I-House brochure.