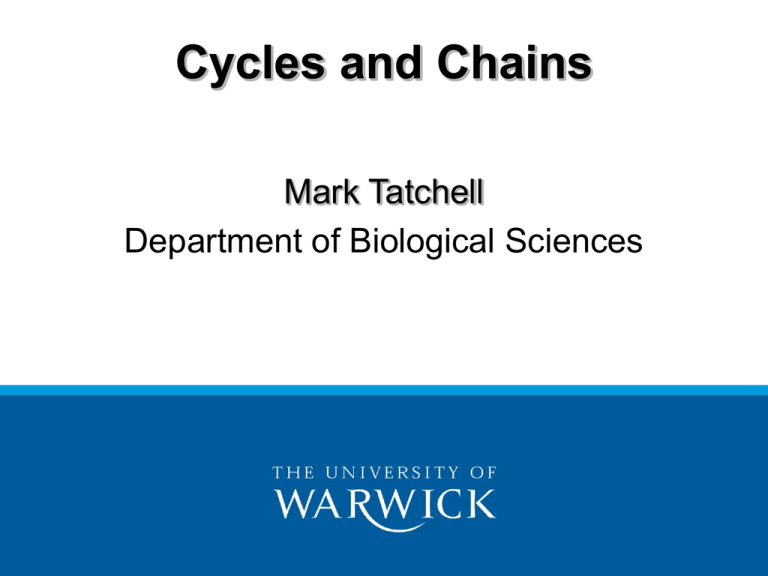 Cycles and Chains
Mark Tatchell
Department of Biological Sciences
Some definitions:
 Chains
•
•
Sequence of events or processes
Food supply or value chain
 Cycles
•
Processes that are repeated at intervals
The "Food Chain"
Consumer
Customer
Retailer/
Food services
Processor
Producer
One
directional
"Value"
added
Consumer
Daily
Customer
Retailer/
Food services
Processor
Producer
Annual
Examples of cycles 1:
Decades
– Environmental (soil, nitrogen, carbon, etc)
– CAP reforms
Several years
– WTO negotiations
– Food and farming policy
– Biodiversity
Annual
– Agricultural production
– Ecosystem services
– Supply contracts to processors/retailers
Examples of cycles 2:
• Months
– Issue attention
• Weeks
– Customer purchases
• Days
– Consumption
Consumer
Types of discourse
Political
Customer
Retailer
Processor
Producer
Scientific/
technical
Consumer
Political
Shift in
discourse
Customer
Retailer
Processor
Producer
Policy shift resulting in
a market- rather than
production-based
agricultural economy
Scientific/
technical
Supply chain funnel
Consumer
160,000,000
Customer
89,000,000
Retailer
Processor
Producer
600
Power
110
250,000
3,200,000
(After Gievink, 2003)
The "Circular Agri-food Chain"
Producer
Consumer
Processor
Customer
Retailer
The Circular Agri-food Chain
… in a sustainability context.
Producer
Consumer
Environmental
Social
Processor
Customer
Economic
Retailer
Summary
 The food supply chain is influenced by a diversity
of cycles of different durations.
 The cycles and discourse of production were
primarily scientific and technical, but of
consumption were primarily social and political.
These differences are being eroded.
 Better cross disciplinary communication and
understanding of links and cycles along the agrifood chain are required to achieve credibility.