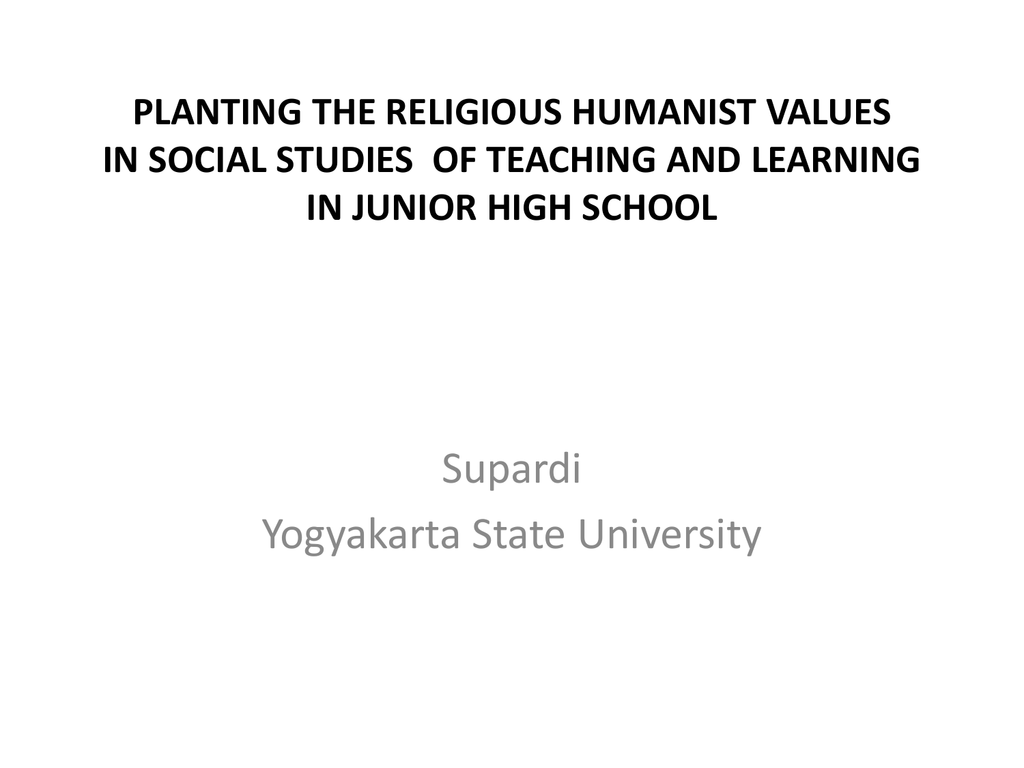 PLANTING THE RELIGIOUS HUMANIST VALUES
IN SOCIAL STUDIES OF TEACHING AND LEARNING
IN JUNIOR HIGH SCHOOL
Supardi
Yogyakarta State University
Globalization
• Rate of abortion (abortion) is illegal in
Indonesia: 2.5 million cases each year (Suara
Merdeka, 18 April 2012).
• WHO : from 1000 there are 28 pregnant
women that an abortion
(http://www.bbc.co.uk/ indonesia).
Humanism?
• Religious Humanists regard the universe as
self-existing and not created. Second:
Humanism Believes that man is a part of
nature and that he has emerged as the result
of a continuous process
• Thought humanism much conflict with
religious thought, which puts religion as a way
of life.
Religious Humanist Values
• The values are based on the individual's
independence but still be based on religious
values that is called religious humanist values.
Planting Religious Humanist Values in the Social
Studies Learning ?
Social Studies
• "The Social Studies are comprissed of those
aspests of history, geography, and pilosophy
roomates in practice are selected for
instructional purposes in schools and collegs".
Values of education can be done by :
•
•
•
•
Inculcation
Exemplary
Facilitation
Development of academic skills.
Strategies???
• Development of teaching materials
• Learning Method. Learning methods, is an
important key in instilling religious humanist
education in schools
• Learning Assessment. Development of
assessment in learning to inculcate religious
humanist values, emphasizes assessment
process rather than outcomes.
Conclusion
• Planting religious humanist values can also be
done by developing a strategy that includes
the development of social studies teaching
materials, teaching methods, and assessment
of learning. Modeling and habituation in
school is an important key to a humanist
religious character familiarize the students.