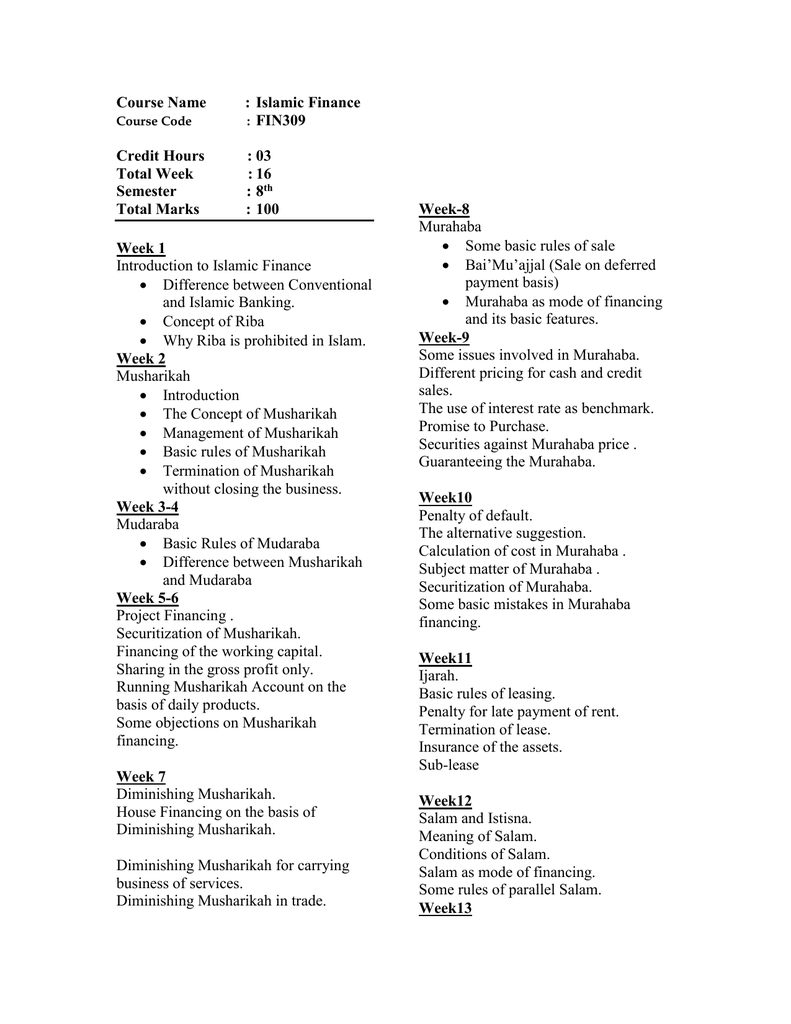 Course Name
Course Code
: Islamic Finance
: FIN309
Credit Hours
Total Week
Semester
Total Marks
: 03
: 16
: 8th
: 100
Week 1
Introduction to Islamic Finance
 Difference between Conventional
and Islamic Banking.
 Concept of Riba
 Why Riba is prohibited in Islam.
Week 2
Musharikah
 Introduction
 The Concept of Musharikah
 Management of Musharikah
 Basic rules of Musharikah
 Termination of Musharikah
without closing the business.
Week 3-4
Mudaraba
 Basic Rules of Mudaraba
 Difference between Musharikah
and Mudaraba
Week 5-6
Project Financing .
Securitization of Musharikah.
Financing of the working capital.
Sharing in the gross profit only.
Running Musharikah Account on the
basis of daily products.
Some objections on Musharikah
financing.
Week 7
Diminishing Musharikah.
House Financing on the basis of
Diminishing Musharikah.
Diminishing Musharikah for carrying
business of services.
Diminishing Musharikah in trade.
Week-8
Murahaba
 Some basic rules of sale
 Bai'Mu'ajjal (Sale on deferred
payment basis)
 Murahaba as mode of financing
and its basic features.
Week-9
Some issues involved in Murahaba.
Different pricing for cash and credit
sales.
The use of interest rate as benchmark.
Promise to Purchase.
Securities against Murahaba price .
Guaranteeing the Murahaba.
Week10
Penalty of default.
The alternative suggestion.
Calculation of cost in Murahaba .
Subject matter of Murahaba .
Securitization of Murahaba.
Some basic mistakes in Murahaba
financing.
Week11
Ijarah.
Basic rules of leasing.
Penalty for late payment of rent.
Termination of lease.
Insurance of the assets.
Sub-lease
Week12
Salam and Istisna.
Meaning of Salam.
Conditions of Salam.
Salam as mode of financing.
Some rules of parallel Salam.
Week13
Istisna.
Difference between Istisna and salam .
Difference between Istisna and Ijarah.
Time of delivery.
Istisna as a mode of Finance.
Week14
Islamic Investment Funds.
Principles of Shari'ah governing Islamic
Investment fund.
Conditions for Investment in Shares.
Ijarah Fund.
Commodity Fund.
Murahaba Fund .
Bai'-al-dain.
Mixed Fund.
Week15
The principle of Limited Liability.
Waqf.
Baitul-Mal .
Joint Stock.
Inheritance under debt.
The limited liability of the master of a
slave.
Week 16
The performance of the Islamic Bank. A
realistic evaluation.
Suggested Readings:
An Introduction to Islamic Finance
By Justice Mufti Muhammad Taqi
Usmani.