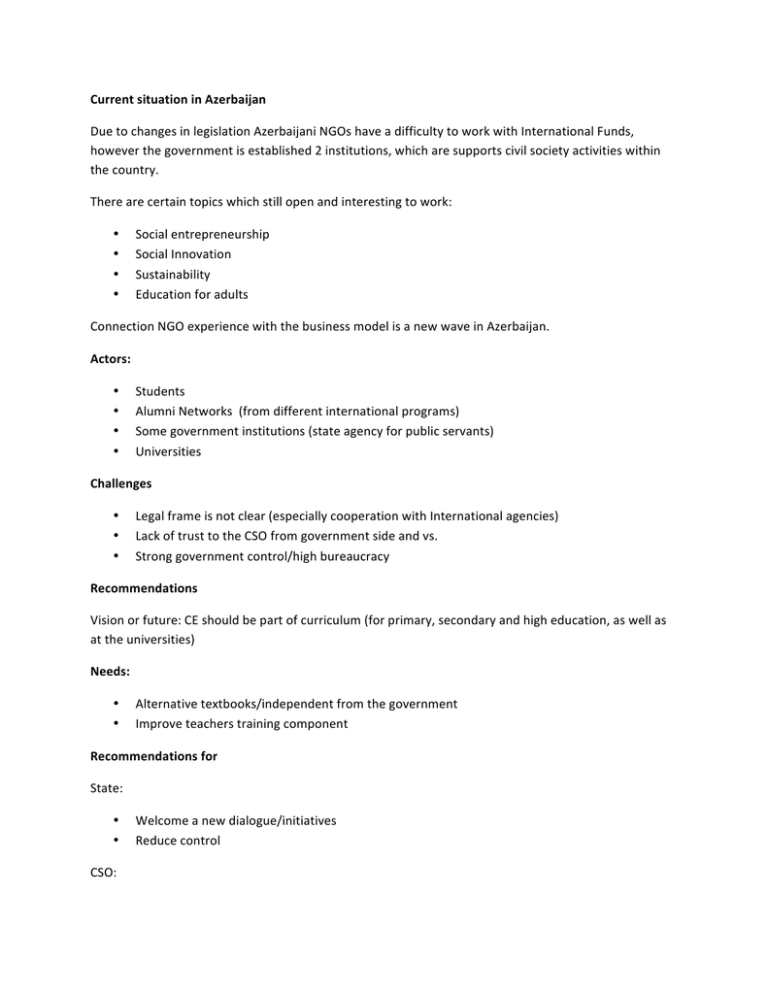 Current situation in Azerbaijan Due to changes in legislation Azerbaijani NGOs have a difficulty to work with International Funds, however the government is established 2 institutions, which are supports civil society activities within the country. There are certain topics which still open and interesting to work: •
•
•
•
Social entrepreneurship Social Innovation Sustainability Education for adults Connection NGO experience with the business model is a new wave in Azerbaijan. Actors: •
•
•
•
Students Alumni Networks (from different international programs) Some government institutions (state agency for public servants) Universities Challenges •
•
•
Legal frame is not clear (especially cooperation with International agencies) Lack of trust to the CSO from government side and vs. Strong government control/high bureaucracy Recommendations Vision or future: CE should be part of curriculum (for primary, secondary and high education, as well as at the universities) Needs: •
•
Alternative textbooks/independent from the government Improve teachers training component Recommendations for State: •
•
CSO: Welcome a new dialogue/initiatives Reduce control •
•
•
•
Openness to cooperation/share experience with government institutions Create date base/share resources New models of teaching Create online platform for CE International actors: •
•
•
Recommendations and needs should be clear to donors Better communications on both side Share good practice Links and more I add the article about CE reform in Azerbaijan. See attached..