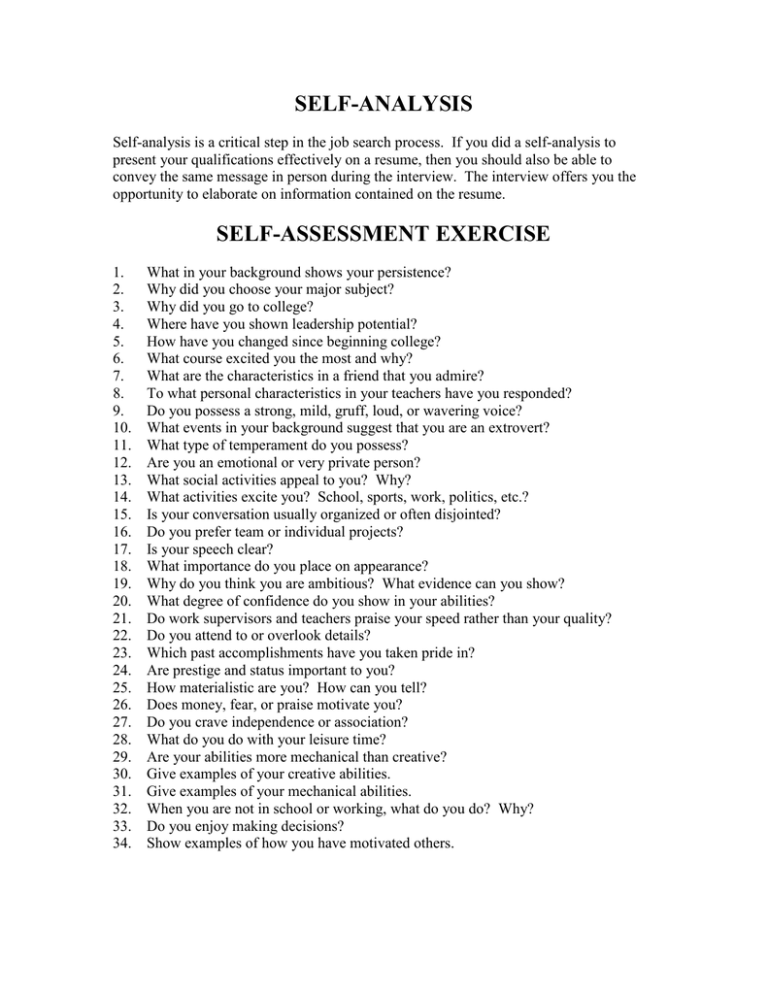 SELF-ANALYSIS
Self-analysis is a critical step in the job search process. If you did a self-analysis to
present your qualifications effectively on a resume, then you should also be able to
convey the same message in person during the interview. The interview offers you the
opportunity to elaborate on information contained on the resume.
SELF-ASSESSMENT EXERCISE
1.
2.
3.
4.
5.
6.
7.
8.
9.
10.
11.
12.
13.
14.
15.
16.
17.
18.
19.
20.
21.
22.
23.
24.
25.
26.
27.
28.
29.
30.
31.
32.
33.
34.
What in your background shows your persistence?
Why did you choose your major subject?
Why did you go to college?
Where have you shown leadership potential?
How have you changed since beginning college?
What course excited you the most and why?
What are the characteristics in a friend that you admire?
To what personal characteristics in your teachers have you responded?
Do you possess a strong, mild, gruff, loud, or wavering voice?
What events in your background suggest that you are an extrovert?
What type of temperament do you possess?
Are you an emotional or very private person?
What social activities appeal to you? Why?
What activities excite you? School, sports, work, politics, etc.?
Is your conversation usually organized or often disjointed?
Do you prefer team or individual projects?
Is your speech clear?
What importance do you place on appearance?
Why do you think you are ambitious? What evidence can you show?
What degree of confidence do you show in your abilities?
Do work supervisors and teachers praise your speed rather than your quality?
Do you attend to or overlook details?
Which past accomplishments have you taken pride in?
Are prestige and status important to you?
How materialistic are you? How can you tell?
Does money, fear, or praise motivate you?
Do you crave independence or association?
What do you do with your leisure time?
Are your abilities more mechanical than creative?
Give examples of your creative abilities.
Give examples of your mechanical abilities.
When you are not in school or working, what do you do? Why?
Do you enjoy making decisions?
Show examples of how you have motivated others.