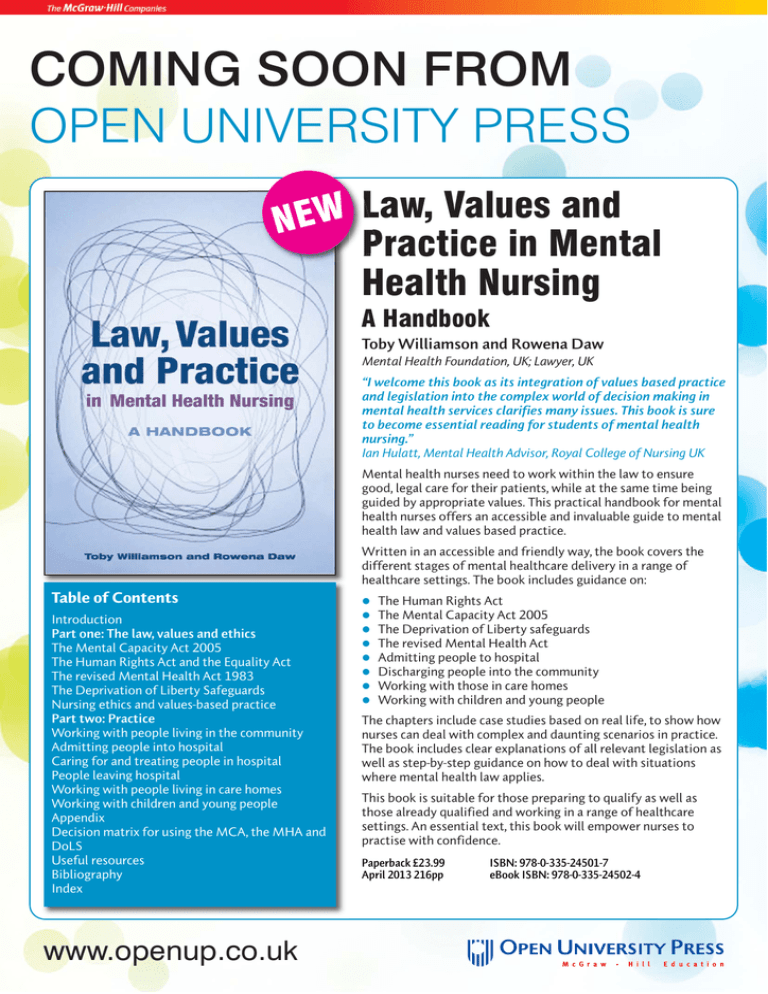 COMING SOON FROM
OPEN UNIVERSITY PRESS
NEW Law, Values and
Practice in Mental
Health Nursing
A Handbook
Toby Williamson and Rowena Daw
Mental Health Foundation, UK; Lawyer, UK
"I welcome this book as its integration of values based practice
and legislation into the complex world of decision making in
mental health services clarifies many issues. This book is sure
to become essential reading for students of mental health
nursing."
Ian Hulatt, Mental Health Advisor, Royal College of Nursing UK
Mental health nurses need to work within the law to ensure
good, legal care for their patients, while at the same time being
guided by appropriate values. This practical handbook for mental
health nurses offers an accessible and invaluable guide to mental
health law and values based practice.
Written in an accessible and friendly way, the book covers the
different stages of mental healthcare delivery in a range of
healthcare settings. The book includes guidance on:
Table of Contents
Introduction
Part one: The law, values and ethics
The Mental Capacity Act 2005
The Human Rights Act and the Equality Act
The revised Mental Health Act 1983
The Deprivation of Liberty Safeguards
Nursing ethics and values-based practice
Part two: Practice
Working with people living in the community
Admitting people into hospital
Caring for and treating people in hospital
People leaving hospital
Working with people living in care homes
Working with children and young people
Appendix
Decision matrix for using the MCA, the MHA and
DoLS
Useful resources
Bibliography
Index
www.openup.co.uk
l
l
l
l
l
l
l
l
The Human Rights Act
The Mental Capacity Act 2005
The Deprivation of Liberty safeguards
The revised Mental Health Act
Admitting people to hospital
Discharging people into the community
Working with those in care homes
Working with children and young people
The chapters include case studies based on real life, to show how
nurses can deal with complex and daunting scenarios in practice.
The book includes clear explanations of all relevant legislation as
well as step-by-step guidance on how to deal with situations
where mental health law applies.
This book is suitable for those preparing to qualify as well as
those already qualified and working in a range of healthcare
settings. An essential text, this book will empower nurses to
practise with confidence.
Paperback £23.99
April 2013 216pp
ISBN: 978-0-335-24501-7
eBook ISBN: 978-0-335-24502-4
Download a lecturer copy!
Visit www.coursesmart.co.uk to register and to
watch a video tutorial showing the features of
an eTextbook.
£ Once registered, you have instant
access to all the eTextbooks on
CourseSmart
£ You can annotate and make notes
on your eTextbook
£ Your students can rent eTextbooks at
discounted prices
£ CourseSmart offers multi-publisher
content
Pull together your reading list and
create a customised core text!
Starting the semester with a less than perfect
content solution?
Current text too long, or too short?
Would you like to add some different material
for a 'tailored to you' solution?
McGraw-Hill Create™ is our powerful website
that allows you to create customised course
materials by drawing upon our comprehensive
content. What's more, in 3 simple steps you can:
Find Content; Arrange; Personalise.
Visit www.mcgrawhillcreate.com/openup to
explore or contact enquiries@openup.co.uk for
more information.
Did you know that most of our books are also
available as an eBook on Kindle and through
other eBook stores?
Need multiple copies?
Please contact us at enquiries@openup.co.uk
for a quote.
Just recommending a few chapters to your
students? Visit www.reference-tree.com
Purchasing Books?
Visit you local bookstore or order online.
Visit www.openup.co.uk and quote code
DIRECT to claim 20% discount online.