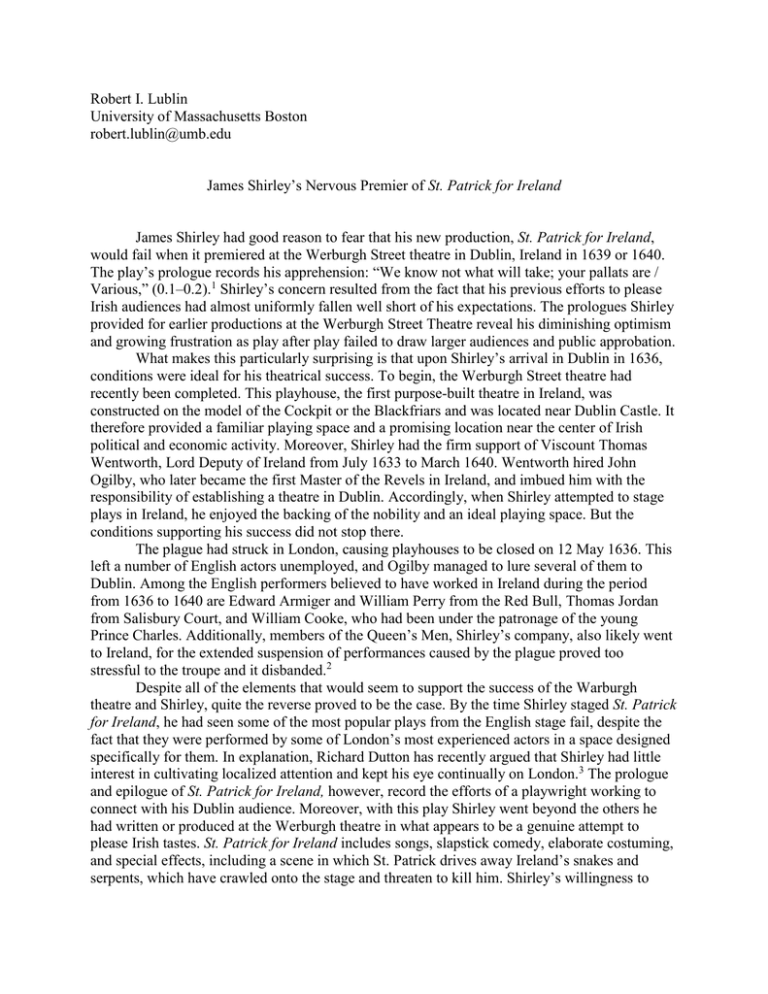 Robert I. Lublin
University of Massachusetts Boston
robert.lublin@umb.edu
James Shirley's Nervous Premier of St. Patrick for Ireland
James Shirley had good reason to fear that his new production, St. Patrick for Ireland,
would fail when it premiered at the Werburgh Street theatre in Dublin, Ireland in 1639 or 1640.
The play's prologue records his apprehension: "We know not what will take; your pallats are /
Various," (0.1–0.2).1 Shirley's concern resulted from the fact that his previous efforts to please
Irish audiences had almost uniformly fallen well short of his expectations. The prologues Shirley
provided for earlier productions at the Werburgh Street Theatre reveal his diminishing optimism
and growing frustration as play after play failed to draw larger audiences and public approbation.
What makes this particularly surprising is that upon Shirley's arrival in Dublin in 1636,
conditions were ideal for his theatrical success. To begin, the Werburgh Street theatre had
recently been completed. This playhouse, the first purpose-built theatre in Ireland, was
constructed on the model of the Cockpit or the Blackfriars and was located near Dublin Castle. It
therefore provided a familiar playing space and a promising location near the center of Irish
political and economic activity. Moreover, Shirley had the firm support of Viscount Thomas
Wentworth, Lord Deputy of Ireland from July 1633 to March 1640. Wentworth hired John
Ogilby, who later became the first Master of the Revels in Ireland, and imbued him with the
responsibility of establishing a theatre in Dublin. Accordingly, when Shirley attempted to stage
plays in Ireland, he enjoyed the backing of the nobility and an ideal playing space. But the
conditions supporting his success did not stop there.
The plague had struck in London, causing playhouses to be closed on 12 May 1636. This
left a number of English actors unemployed, and Ogilby managed to lure several of them to
Dublin. Among the English performers believed to have worked in Ireland during the period
from 1636 to 1640 are Edward Armiger and William Perry from the Red Bull, Thomas Jordan
from Salisbury Court, and William Cooke, who had been under the patronage of the young
Prince Charles. Additionally, members of the Queen's Men, Shirley's company, also likely went
to Ireland, for the extended suspension of performances caused by the plague proved too
stressful to the troupe and it disbanded.2
Despite all of the elements that would seem to support the success of the Warburgh
theatre and Shirley, quite the reverse proved to be the case. By the time Shirley staged St. Patrick
for Ireland, he had seen some of the most popular plays from the English stage fail, despite the
fact that they were performed by some of London's most experienced actors in a space designed
specifically for them. In explanation, Richard Dutton has recently argued that Shirley had little
interest in cultivating localized attention and kept his eye continually on London.3 The prologue
and epilogue of St. Patrick for Ireland, however, record the efforts of a playwright working to
connect with his Dublin audience. Moreover, with this play Shirley went beyond the others he
had written or produced at the Werburgh theatre in what appears to be a genuine attempt to
please Irish tastes. St. Patrick for Ireland includes songs, slapstick comedy, elaborate costuming,
and special effects, including a scene in which St. Patrick drives away Ireland's snakes and
serpents, which have crawled onto the stage and threaten to kill him. Shirley's willingness to
create a new play that bears little relation to his large body of earlier work strikes me as a
significant investment in cultivating localized attention. Additionally, Shirley's promise to write
a second part to St. Patrick for Ireland, assuming the first is a success, suggests that he was
indeed focused on his current theatrical endeavor. Shirley's efforts to engage his Irish audience
appear genuine, but they were in vain. No sequel was written, and within the year, Shirley had
returned to England.
1
John P. Turner, Jr., A Critical Edition of St. Patrick for Ireland (New York: Garland,
1979).
2
Christopher Morash, A History of the Irish Theatre, 1601–2000 (New York: Cambridge
University Press, 2002), 4.
3
Richard Dutton, "The St. Werburgh Street Theater, Dublin," in Localizing Caroline
Drama: Politics and Economics of the Early Modern English State, 1625–1642, eds. Adam
Zucker and Alan B. Farmer (Gordonsville, VA: Palgrave Macmillan, 2006), 149.