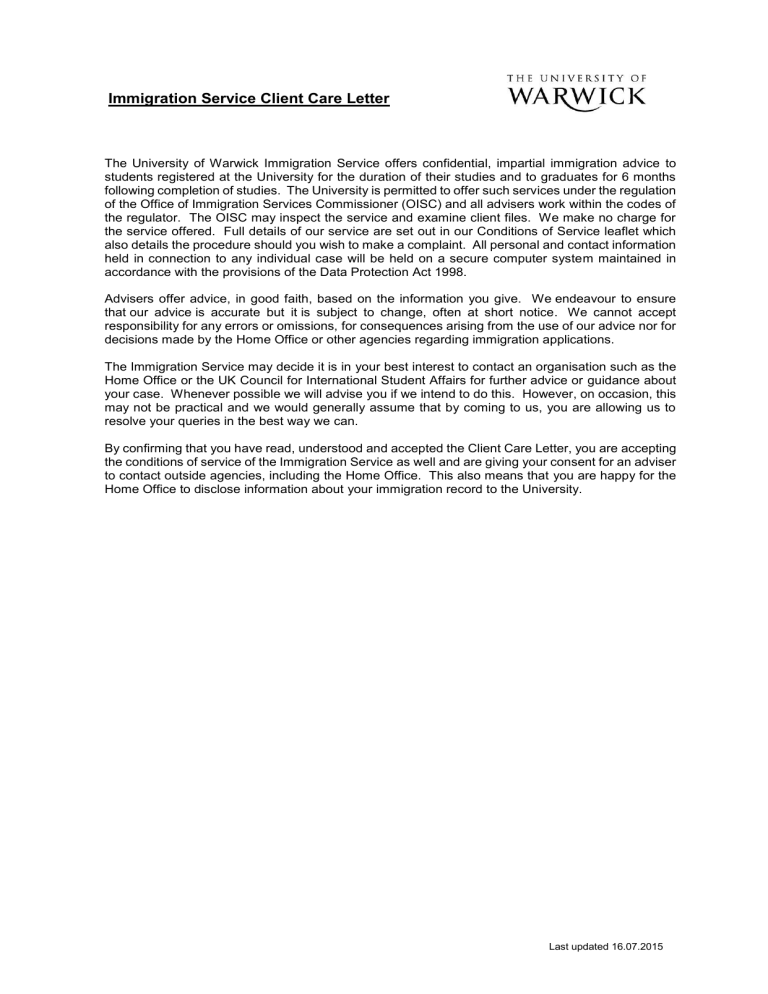 Immigration Service Client Care Letter
The University of Warwick Immigration Service offers confidential, impartial immigration advice to students registered at the University for the duration of their studies and to graduates for 6 months following completion of studies. The University is permitted to offer such services under the regulation of the Office of Immigration Services Commissioner (OISC) and all advisers work within the codes of the regulator. The OISC may inspect the service and examine client files. We make no charge for the service offered. Full details of our service are set out in our Conditions of Service leaflet which also details the procedure should you wish to make a complaint. All personal and contact information held in connection to any individual case will be held on a secure computer system maintained in accordance with the provisions of the Data Protection Act 1998.
Advisers offer advice, in good faith, based on the information you give. We endeavour to ensure that our advice is accurate but it is subject to change, often at short notice. We cannot accept responsibility for any errors or omissions, for consequences arising from the use of our advice nor for decisions made by the Home Office or other agencies regarding immigration applications.
The Immigration Service may decide it is in your best interest to contact an organisation such as the
Home Office or the UK Council for International Student Affairs for further advice or guidance about your case. Whenever possible we will advise you if we intend to do this. However, on occasion, this may not be practical and we would generally assume that by coming to us, you are allowing us to resolve your queries in the best way we can.
By confirming that you have read, understood and accepted the Client Care Letter, you are accepting the conditions of service of the Immigration Service as well and are giving your consent for an adviser to contact outside agencies, including the Home Office. This also means that you are happy for the
Home Office to disclose information about your immigration record to the University.
Last updated 16.07.2015