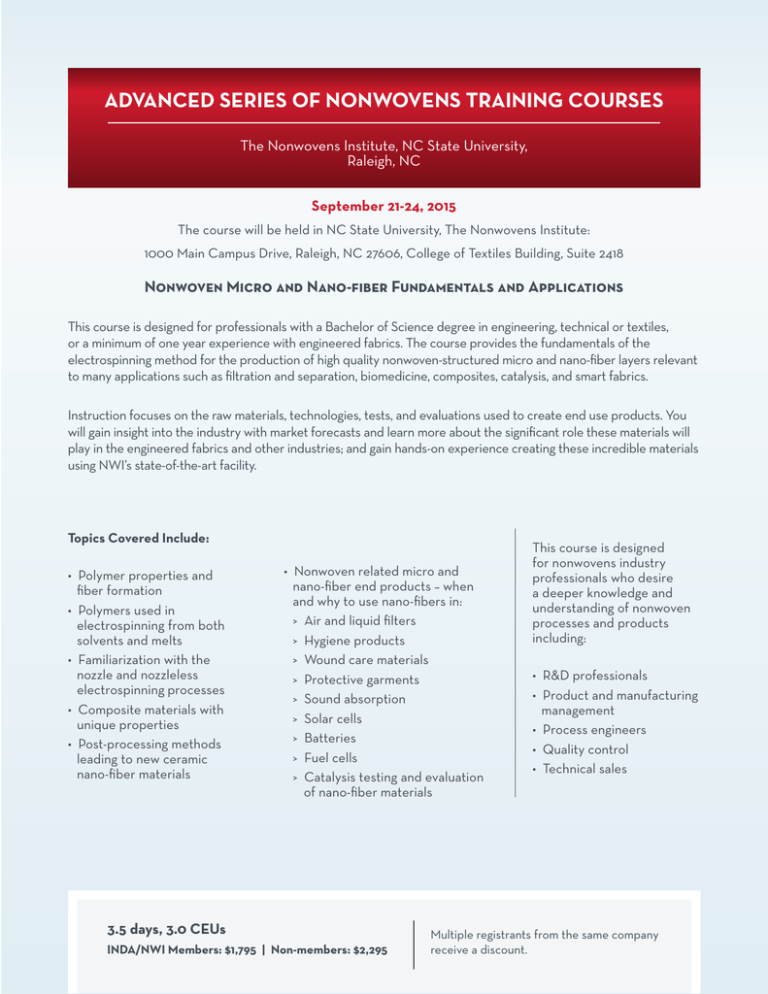 ADVANCED SERIES OF NONWOVENS TRAINING COURSES
The Nonwovens Institute, NC State University,
Raleigh, NC
September 21-24, 2015
The course will be held in NC State University, The Nonwovens Institute:
1000 Main Campus Drive, Raleigh, NC 27606, College of Textiles Building, Suite 2418
Nonwoven Micro and Nano-fiber Fundamentals and Applications
This course is designed for professionals with a Bachelor of Science degree in engineering, technical or textiles,
or a minimum of one year experience with engineered fabrics. The course provides the fundamentals of the
electrospinning method for the production of high quality nonwoven-structured micro and nano-fiber layers relevant
to many applications such as filtration and separation, biomedicine, composites, catalysis, and smart fabrics.
Instruction focuses on the raw materials, technologies, tests, and evaluations used to create end use products. You
will gain insight into the industry with market forecasts and learn more about the significant role these materials will
play in the engineered fabrics and other industries; and gain hands-on experience creating these incredible materials
using NWI's state-of-the-art facility.
Topics Covered Include:
• Polymer properties and
fiber formation
• Polymers used in
electrospinning from both
solvents and melts
• Familiarization with the
nozzle and nozzleless
electrospinning processes
• Composite materials with
unique properties
• Post-processing methods
leading to new ceramic
nano-fiber materials
• Nonwoven related micro and
nano-fiber end products – when
and why to use nano-fibers in:
> Air and liquid filters
> Hygiene products
> Wound care materials
> Protective garments
> Sound absorption
> Solar cells
> Batteries
> Fuel cells
> Catalysis testing and evaluation
ofnano-fiber materials
3.5 days, 3.0 CEUs
INDA/NWI Members: $1,795 | Non-members: $2,295
This course is designed
for nonwovens industry
professionals who desire
a deeper knowledge and
understanding of nonwoven
processes and products
including:
• R&D professionals
• Product and manufacturing
management
• Process engineers
• Quality control
• Technical sales
Multiple registrants from the same company
receive a discount.