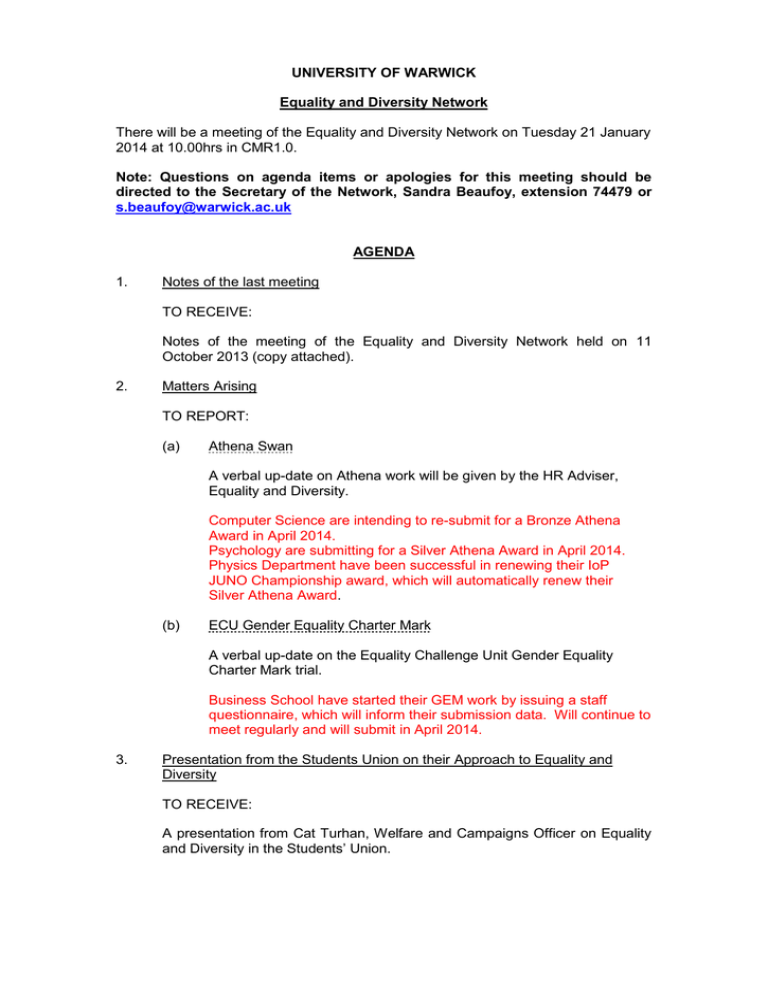 UNIVERSITY OF WARWICK
Equality and Diversity Network
There will be a meeting of the Equality and Diversity Network on Tuesday 21 January
2014 at 10.00hrs in CMR1.0.
Note: Questions on agenda items or apologies for this meeting should be
directed to the Secretary of the Network, Sandra Beaufoy, extension 74479 or
s.beaufoy@warwick.ac.uk
AGENDA
1.
Notes of the last meeting
TO RECEIVE:
Notes of the meeting of the Equality and Diversity Network held on 11
October 2013 (copy attached).
2.
Matters Arising
TO REPORT:
(a)
Athena Swan
A verbal up-date on Athena work will be given by the HR Adviser,
Equality and Diversity.
Computer Science are intending to re-submit for a Bronze Athena
Award in April 2014.
Psychology are submitting for a Silver Athena Award in April 2014.
Physics Department have been successful in renewing their IoP
JUNO Championship award, which will automatically renew their
Silver Athena Award.
(b)
ECU Gender Equality Charter Mark
A verbal up-date on the Equality Challenge Unit Gender Equality
Charter Mark trial.
Business School have started their GEM work by issuing a staff
questionnaire, which will inform their submission data. Will continue to
meet regularly and will submit in April 2014.
3.
Presentation from the Students Union on their Approach to Equality and
Diversity
TO RECEIVE:
A presentation from Cat Turhan, Welfare and Campaigns Officer on Equality
and Diversity in the Students' Union.
4.
Update on Disability Student Support Services
TO RECEIVE:
A verbal update by Despina Weber, Disability Coordinator on work
undertaken by Student Support Services.
5.
Training
TO REPORT:
New training dates for Equality and Diversity, Disability Awareness and
Mental Health Awareness Training sessions.
(a) More dates have been organised for the Equality and Diversity training
sessions: 'Think What you Think', 'Types of Discrimination' and 'Disability
Awareness'. A new session on Mental Health Awareness is proving very
popular and sessions are filling up quickly.
Give Dates
(b) The two e-learning modules 'Diversity in the Workplace' and 'Recruitment and
Selection' have recently been updated and will be launched shortly. These
will be available via Moodle and can be accessed on PC's or ipad.
(c) The HR Adviser, Equality and Diversity has been asked to provide the
Equality and Diversity Committee with a brief paper on what training is
available for Recruitment and Selection. The request for this paper by the
committee was a result of the action taken from our last meeting to make the
recruitment and selection training compulsory.
6.
Staff Network Groups
TO REPORT:
A verbal up-date on Staff Network Groups will be given by the HR Adviser,
Equality and Diversity.
An LGBT Staff Network Group has recently formed (included PhD students).
Already has around 12 members and has met twice. The group meets every
second Wednesday of the month for lunch and a chat and will also be
organising some social events. A poster has been created publicising the
group and E&D representatives have been sent it to display in departments.
There is also information on the E&D web pages. The group have already
decided to put a mentoring system in place for staff who have not yet come
out at work or who wish to attend the group but want to talk to another group
member first. Anyone interested can contact Sandra to be put in touch with
the group.
This Staff Network Group has been established to ensure and develop a
positive working environment for Warwick staff who identify as lesbian, gay,
bisexual or trans. The structure of the group is informal and will primarily
involve email contact to share information on relevant events, opportunities
and current issues.
7.
Items for the Equality and Diversity Committee
TO CONSIDER:
Items to be taken forward to the Equality and Diversity Committee meeting to
be held on 4 February 2014.
8.
Any other business
9.
Date of next meeting
TO REPORT:
That the date of the next meeting of the Network will be 14:00 hrs on 28 April
2014 in CMR1.0.