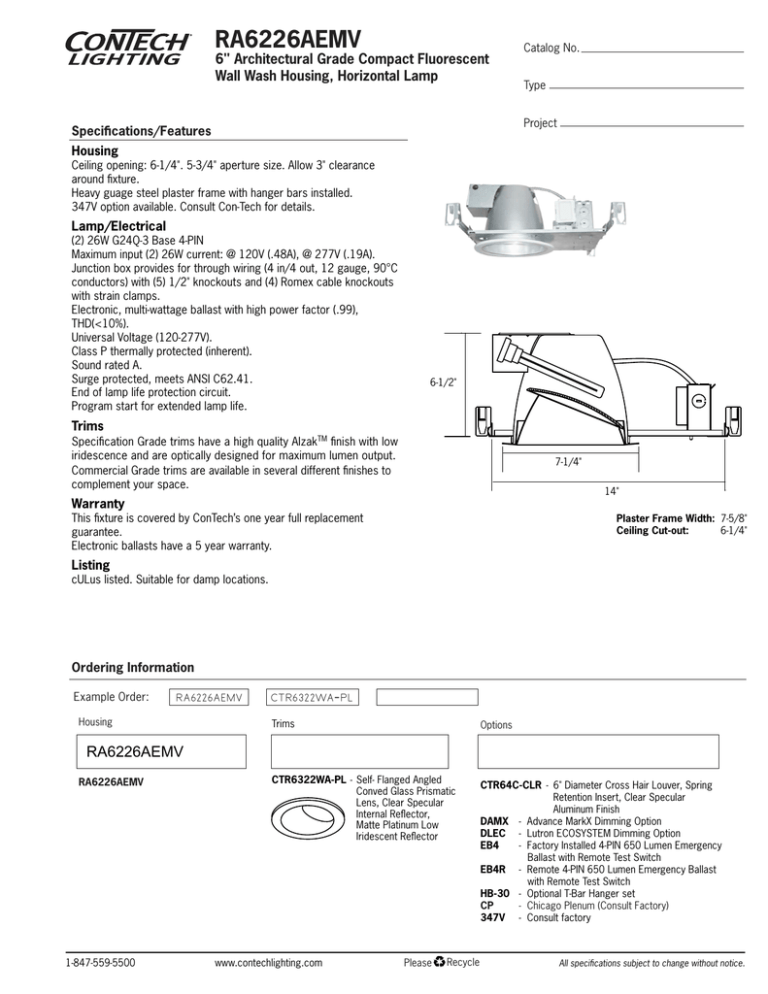 RA6226AEMV
6" Architectural Grade Compact Fluorescent
Wall Wash Housing, Horizontal Lamp
Catalog No.
Type
Project
Specifications/Features
Housing
Ceiling opening: 6-1/4". 5-3/4" aperture size. Allow 3" clearance
around fixture.
Heavy guage steel plaster frame with hanger bars installed.
347V option available. Consult Con-Tech for details.
Lamp/Electrical
(2) 26W G24Q-3 Base 4-PIN
Maximum input (2) 26W current: @ 120V (.48A), @ 277V (.19A).
Junction box provides for through wiring (4 in/4 out, 12 gauge, 90°C
conductors) with (5) 1/2" knockouts and (4) Romex cable knockouts
with strain clamps.
Electronic, multi-wattage ballast with high power factor (.99),
THD(<10%).
Universal Voltage (120-277V).
Class P thermally protected (inherent).
Sound rated A.
Surge protected, meets ANSI C62.41.
End of lamp life protection circuit.
Program start for extended lamp life.
6-1/2"
Trims
Specification Grade trims have a high quality AlzakTM finish with low
iridescence and are optically designed for maximum lumen output.
Commercial Grade trims are available in several different finishes to
complement your space.
7-1/4"
14"
Warranty
This fixture is covered by ConTech's one year full replacement
guarantee.
Electronic ballasts have a 5 year warranty.
Plaster Frame Width: 7-5/8"
Ceiling Cut-out:
6-1/4"
Listing
cULus listed. Suitable for damp locations.
Ordering Information
Example Order:
RA6226AEMV
Housing
CTR6322WA-PL
Trims
Options
RA6226AEMV
RA6226AEMV
1-847-559-5500
CTR6322WA-PL - Self- Flanged Angled
Conved Glass Prismatic
Lens, Clear Specular
Internal Reflector,
Matte Platinum Low
Iridescent Reflector
www.contechlighting.com
Please
Recycle
CTR64C-CLR - 6" Diameter Cross Hair Louver, Spring
Retention Insert, Clear Specular
Aluminum Finish
DAMX - Advance MarkX Dimming Option
DLEC - Lutron ECOSYSTEM Dimming Option
EB4
- Factory Installed 4-PIN 650 Lumen Emergency
Ballast with Remote Test Switch
EB4R - Remote 4-PIN 650 Lumen Emergency Ballast
with Remote Test Switch
HB-30 - Optional T-Bar Hanger set
CP
- Chicago Plenum (Consult Factory)
347V - Consult factory
All specifications subject to change without notice.