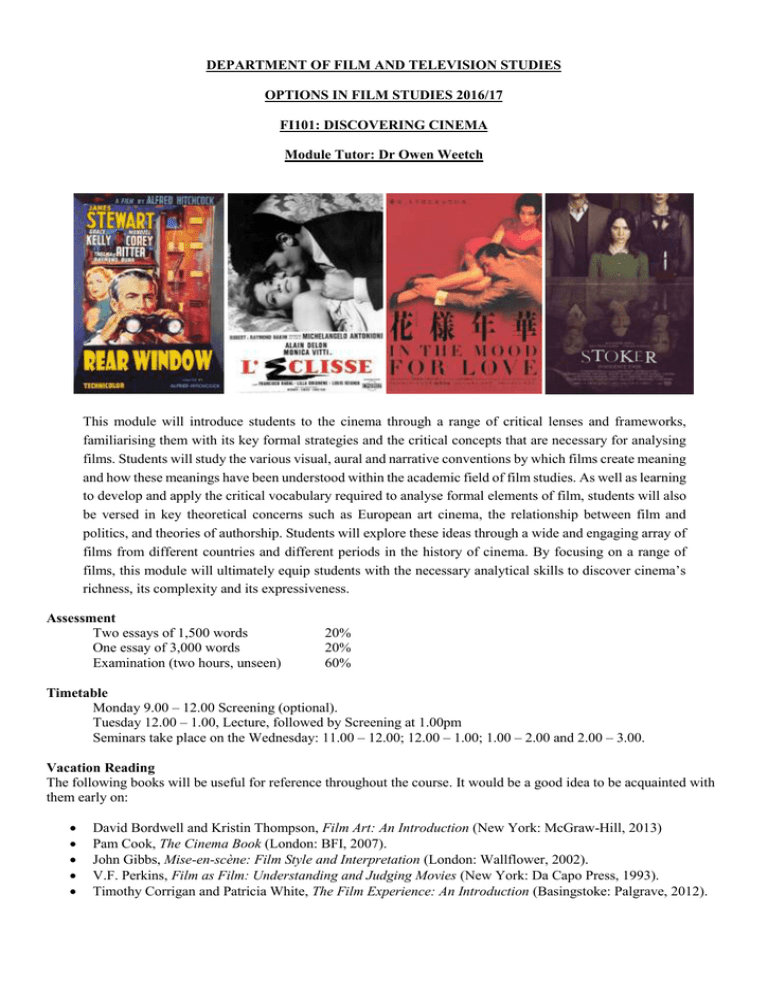 DEPARTMENT OF FILM AND TELEVISION STUDIES
OPTIONS IN FILM STUDIES 2016/17
FI101: DISCOVERING CINEMA
Module Tutor: Dr Owen Weetch
This module will introduce students to the cinema through a range of critical lenses and frameworks,
familiarising them with its key formal strategies and the critical concepts that are necessary for analysing
films. Students will study the various visual, aural and narrative conventions by which films create meaning
and how these meanings have been understood within the academic field of film studies. As well as learning
to develop and apply the critical vocabulary required to analyse formal elements of film, students will also
be versed in key theoretical concerns such as European art cinema, the relationship between film and
politics, and theories of authorship. Students will explore these ideas through a wide and engaging array of
films from different countries and different periods in the history of cinema. By focusing on a range of
films, this module will ultimately equip students with the necessary analytical skills to discover cinema's
richness, its complexity and its expressiveness.
Assessment
Two essays of 1,500 words
One essay of 3,000 words
Examination (two hours, unseen)
20%
20%
60%
Timetable
Monday 9.00 – 12.00 Screening (optional).
Tuesday 12.00 – 1.00, Lecture, followed by Screening at 1.00pm
Seminars take place on the Wednesday: 11.00 – 12.00; 12.00 – 1.00; 1.00 – 2.00 and 2.00 – 3.00.
Vacation Reading
The following books will be useful for reference throughout the course. It would be a good idea to be acquainted with
them early on:





David Bordwell and Kristin Thompson, Film Art: An Introduction (New York: McGraw-Hill, 2013)
Pam Cook, The Cinema Book (London: BFI, 2007).
John Gibbs, Mise-en-scène: Film Style and Interpretation (London: Wallflower, 2002).
V.F. Perkins, Film as Film: Understanding and Judging Movies (New York: Da Capo Press, 1993).
Timothy Corrigan and Patricia White, The Film Experience: An Introduction (Basingstoke: Palgrave, 2012).