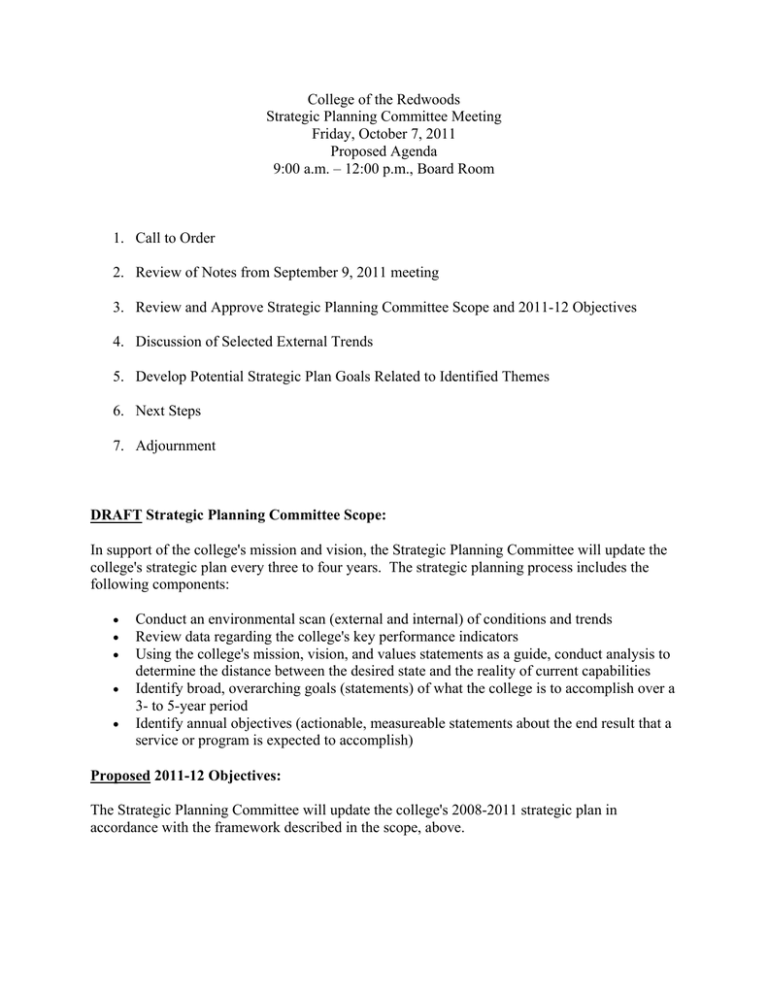 College of the Redwoods
Strategic Planning Committee Meeting
Friday, October 7, 2011
Proposed Agenda
9:00 a.m. – 12:00 p.m., Board Room
1. Call to Order
2. Review of Notes from September 9, 2011 meeting
3. Review and Approve Strategic Planning Committee Scope and 2011-12 Objectives
4. Discussion of Selected External Trends
5. Develop Potential Strategic Plan Goals Related to Identified Themes
6. Next Steps
7. Adjournment
DRAFT Strategic Planning Committee Scope:
In support of the college's mission and vision, the Strategic Planning Committee will update the
college's strategic plan every three to four years. The strategic planning process includes the
following components:
•
•
•
•
•
Conduct an environmental scan (external and internal) of conditions and trends
Review data regarding the college's key performance indicators
Using the college's mission, vision, and values statements as a guide, conduct analysis to
determine the distance between the desired state and the reality of current capabilities
Identify broad, overarching goals (statements) of what the college is to accomplish over a
3- to 5-year period
Identify annual objectives (actionable, measureable statements about the end result that a
service or program is expected to accomplish)
Proposed 2011-12 Objectives:
The Strategic Planning Committee will update the college's 2008-2011 strategic plan in
accordance with the framework described in the scope, above.