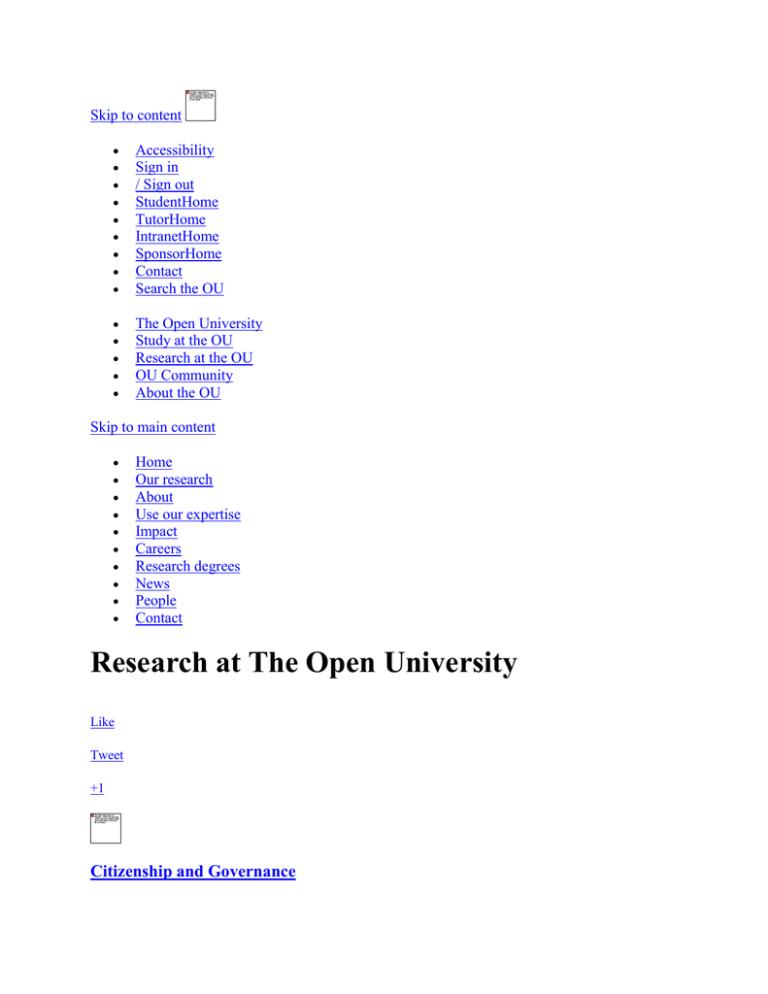 Skip to content









Accessibility
Sign in
/ Sign out
StudentHome
TutorHome
IntranetHome
SponsorHome
Contact
Search the OU





The Open University
Study at the OU
Research at the OU
OU Community
About the OU
Skip to main content










Home
Our research
About
Use our expertise
Impact
Careers
Research degrees
News
People
Contact
Research at The Open University

Like

Tweet

+1
Citizenship and Governance
OU research is rethinking the changing relationships between citizens and authorities in the 21st
century. Its scope ranges from global issues like migration, to the increasing scrutiny of
private lives.
International Development
International Development research at the OU is pioneering a different approach which we call
'inclusive innovation'. We are working with poor and marginalised people developing their own
solutions.
Space
The OU is one of the top three university space science centres in the UK. OU scientists play key
roles in iconic missions, such as Rosetta, the first comet landing.
Education
The Open University is the European leader for massive innovations in learning technologies
which have worldwide influence and deliver digital education at scale.
Postgraduate research students
The OU has a vibrant international community of research students working in state-of-the-art
facilities with academics who are leading experts in their disciplines.
Browse our winning postgraduate posters.
Open Research Online database
OU research is available to all via our free public access online repository, home to thousands
of peer-reviewed publications.
Read the OU research paper on Learning Designs using a Learning Analytics approach.
Latest news

OU involved in telescope with the world's largest digital camera
OU scientists are involved in the creation of the Large Synoptic Survey Telescope
(LSST), which... read more

Research sparks debate on Northern Ireland Brexit
Groundbreaking research by an economist from The Open University Business School is
informing and... read more

Event to engage the public with OU research
OU academics will engage the public with social scientific research during a film series
in London... read more

Solar storms could solve longstanding paradox of how life on Earth arose
It was only a matter of 700m years or so after Earth formed and its surface cooled and
solidified... read more

What does the UN want to achieve from the first World Humanitarian
Summit?
In 2016, nearly one in five of the 7.4 billion people on our planet live in fragile
situations.... read more

Legal aid cuts prevent the police from being held accountable for their
actions
Who holds the police to account for their actions? Is it just institutions, such as the
Independent... read more

Phones – crucial to survival for refugees on the perilous route to Europe
For refugees trying to reach Europe, a mobile phone is not a luxury. It is as important as
the... read more

More than 1,000 new exoplanets discovered - but still no earth twin
NASA astronomers working with data from the Kepler space observatory have presented
the largest... read more

OU research highlights benefits and risks of smartphones for refugees
Today marks the launch of a new academic report by the Open University, Mapping
Refugee Media... read more

The Open University Trends in Learning 2016 report identifies seven key
trends to watch out for
Today (11 May) The Open University (OU) launches its annual Trends in Learning
report at the CIPD... read more
all research news
Back to top




The Open University
© Copyright . All rights reserved
+44 (0)300 303 5303
Contact us





Study at the OU
Research
Community
About
Accessibility







Contact
Search
Privacy and cookies
Copyright
Conditions of use
Cymraeg
0300 303 5303



















Undergraduate
Postgraduate
Research degrees
Employers
OU explained
Faculties and centres
Admin and governance
Press Room
Alumni
Jobs
Donate
Platform
OpenLearn
Facebook
Twitter
YouTube
StudentHome
Learning Support
Library
The Open University is incorporated by Royal Charter (RC 000391), an exempt charity in
England & Wales and a charity registered in Scotland (SC 038302). The Open University is
authorised and regulated by the Financial Conduct Authority.