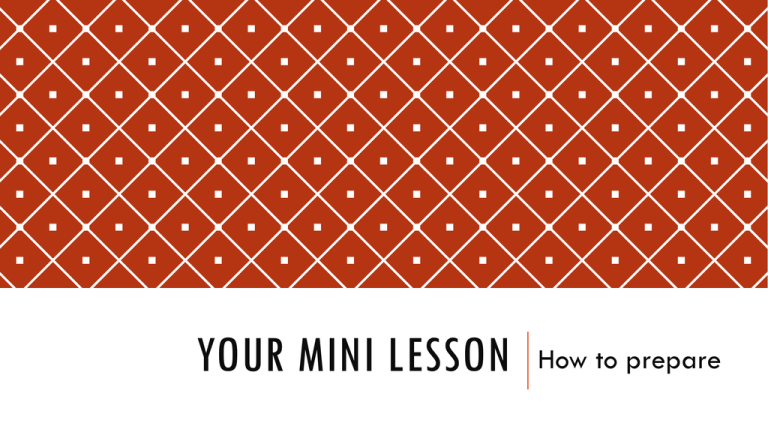 YOUR MINI LESSON
How to prepare
YOUR TASK
 Read the Centre for Professional Education's Mini Lesson Brief
 Teach a lesson for 3-5 minutes to your fellow
candidates/interviewers
 Showcase your potential as a teacher
Please do not use PowerPoint
THE AIM OF THE EXERCISE
 To demonstrate your potential as a teacher
1. Speak with confidence
2. Engage others
3. Be clear
4. Listen and respond
1. SPEAK WITH CONFIDENCE
Introduce yourself and smile
You will probably get smiles back: an instinctive reaction
Speak clearly
This makes you sound in calm and in control
Don't speak too quickly
Give the audience time to absorb each point
Use silence to emphasise points
This tells the audience that something important is coming
Don't worry about mistakes
Move on or rectify it with confidence
2. ENGAGE OTHERS
Try to involve everyone
Address your words to different people, try to use names if you can
Make eye contact
This is crucial to holding the attention of your audience
Move
Walk around a little and gesture with your hands
Convey enthusiasm and passion for your topic
Practice saying sentences in different emotions
Use variety
Move around, gesture, use props or aids – use an activity to get your "pupils" involved
3. BE CLEAR
Be structured
Keep to a structure which includes an introduction, middle and end
Keep to allotted time
Practice timings and have a clock you can check
Be clear
Make sure you get your key messages, ideas and learning point across
Create variety
Break it up into sections
4. LISTEN AND RESPOND
Gauge your audience
Check they have grasped the subject matter
Anticipate any questions
This will reinforce the impression that you have knowledge and experience in your subject
Be positive
Be encouraging and positive with your "pupils" ideas and questions
WARWICK.AC.UK/BECOME-A-TEACHER
Good luck!