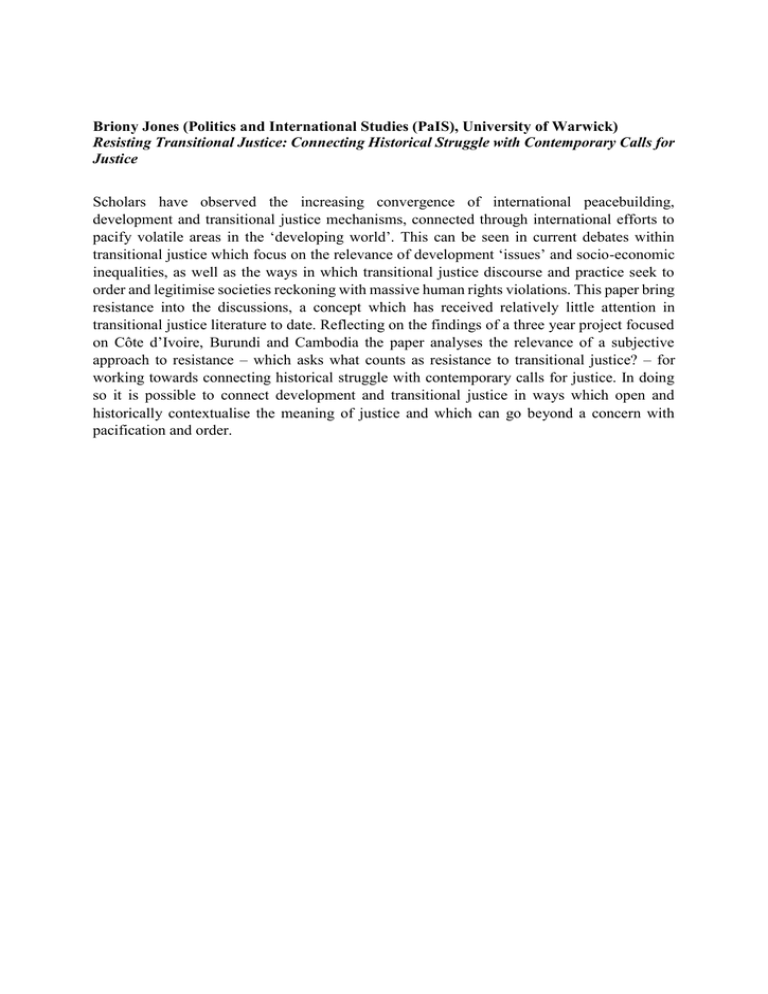 Briony Jones (Politics and International Studies (PaIS), University of Warwick)
Resisting Transitional Justice: Connecting Historical Struggle with Contemporary Calls for
Justice
Scholars have observed the increasing convergence of international peacebuilding,
development and transitional justice mechanisms, connected through international efforts to
pacify volatile areas in the 'developing world'. This can be seen in current debates within
transitional justice which focus on the relevance of development 'issues' and socio-economic
inequalities, as well as the ways in which transitional justice discourse and practice seek to
order and legitimise societies reckoning with massive human rights violations. This paper bring
resistance into the discussions, a concept which has received relatively little attention in
transitional justice literature to date. Reflecting on the findings of a three year project focused
on Côte d'Ivoire, Burundi and Cambodia the paper analyses the relevance of a subjective
approach to resistance – which asks what counts as resistance to transitional justice? – for
working towards connecting historical struggle with contemporary calls for justice. In doing
so it is possible to connect development and transitional justice in ways which open and
historically contextualise the meaning of justice and which can go beyond a concern with
pacification and order.