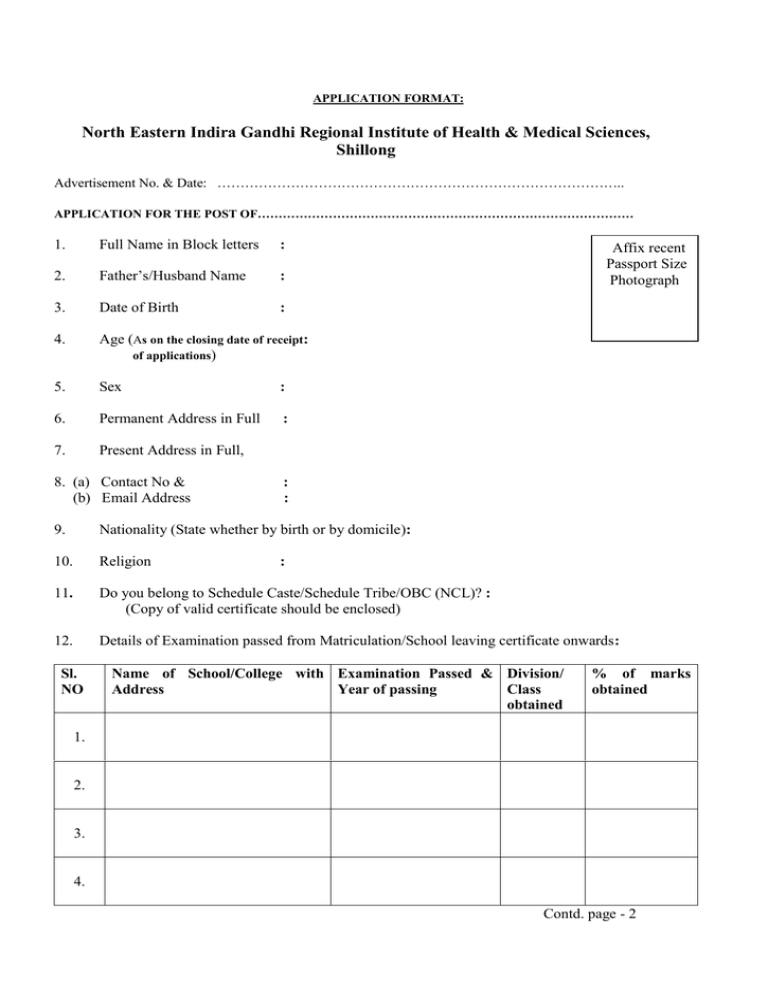 APPLICATION FORMAT:
North Eastern Indira Gandhi Regional Institute of Health & Medical Sciences,
Shillong
Advertisement No. & Date: ……………………………………………………………………………..
APPLICATION FOR THE POST OF………………………………………………………………………………
1.
Full Name in Block letters
:
2.
Father's/Husband Name
:
3.
Date of Birth
:
4.
Age (As on the closing date of receipt:
of applications)
5.
Sex
:
6.
Permanent Address in Full
:
7.
Present Address in Full,
8. (a) Contact No &
(b) Email Address
Affix recent
Passport Size
Photograph
:
:
9.
Nationality (State whether by birth or by domicile):
10.
Religion
11.
Do you belong to Schedule Caste/Schedule Tribe/OBC (NCL)? :
(Copy of valid certificate should be enclosed)
12.
Details of Examination passed from Matriculation/School leaving certificate onwards:
Sl.
NO
:
Name of School/College with Examination Passed & Division/
Address
Year of passing
Class
obtained
% of marks
obtained
1.
2.
3.
4.
Contd. page - 2
13. Registration No. (for Indian/State Nursing Council) :
14. Experience:
Sl.
No.
Name
of
Institution
the Name
of
Post(s) held
the
From To
Employer
Nature of duty
Reason
leaving
of
1.
2.
3.
4.
15. Whether No Objection Certificate from the Employer is attached, if not, reason thereof:
Declaration:
I hereby declare that the entries made in this form as above is true and correct to the best of my
knowledge and belief. In the event of any information being found false/incorrect my
candidature/services are liable to be terminated without any notice.
Signature of applicant
Station: …………………….
Date: ……………………....
NB: Last date of submission of applications is one month from the date of publication of this advertisement in
the Employment News.