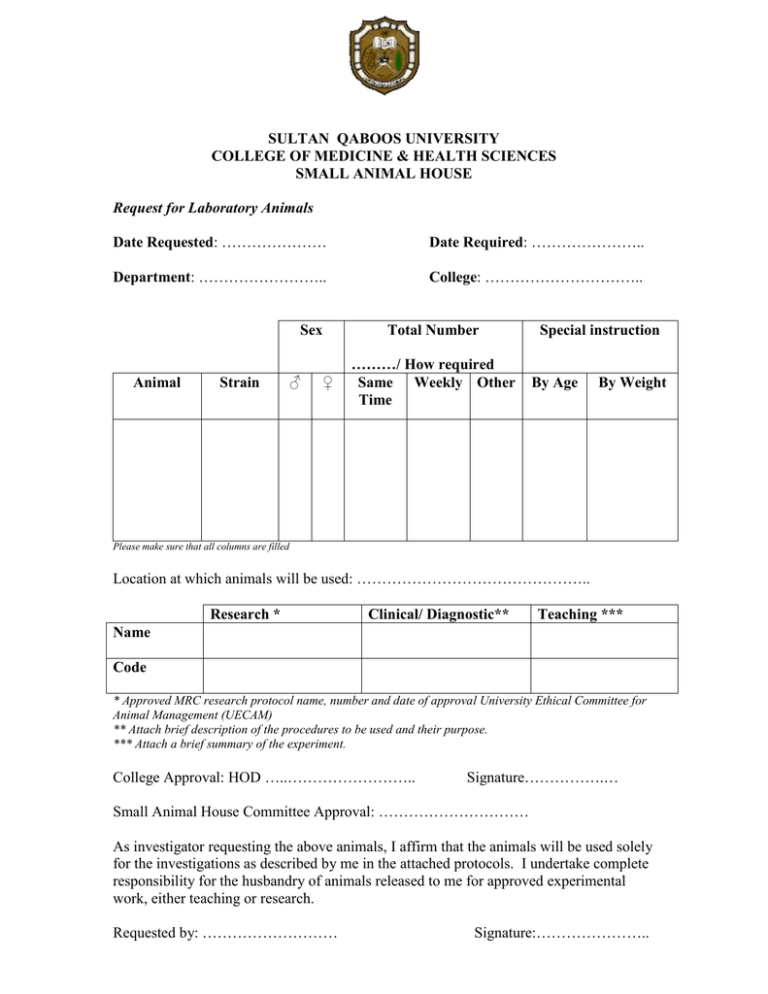 SULTAN QABOOS UNIVERSITY
COLLEGE OF MEDICINE & HEALTH SCIENCES
SMALL ANIMAL HOUSE
Request for Laboratory Animals
Date Requested: …………………
Date Required: …………………..
Department: ……………………..
College: …………………………..
Sex
Animal
Strain
♂
♀
Total Number
………/ How required
Same Weekly Other
Time
Special instruction
By Age
By Weight
Please make sure that all columns are filled
Location at which animals will be used: ………………………………………..
Research *
Clinical/ Diagnostic**
Teaching ***
Name
Code
* Approved MRC research protocol name, number and date of approval University Ethical Committee for
Animal Management (UECAM)
** Attach brief description of the procedures to be used and their purpose.
*** Attach a brief summary of the experiment.
College Approval: HOD …..……………………..
Signature…………….…
Small Animal House Committee Approval: …………………………
As investigator requesting the above animals, I affirm that the animals will be used solely
for the investigations as described by me in the attached protocols. I undertake complete
responsibility for the husbandry of animals released to me for approved experimental
work, either teaching or research.
Requested by: ………………………
Signature:…………………..