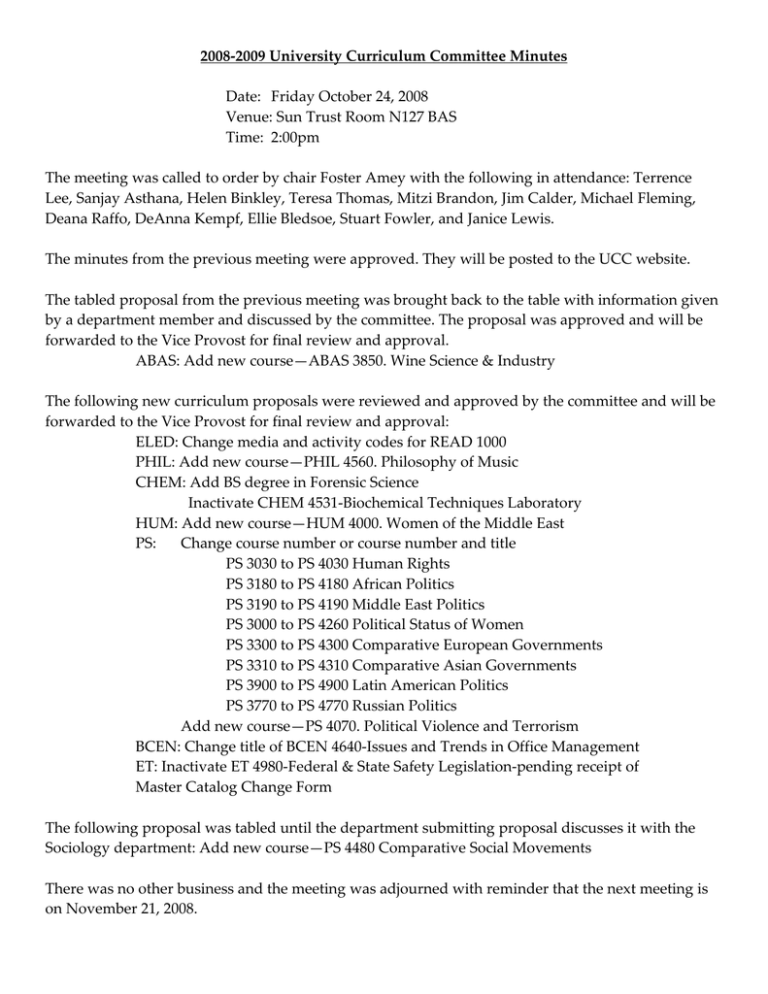 2008-2009 University Curriculum Committee Minutes
Date: Friday October 24, 2008
Venue: Sun Trust Room N127 BAS
Time: 2:00pm
The meeting was called to order by chair Foster Amey with the following in attendance: Terrence
Lee, Sanjay Asthana, Helen Binkley, Teresa Thomas, Mitzi Brandon, Jim Calder, Michael Fleming,
Deana Raffo, DeAnna Kempf, Ellie Bledsoe, Stuart Fowler, and Janice Lewis.
The minutes from the previous meeting were approved. They will be posted to the UCC website.
The tabled proposal from the previous meeting was brought back to the table with information given
by a department member and discussed by the committee. The proposal was approved and will be
forwarded to the Vice Provost for final review and approval.
ABAS: Add new course—ABAS 3850. Wine Science & Industry
The following new curriculum proposals were reviewed and approved by the committee and will be
forwarded to the Vice Provost for final review and approval:
ELED: Change media and activity codes for READ 1000
PHIL: Add new course—PHIL 4560. Philosophy of Music
CHEM: Add BS degree in Forensic Science
Inactivate CHEM 4531-Biochemical Techniques Laboratory
HUM: Add new course—HUM 4000. Women of the Middle East
PS:
Change course number or course number and title
PS 3030 to PS 4030 Human Rights
PS 3180 to PS 4180 African Politics
PS 3190 to PS 4190 Middle East Politics
PS 3000 to PS 4260 Political Status of Women
PS 3300 to PS 4300 Comparative European Governments
PS 3310 to PS 4310 Comparative Asian Governments
PS 3900 to PS 4900 Latin American Politics
PS 3770 to PS 4770 Russian Politics
Add new course—PS 4070. Political Violence and Terrorism
BCEN: Change title of BCEN 4640-Issues and Trends in Office Management
ET: Inactivate ET 4980-Federal & State Safety Legislation-pending receipt of
Master Catalog Change Form
The following proposal was tabled until the department submitting proposal discusses it with the
Sociology department: Add new course—PS 4480 Comparative Social Movements
There was no other business and the meeting was adjourned with reminder that the next meeting is
on November 21, 2008.