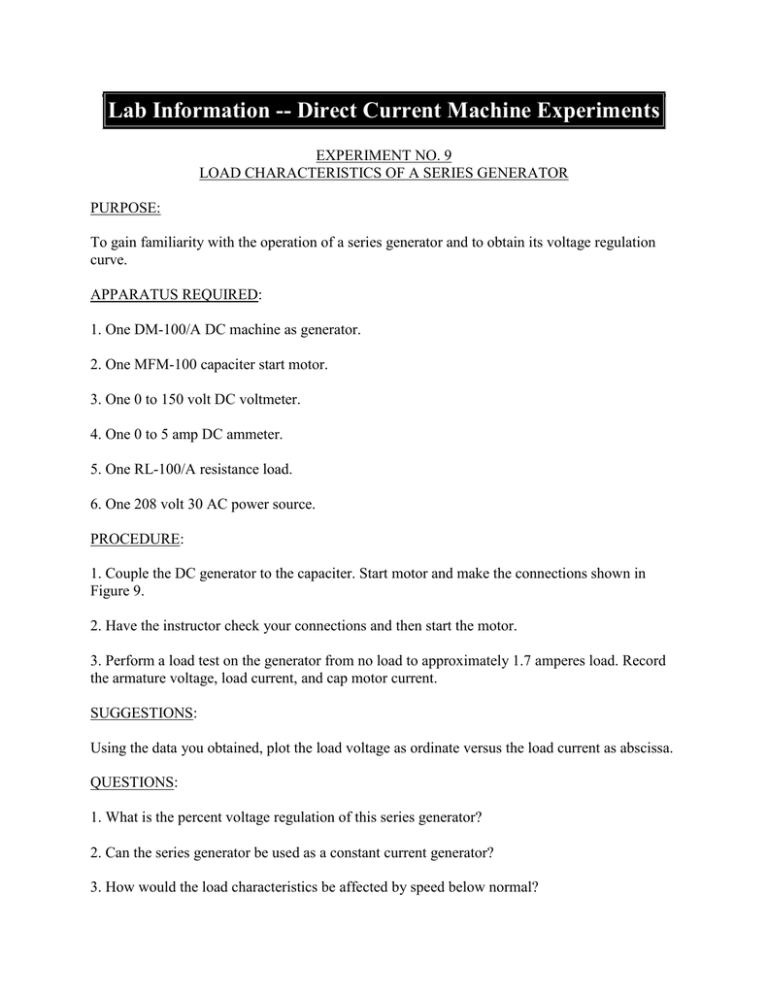 Lab Information -- Direct Current Machine Experiments
EXPERIMENT NO. 9
LOAD CHARACTERISTICS OF A SERIES GENERATOR
PURPOSE:
To gain familiarity with the operation of a series generator and to obtain its voltage regulation
curve.
APPARATUS REQUIRED:
1. One DM-100/A DC machine as generator.
2. One MFM-100 capaciter start motor.
3. One 0 to 150 volt DC voltmeter.
4. One 0 to 5 amp DC ammeter.
5. One RL-100/A resistance load.
6. One 208 volt 30 AC power source.
PROCEDURE:
1. Couple the DC generator to the capaciter. Start motor and make the connections shown in
Figure 9.
2. Have the instructor check your connections and then start the motor.
3. Perform a load test on the generator from no load to approximately 1.7 amperes load. Record
the armature voltage, load current, and cap motor current.
SUGGESTIONS:
Using the data you obtained, plot the load voltage as ordinate versus the load current as abscissa.
QUESTIONS:
1. What is the percent voltage regulation of this series generator?
2. Can the series generator be used as a constant current generator?
3. How would the load characteristics be affected by speed below normal?