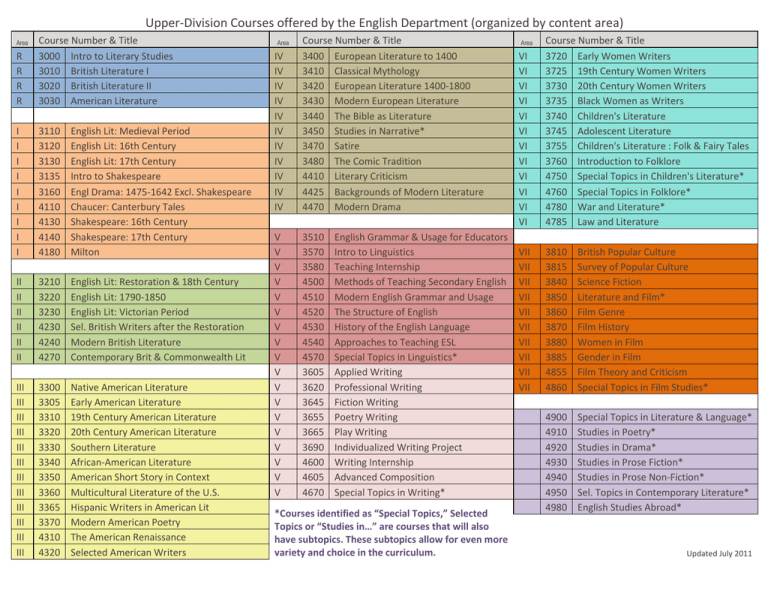 Upper-Division Courses offered by the English Department (organized by content area)
R
R
R
R
Course Number & Title
3000 Intro to Literary Studies
3010 British Literature I
3020 British Literature II
3030 American Literature
I
I
I
I
I
I
I
I
I
3110
3120
3130
3135
3160
4110
4130
4140
4180
English Lit: Medieval Period
English Lit: 16th Century
English Lit: 17th Century
Intro to Shakespeare
Engl Drama: 1475-1642 Excl. Shakespeare
Chaucer: Canterbury Tales
Shakespeare: 16th Century
Shakespeare: 17th Century
Milton
II
II
II
II
II
II
3210
3220
3230
4230
4240
4270
English Lit: Restoration & 18th Century
English Lit: 1790-1850
English Lit: Victorian Period
Sel. British Writers after the Restoration
Modern British Literature
Contemporary Brit & Commonwealth Lit
III
III
III
III
III
III
III
III
III
III
III
III
3300
3305
3310
3320
3330
3340
3350
3360
3365
3370
4310
4320
Native American Literature
Early American Literature
19th Century American Literature
20th Century American Literature
Southern Literature
African-American Literature
American Short Story in Context
Multicultural Literature of the U.S.
Hispanic Writers in American Lit
Modern American Poetry
The American Renaissance
Selected American Writers
Area
IV
IV
IV
IV
IV
IV
IV
IV
IV
IV
IV
Course Number & Title
3400 European Literature to 1400
3410 Classical Mythology
3420 European Literature 1400-1800
3430 Modern European Literature
3440 The Bible as Literature
3450 Studies in Narrative*
3470 Satire
3480 The Comic Tradition
4410 Literary Criticism
4425 Backgrounds of Modern Literature
4470 Modern Drama
V
V
V
V
V
V
V
V
V
V
V
V
V
V
V
V
V
V
3510
3570
3580
4500
4510
4520
4530
4540
4570
3605
3620
3645
3655
3665
3690
4600
4605
4670
Area
English Grammar & Usage for Educators
Intro to Linguistics
Teaching Internship
Methods of Teaching Secondary English
Modern English Grammar and Usage
The Structure of English
History of the English Language
Approaches to Teaching ESL
Special Topics in Linguistics*
Applied Writing
Professional Writing
Fiction Writing
Poetry Writing
Play Writing
Individualized Writing Project
Writing Internship
Advanced Composition
Special Topics in Writing*
*Courses identified as "Special Topics," Selected
Topics or "Studies in…" are courses that will also
have subtopics. These subtopics allow for even more
variety and choice in the curriculum.
VI
VI
VI
VI
VI
VI
VI
VI
VI
VI
VI
VI
Course Number & Title
3720 Early Women Writers
3725 19th Century Women Writers
3730 20th Century Women Writers
3735 Black Women as Writers
3740 Children's Literature
3745 Adolescent Literature
3755 Children's Literature : Folk & Fairy Tales
3760 Introduction to Folklore
4750 Special Topics in Children's Literature*
4760 Special Topics in Folklore*
4780 War and Literature*
4785 Law and Literature
VII
VII
VII
VII
VII
VII
VII
VII
VII
VII
3810
3815
3840
3850
3860
3870
3880
3885
4855
4860
British Popular Culture
Survey of Popular Culture
Science Fiction
Literature and Film*
Film Genre
Film History
Women in Film
Gender in Film
Film Theory and Criticism
Special Topics in Film Studies*
4900
4910
4920
4930
4940
4950
4980
Special Topics in Literature & Language*
Studies in Poetry*
Studies in Drama*
Studies in Prose Fiction*
Studies in Prose Non-Fiction*
Sel. Topics in Contemporary Literature*
English Studies Abroad*
Area
Updated July 2011
Upper Division English
Special Topics Courses
Number
Special Topics Title
Standing
Course
Title
A world of Stories: Narratives from Around
the World
Studies in
Narrative
4230
Browning and Tennyson
Defoe and Haywood
The Inklings
Jane Austen in Her Time
Jane Austen in Popular Culture and Film
Selected
British
Writers
After the
Restoration
4570
Children's Language
Children's Language Acquisition
Language and Politics
Standard English in Society
The Science of Words
Special
Topics in
Linguistics
3450
4750
4760
British Children's Literature
Children and Film
Children's Fantasy Fiction
Immigration in Children's and Adolescent
Literature
Multicultural Literature for Children and
Adolescents
Picture Books
Special
Topics in
Children's
Literature
Folklore and Literature
Folk Belief and Religious Expression
World Folklore
Special
Topics in
Folklore
4780
4860
4900
4910
Literature and the Holocaust
Holocaust Literature
Literature of the Vietnam War
20th Century American War Novel
War &
Literature
American Independent Film
Contemporary World Cinema
Films of the 1960's
The Gangster Film
Horror Film
Science Fiction and Film
Shakespeare and Film
Woody Allen
Special
Topics in
Film
Studies
African Diaspora
American Naturalism and Realism
American Popular Literature in the
Nineteenth Century
Female Modernism
Introduction to Russian Literature
Literature and the Visual Arts in 18th and
19th Century Britain
Modern Arabic Literature in Translation
Utopian and Distopian Literature
Western American Literature
Women Writers of the Restoration and 18th
Century
Selected
Topics in
Literature
and
Language
Lyric Poetry
Modern Poetry
Medieval Romance
Studies in
Poetry
(see page 3)
4920
American Drama
4930
American Realism and Naturalism
Development of the Novel in the 18th
Century
Development of the Novel in the 19th
Century
The Modern Novel
Novel Beginnings
Women's Popular Fiction
4940
4950
Studies in
Drama
Notes about Special Topics Courses
4900 and 4950 special topics will satisfy different areas depending on the
topic. Advisors will decide which area, and will substitute as appropriate.
Studies in
Prose
Fiction
Autobiography
The Captivity Narrative in Early American
Literature
United States Slave Narratives
Studies in
Prose NonFiction
Contemporary Novel of the Americas
Lesbian Literature
Linda Hogan's Prose and Poetry
Literature of the African Diaspora
Storytellers and Their Audience in
Contemporary Southern Literature
Transnational Literature
Modern Slave Narrative
Special
Topics in
Contemporary
Literature
4910, 4920, 4930 and 4940 automatically satisfy the Writing
Concentration genre requirement or may be substituted in the
appropriate areas by advisors.
There is no listing of 4980 English Studies Abroad Topics because these
are not always MTSU courses. For more information, talk to your
advisor.
Some of the above courses are offered regularly while others are offered
infrequently. Students with a special interest in a particular course
should let advisor know, so that this information may be conveyed to the
appropriate instructor.
New special topics courses are always being developed. If a course you
want to take is not on this list but is on the schedule, it is because the
course is newly approved.