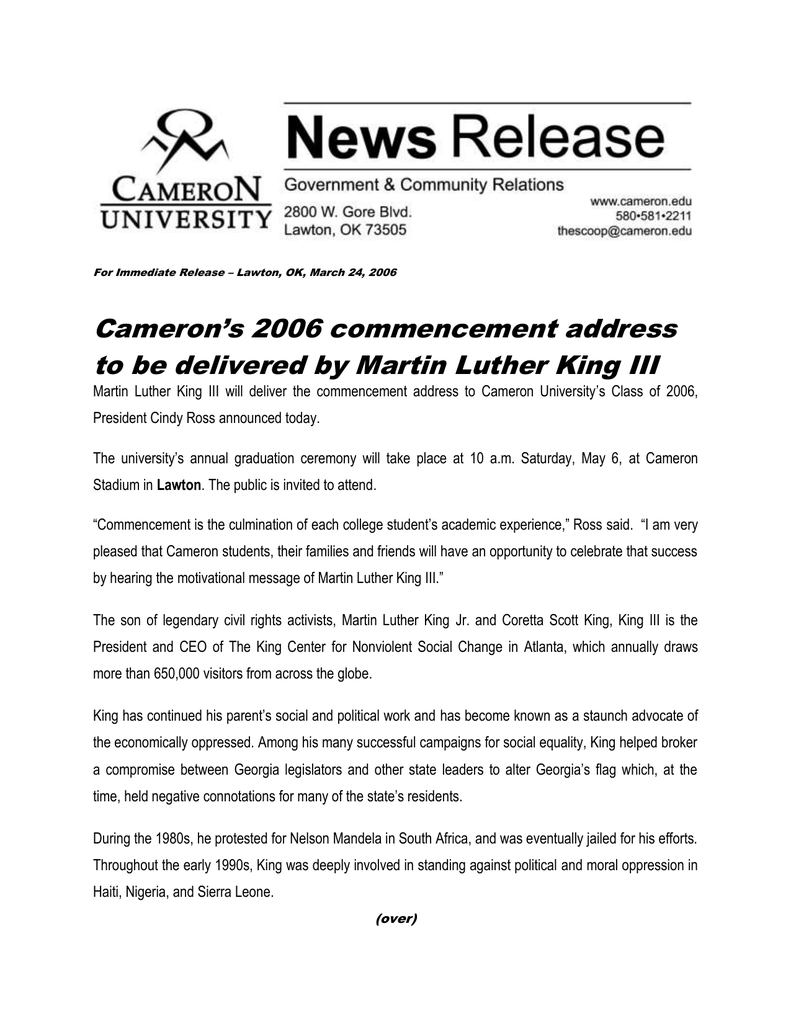 For Immediate Release – Lawton, OK, March 24, 2006
Cameron's 2006 commencement address
to be delivered by Martin Luther King III
Martin Luther King III will deliver the commencement address to Cameron University's Class of 2006,
President Cindy Ross announced today.
The university's annual graduation ceremony will take place at 10 a.m. Saturday, May 6, at Cameron
Stadium in Lawton. The public is invited to attend.
"Commencement is the culmination of each college student's academic experience," Ross said. "I am very
pleased that Cameron students, their families and friends will have an opportunity to celebrate that success
by hearing the motivational message of Martin Luther King III."
The son of legendary civil rights activists, Martin Luther King Jr. and Coretta Scott King, King III is the
President and CEO of The King Center for Nonviolent Social Change in Atlanta, which annually draws
more than 650,000 visitors from across the globe.
King has continued his parent's social and political work and has become known as a staunch advocate of
the economically oppressed. Among his many successful campaigns for social equality, King helped broker
a compromise between Georgia legislators and other state leaders to alter Georgia's flag which, at the
time, held negative connotations for many of the state's residents.
During the 1980s, he protested for Nelson Mandela in South Africa, and was eventually jailed for his efforts.
Throughout the early 1990s, King was deeply involved in standing against political and moral oppression in
Haiti, Nigeria, and Sierra Leone.
(over)
King III, ADD ONE
King has also spoken to the United Nations on behalf of those living with AIDS, as well as worked against
racial profiling, an effort which resulted in the passage of anti-racial profiling resolutions.
"Mr. King has devoted his life to fighting for human rights and a nonviolent society," Ross said. "He has not
only continued his father's rich legacy of fighting for social and political justice, but he has added new
dimensions."
King III was born Oct. 23, 1957 in Montgomery, Ala., the second of Martin Luther King Jr.'s four children.
He received a bachelor of arts in political science from Morehouse College, the same school his father
attended.
King served as a commissioner of Fulton County from 1987 to 1993. He was elected to lead the Southern
Christian Leadership Conference (SCLC) in 1997. King left the SCLC in January 2004 to take the helm of
The King Center.
Located in Atlanta's Martin Luther King Jr. National Historic Site, The King Center allows visitors to
experience the life and teachings of Martin Luther King Jr. through interactive exhibits. Visitors may also
tour The King Center's Library and Archives, the social leader's final resting place and his birth home.
– 30 –
PR#06-043
Note to Editors: A high quality photo of Martin Luther King III has been included with this release in jpeg
format.