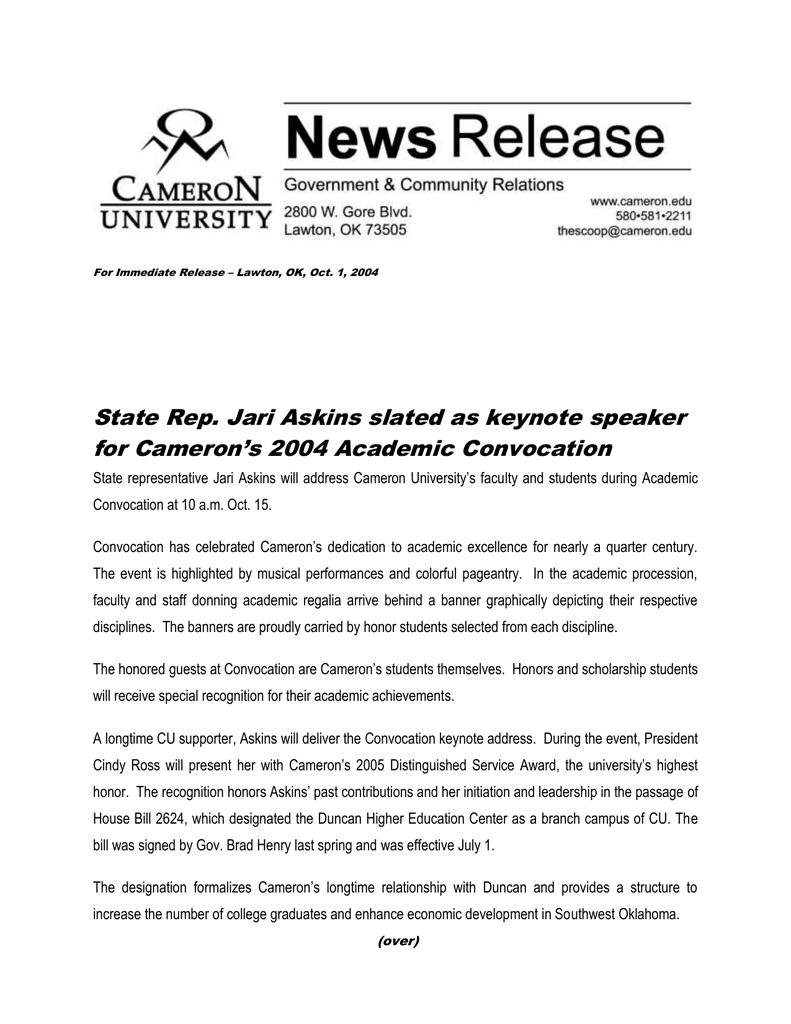 For Immediate Release – Lawton, OK, Oct. 1, 2004
State Rep. Jari Askins slated as keynote speaker
for Cameron's 2004 Academic Convocation
State representative Jari Askins will address Cameron University's faculty and students during Academic
Convocation at 10 a.m. Oct. 15.
Convocation has celebrated Cameron's dedication to academic excellence for nearly a quarter century.
The event is highlighted by musical performances and colorful pageantry. In the academic procession,
faculty and staff donning academic regalia arrive behind a banner graphically depicting their respective
disciplines. The banners are proudly carried by honor students selected from each discipline.
The honored guests at Convocation are Cameron's students themselves. Honors and scholarship students
will receive special recognition for their academic achievements.
A longtime CU supporter, Askins will deliver the Convocation keynote address. During the event, President
Cindy Ross will present her with Cameron's 2005 Distinguished Service Award, the university's highest
honor. The recognition honors Askins' past contributions and her initiation and leadership in the passage of
House Bill 2624, which designated the Duncan Higher Education Center as a branch campus of CU. The
bill was signed by Gov. Brad Henry last spring and was effective July 1.
The designation formalizes Cameron's longtime relationship with Duncan and provides a structure to
increase the number of college graduates and enhance economic development in Southwest Oklahoma.
(over)
convocation, ADD ONE
The impact of this designation, which makes it more convenient and economical for Duncan-area residents
to take college classes, has been immediate. This semester, more than 400 students are enrolled in 2,766
hours of classes – a 40-percent increase from Fall 2003.
Askins, a native of Duncan, has been involved in public service through work in both the judicial and
legislative branches of government. She has served as special district judge for the District Court of
Stephens County. In 1991, she was appointed to the Pardon and Parole Board and was promptly voted its
first female chairman. Re-elected as chairman the following year, Askins eventually served as the board's
executive director. She has also served as deputy general counsel to the governor.
On the legislative side, Askins was elected in 1994 from District 50 in Stephens County. She was named
vice-chairman of the criminal justice committee that year. Upon re-election in 1996, she was moved to
serve as chairman of the newly created government operations and agency oversight committee, and was
selected as the first woman assistant majority floor leader.
Elected to her third term in 1998, Askins chaired the subcommittee for judiciary and law enforcement
appropriations and named to then-House Speaker Loyd Benson's leadership team. In 2000, she was
named to Speaker-elect Larry Adair's leadership team and appointed to the new position of deputy floor
leader. In addition, Askins was selected in 2001 to chair the National Conference of State Legislators'
criminal justice committee.
On March 6, 2003, the House Democratic caucus and Jari Askins made history when she was selected as
the first woman caucus designee for Speaker of the House.
Convocation will also function as the opening event in Cameron's annual alumni weekend. Highlights of
the weekend include campus tours, a barbeque dinner and dance, and the presentation of this year's
CUAA Faculty Hall of Fame and Distinguished Alumni awards.
– 30 –
PR#04-220
Editors and Broadcasters: For details, contact CU Government & Community Relations at 580.581.2211. A
photo of Representative Askins is available upon request.