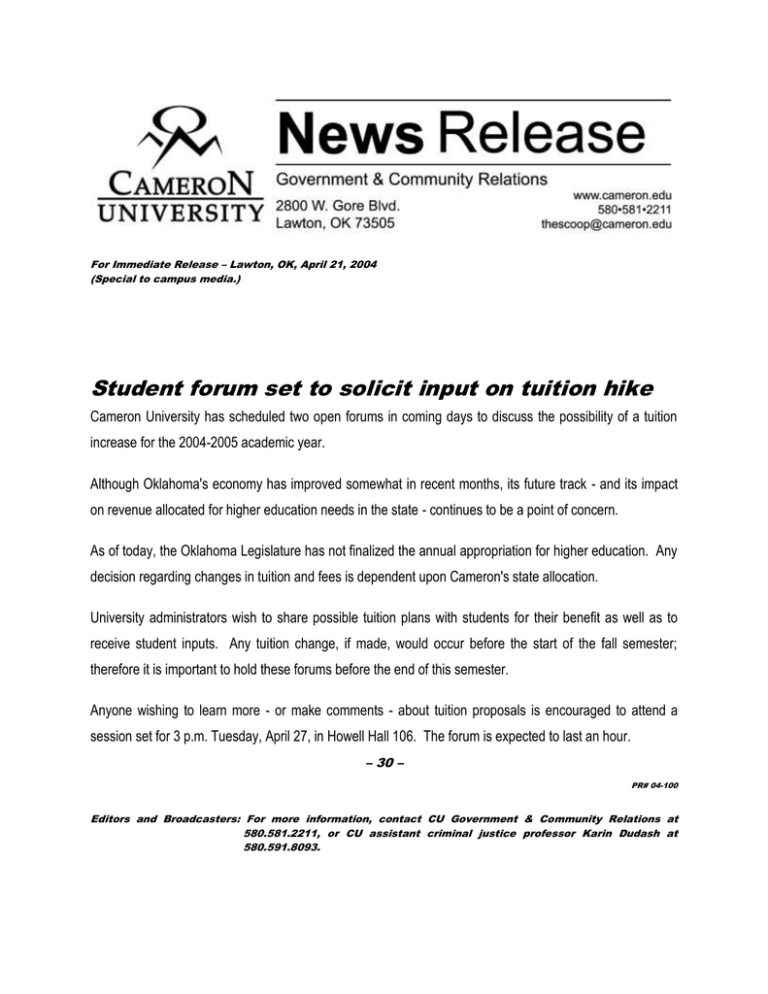 For Immediate Release – Lawton, OK, April 21, 2004
(Special to campus media.)
Student forum set to solicit input on tuition hike
Cameron University has scheduled two open forums in coming days to discuss the possibility of a tuition
increase for the 2004-2005 academic year.
Although Oklahoma's economy has improved somewhat in recent months, its future track - and its impact
on revenue allocated for higher education needs in the state - continues to be a point of concern.
As of today, the Oklahoma Legislature has not finalized the annual appropriation for higher education. Any
decision regarding changes in tuition and fees is dependent upon Cameron's state allocation.
University administrators wish to share possible tuition plans with students for their benefit as well as to
receive student inputs. Any tuition change, if made, would occur before the start of the fall semester;
therefore it is important to hold these forums before the end of this semester.
Anyone wishing to learn more - or make comments - about tuition proposals is encouraged to attend a
session set for 3 p.m. Tuesday, April 27, in Howell Hall 106. The forum is expected to last an hour.
– 30 –
PR# 04-100
Editors and Broadcasters: For more information, contact CU Government & Community Relations at
580.581.2211, or CU assistant criminal justice professor Karin Dudash at
580.591.8093.