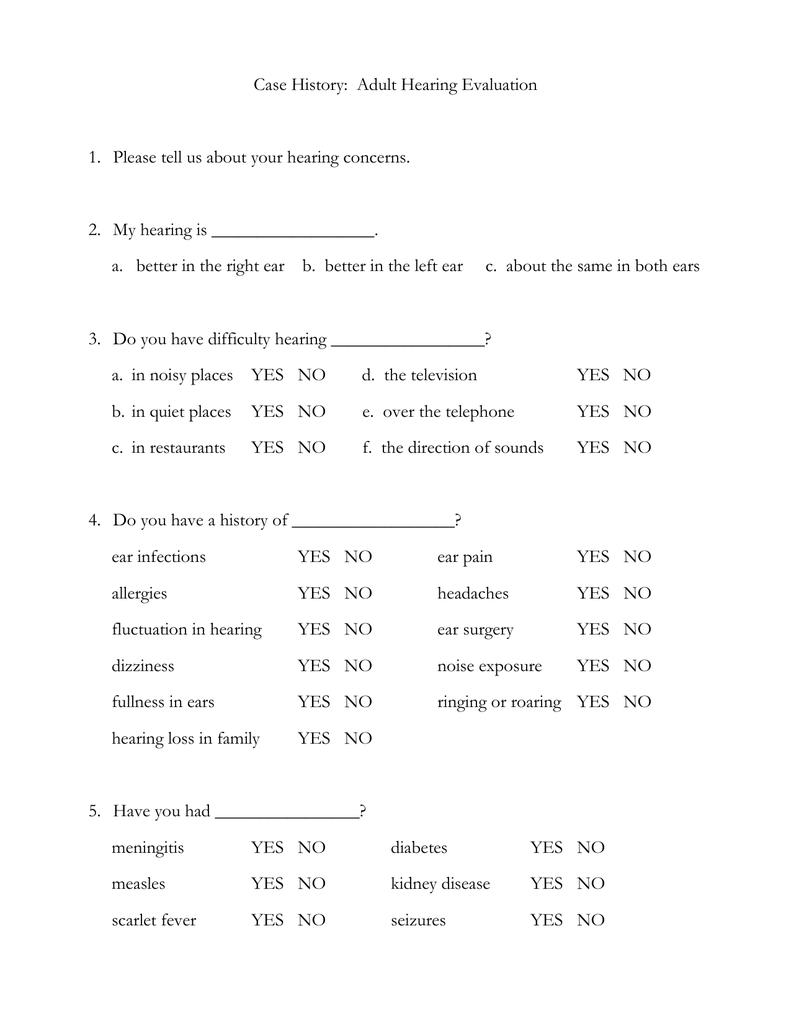 Case History: Adult Hearing Evaluation
1. Please tell us about your hearing concerns.
2. My hearing is __________________.
a. better in the right ear b. better in the left ear
c. about the same in both ears
3. Do you have difficulty hearing _________________?
a. in noisy places YES NO
d. the television
YES NO
b. in quiet places
YES NO
e. over the telephone
YES NO
c. in restaurants
YES NO
f. the direction of sounds
YES NO
4. Do you have a history of __________________?
ear infections
YES NO
ear pain
YES NO
allergies
YES NO
headaches
YES NO
fluctuation in hearing
YES NO
ear surgery
YES NO
dizziness
YES NO
noise exposure
YES NO
fullness in ears
YES NO
ringing or roaring YES NO
hearing loss in family
YES NO
5. Have you had ________________?
meningitis
YES NO
diabetes
YES NO
measles
YES NO
kidney disease
YES NO
scarlet fever
YES NO
seizures
YES NO
tuberculosis
YES NO
multiple sclerosis
YES NO
syphilis
YES NO
concussion
YES NO
head fracture
YES NO
chemotherapy
YES NO
Are you currently taking any medication?
YES
NO
If so, please list: _________________________________________________
6. Have you previously worn hearing aids?
YES
NO
7. Please use the space below to give us additional information you feel would be helpful
to the person testing your hearing.