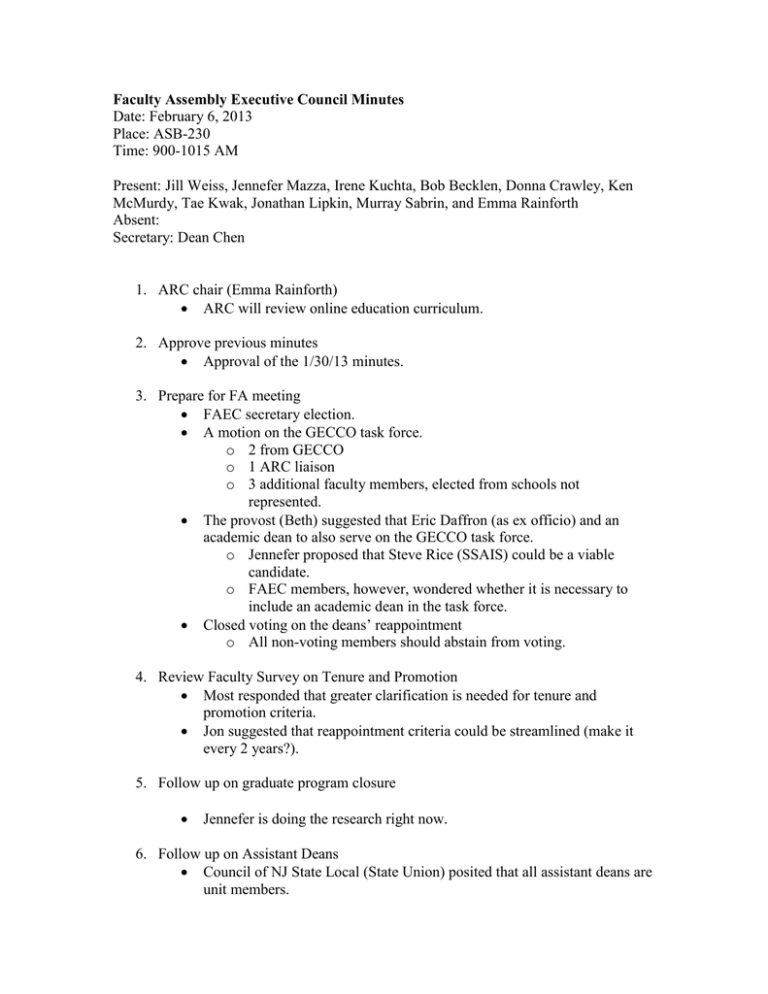 Faculty Assembly Executive Council Minutes
Date: February 6, 2013
Place: ASB-230
Time: 900-1015 AM
Present: Jill Weiss, Jennefer Mazza, Irene Kuchta, Bob Becklen, Donna Crawley, Ken
McMurdy, Tae Kwak, Jonathan Lipkin, Murray Sabrin, and Emma Rainforth
Absent:
Secretary: Dean Chen
1. ARC chair (Emma Rainforth)
 ARC will review online education curriculum.
2. Approve previous minutes
 Approval of the 1/30/13 minutes.
3. Prepare for FA meeting
 FAEC secretary election.
 A motion on the GECCO task force.
o 2 from GECCO
o 1 ARC liaison
o 3 additional faculty members, elected from schools not
represented.
 The provost (Beth) suggested that Eric Daffron (as ex officio) and an
academic dean to also serve on the GECCO task force.
o Jennefer proposed that Steve Rice (SSAIS) could be a viable
candidate.
o FAEC members, however, wondered whether it is necessary to
include an academic dean in the task force.
 Closed voting on the deans' reappointment
o All non-voting members should abstain from voting.
4. Review Faculty Survey on Tenure and Promotion
 Most responded that greater clarification is needed for tenure and
promotion criteria.
 Jon suggested that reappointment criteria could be streamlined (make it
every 2 years?).
5. Follow up on graduate program closure

Jennefer is doing the research right now.
6. Follow up on Assistant Deans
 Council of NJ State Local (State Union) posited that all assistant deans are
unit members.