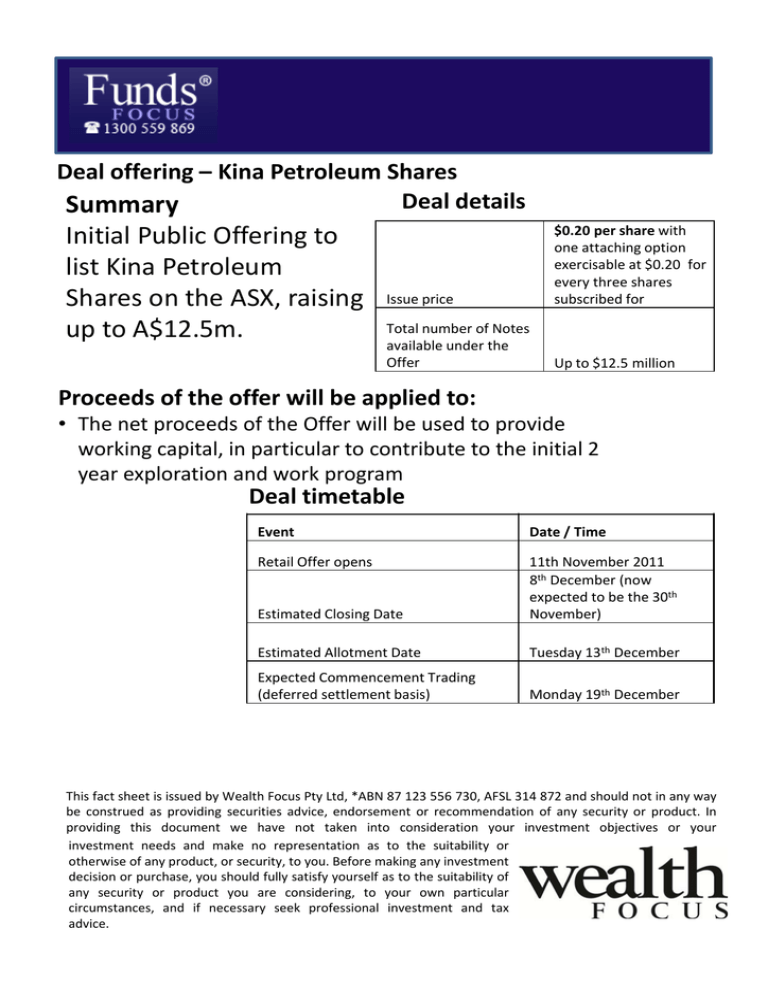 Deal offering – Kina Petroleum Shares
Deal details
Summary
Initial Public Offering to
li t Kina
list
Ki P
Petroleum
t l
Shares on the ASX, raising
up to A$12.5m.
Issue price
$0.20 per share with
one attaching option
i bl att $0
$0.20
20 ffor
exercisable
every three shares
subscribed for
Total number of Notes
available under the
Offer
Up to $12.5 million
Proceeds of the offer will be applied to:
• The net proceeds of the Offer will be used to provide
working capital, in particular to contribute to the initial 2
year exploration and work program
Deal timetable
Event
Date / Time
Retail Offer opens
Estimated Closing Date
11th November 2011
8th December (now
expected to be the 30th
November)
Estimated Allotment Date
Tuesday 13th December
Expected Commencement Trading
(deferred settlement basis)
Monday 19th December
This fact sheet is issued by Wealth Focus Pty Ltd, *ABN 87 123 556 730, AFSL 314 872 and should not in any way
be construed as providing securities advice, endorsement or recommendation of any security or product. In
providing this document we have not taken into consideration your investment objectives or your
investment needs and. make no representation as to the suitability or
otherwise of any product, or security, to you. Before making any investment
decision or purchase, you should fully satisfy yourself as to the suitability of
any security or product you are considering, to your own particular
circumstances, and if necessary seek professional investment and tax
advice.