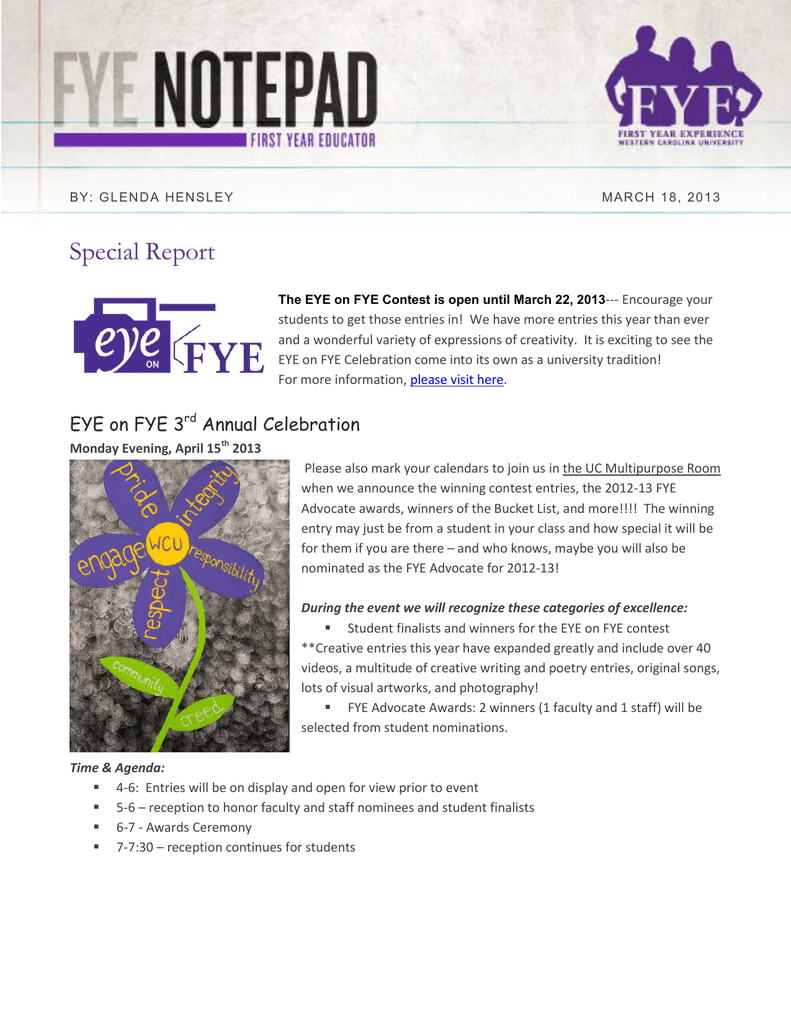 B Y: G L EN D A HE N S L E Y
M AR CH 1 8 , 20 1 3
Special Report
The EYE on FYE Contest is open until March 22, 2013--- Encourage your
students to get those entries in! We have more entries this year than ever
and a wonderful variety of expressions of creativity. It is exciting to see the
EYE on FYE Celebration come into its own as a university tradition!
For more information, please visit here.
EYE on FYE 3rd Annual Celebration
Monday Evening, April 15th 2013
Please also mark your calendars to join us in the UC Multipurpose Room
when we announce the winning contest entries, the 2012-13 FYE
Advocate awards, winners of the Bucket List, and more!!!! The winning
entry may just be from a student in your class and how special it will be
for them if you are there – and who knows, maybe you will also be
nominated as the FYE Advocate for 2012-13!
During the event we will recognize these categories of excellence:
 Student finalists and winners for the EYE on FYE contest
**Creative entries this year have expanded greatly and include over 40
videos, a multitude of creative writing and poetry entries, original songs,
lots of visual artworks, and photography!
 FYE Advocate Awards: 2 winners (1 faculty and 1 staff) will be
selected from student nominations.
Time & Agenda:
 4-6: Entries will be on display and open for view prior to event
 5-6 – reception to honor faculty and staff nominees and student finalists
 6-7 - Awards Ceremony
 7-7:30 – reception continues for students
Perspectives
Multitasking and the Brain
"….Einstein was brilliant precisely because he indulged in lateral thinking (as opposed to sharply focused
thinking) by associating Newton's ideas about gravity with particle physics. In much the same way, Anderson
hopes that the iGeneration, through the neuroplasticity of their brains that will enable them to cope efficiently
with large amounts of information, will be able to synthesize this great amount of data and possibly come up
with some innovative discovers of their own." (from Tomorrow's Professor, post 1234 – linked below).
And so, the debate continues, how does the multitasking of multiple streams on media and distraction
affect our Generation X, Y, and Z students' ability to express themselves effectively, to problem-solve, and to
creatively imagine the world of their future. To read more from the article quoted above, please visit this page
on the "Tomorrow's Professor" post. It is an intriguing and well-balanced conversation – no answers – but it
certainly will prompt more contemplation as we consider our work.
http://cgi.stanford.edu/~dept-ctl/cgi-bin/tomprof/postings.php
[to search the post enter the number of the posting (1234) in the box and press enter]
The CORE
March 20
Women Inspiring Innovation Through Imagination
Reception: 3:30-5:30pm ----Illusions in the UC
"Women Art Revolution"
a New Lens Film Series --- 7-9pm BAC 130
Front Line
A Civil Discussion about Open Government
Wednesday, March 20, from 4:30 to 5:30 p.m. --- Blue Ridge Conference Room B.
The Civil Discussion Series looks to encourage people from a broad spectrum of viewpoints to learn more about
important events in our society. Please encourage your students and others to attend this second in the series.
How would you feel if you are not able to know where and on what are your tax money spent?
The 1st Amendment, Freedom of Information Act (FOIA) and the states' sunshine laws provide the legal
basis for citizens and the media to access and review public records. However, there are times when these
requests are refused by government agencies. Should the public be able to view all government
documents? What should happen when citizens or the media are denied access? Does this pose a problem for
our democratic system or is it sometimes necessary?
The Communication Department in cooperation with the Citizenship and Civility Committee will host
this one- hour civil discussion on open government. Joining us will be Angie Newsome, director and editor of
Carolina Public Press, Dr. Todd Collins from the Political Science and Public Affairs department and Public Policy
Institute director, Dr. Janet Ford, professor from Business Administration and Law and Sport Management
Department, and Mary Ann Lochner, General Council at WCU.
Contact Katerina Spasovska ([email protected]) for more information.
CEO Reminders
CALENDARS
Student Life Calendar: For a complete listing of what's going on for students from intramurals, to concerts and
lectures, to organizations, arts and culture, and so much more....
Events Calendar: Information on arts and culture at WCU - plays, concerts, art exhibits, films, and more...
Service Learning: Current Events
ACE: Arts and Cultural Events Calendar
IT Training & Workshops: Calendar - For upcoming training and events, including Black Board, eBriefcase, and
more and make sure to note Blackboard day on September 6th
Potty Times: PEAKS communication with FY students. For more information, contact Laura Ansley.
EVENTS
"Daisy Bates: the First Lady of Little Rock" with filmmaker Sharon La Cruise
March 19th, 2013 at 7:30pm in the UC Theatre – FREE
Q&A with Sharon La Cruise after the screening
 Link to film and trailer: http://www.pbs.org/independentlens/daisy-bates/film.html
 Link to event on Facebook: https://www.facebook.com/events/115742371933872/
 Presented by: [email protected] in conjunction with South Arts, the National Endowment
for the Arts, and the Academy of Motion Pictures and Sciences*
Join us April 4, 2013 in the Grand Room
for these events Sponsored by the Office of Intercultural Affairs
TRANSaction Day is the Gay, Lesbian, and Straight Education Network's
(GLSEN) annual national day to encourage dialogue about gender identities,
and to advocate for inclusive, safe schools for all students.
The Day will include a panel, educational sessions, a town hall/dinner,
and an expo of local organizations and information.
LGBTQIA + Town Hall
Join us for a gathering of local LGBTQIA + Affirming Organizations for a conversation
about programs, services, and opportunities available and the needs of LGBTQIA +
Western North Carolinians.
Dinner will be provided from 5-6:45 pm
For more information, contact Sarah Carter at [email protected] or extension 2617.
OPPORTUNITIES
Tuesday, March 19, 2013, 9a-12noon, Grand Room
This fair is primarily geared to education majors, currently student teaching/doing
internships. Communication sciences and disorders, counseling and psychology Masters level students
are also recruited at this event. Registered schools:
http://wcu.experience.com/stu/cf_registered_employers?fhnd=5997
Education Recruitment Fair
th
The 34 Annual International Festival
Wednesday April 10
th
Time: 10:00AM-3:00PM
Throughout its 34 years, the Annual International Festival, or I-Fest, has provided the WCU community
with a unique opportunity, namely, a chance to engage and explore world cultures and fascinating
traditions through a wide range of mediums, including Food, Music, Dance and Artistry. If you or your
department is interested in hosting a table to highlight certain programs or activities in your
department, please contact Christopher Pedo at [email protected] or by phone at 828-227-2557.
Monday, April 15th
The awards ceremony will take place 6-7:30 pm. Guests may also walk through the entry exhibit
between 4-6 pm for a sneak preview of all the wonderful creative works!
EYE ON FYE Celebration
Resource File
Blackboard --- reference and participate in the Transition Pathways Course site....
Education Briefcase – resources and information for students and for faculty……….
First-Year Seminar: Liberal Studies – resource guide for faculty teaching the first-year seminar …
Transition Pathways: An instructor resource - resource guide for FYE transition course instructors …
CFC on the Web --- help with teaching, technology, and more--- helping you do what you do better!
FYE on the Web --- many resources and network links to help you along the way …..
QEP on the Web --- discover the possibilities - find the resources you need - find your path.....
OrgSync -- https://orgsync.com/login/western-carolina-university --- the place for student clubs and
organizations and other co-curricular opportunities ..
FYE Message Board – A weekly e-journal for and by FY students.
Engage students in the conversation of learning and experience – with each other!
Submissions Invited
Submissions invited for and about teaching in first-year courses: research; classroom
observations; creative writing; poetry; short stories; biographical or autobiographical.
TRANSITION PATHWAYS: The Blackboard Commons: If you teach an FYE Transition course, you will see it
on your Blackboard menu under organizations – Contribute content and share your expertise!
LC2 Group (Learning Community on Learning Communities)
We invite you to join our group if you are interested to explore learning communities and how they can impact
student learning in your classroom! You may learn more @ Learning Communities at WCU
The Education Briefcase (eB) is now open to ALL undergraduate students!
For information please contact Nory Prochaska, Chair of the eBriefcase Implementation Team.
For general information about eB, visit the website.
The next regular publication date is April 8, 2013 --- please let me know if you want to share
updates about programs, events, or other opportunities for teaching and learning in FYE!
Glenda Hensley, FYE Director [email protected]
EYE on FYE Contest open until March 22, 2013!!!
Last year's Winning Artwork from Scott Hall!