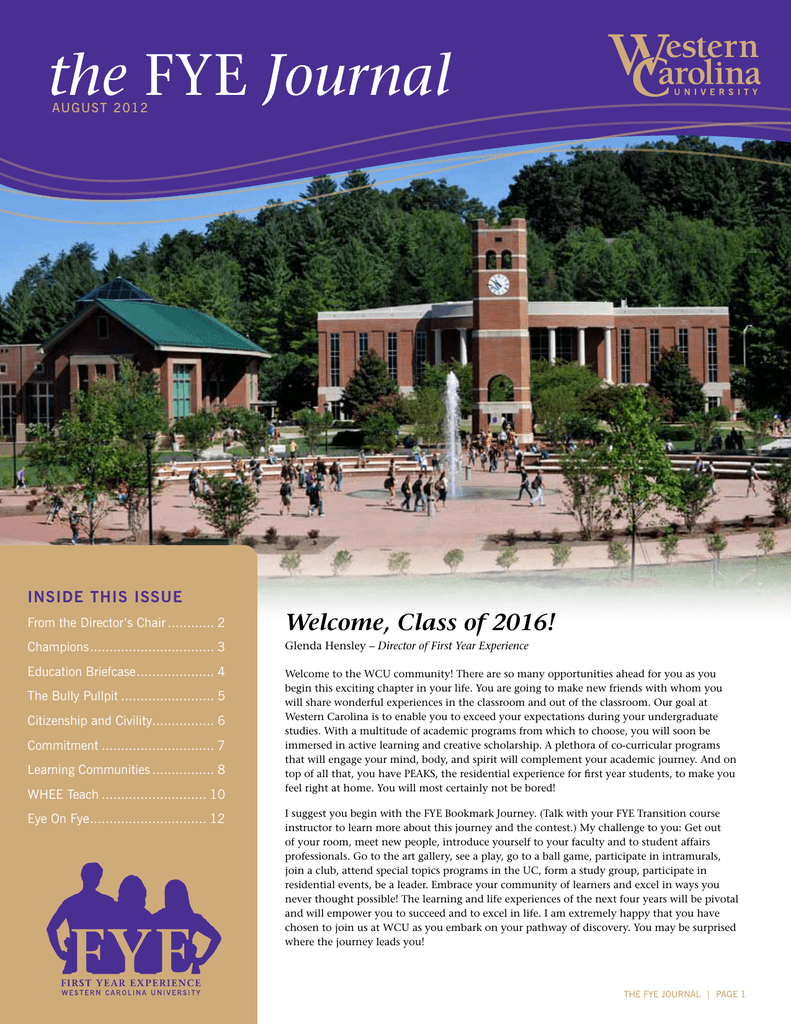 the FYE Journal
August 2012
Inside this Issue
From the Director's Chair............. 2
Welcome, Class of 2016!
Champions................................. 3
Glenda Hensley – Director of First Year Experience
Education Briefcase..................... 4
Welcome to the WCU community! There are so many opportunities ahead for you as you
begin this exciting chapter in your life. You are going to make new friends with whom you
will share wonderful experiences in the classroom and out of the classroom. Our goal at
Western Carolina is to enable you to exceed your expectations during your undergraduate
studies. With a multitude of academic programs from which to choose, you will soon be
immersed in active learning and creative scholarship. A plethora of co-curricular programs
that will engage your mind, body, and spirit will complement your academic journey. And on
top of all that, you have PEAKS, the residential experience for first year students, to make you
feel right at home. You will most certainly not be bored!
The Bully Pullpit......................... 5
Citizenship and Civility................. 6
Commitment.............................. 7
Learning Communities................. 8
WHEE Teach............................ 10
Eye On Fye............................... 12
I suggest you begin with the FYE Bookmark Journey. (Talk with your FYE Transition course
instructor to learn more about this journey and the contest.) My challenge to you: Get out
of your room, meet new people, introduce yourself to your faculty and to student affairs
professionals. Go to the art gallery, see a play, go to a ball game, participate in intramurals,
join a club, attend special topics programs in the UC, form a study group, participate in
residential events, be a leader. Embrace your community of learners and excel in ways you
never thought possible! The learning and life experiences of the next four years will be pivotal
and will empower you to succeed and to excel in life. I am extremely happy that you have
chosen to join us at WCU as you embark on your pathway of discovery. You may be surprised
where the journey leads you!
The FYE JOURNAL | PAGE 1
From the Director's Chair
Greetings and Welcome to the FYE Community!
By Glenda Hensley – Director of First Year Experience
networks that will support their work with
first-year students. In addition to the FYE
Journal, we publish two e-magazines: 1) the
FYE Notepad is a bimonthly publication for
first-year educators; and 2) the FYE Message
Board features news and opportunities
designed for first-year students. We also
host an extensive collection of student
videographic works that can be accessed from
the FYE news page.
WCU has a multitude of excellent programs
and services that support students' first-year
experience. Working with common purpose,
we have embraced our successes and our
challenges to build an authentically holistic
approach to the First Year Experience, or FYE.
Positioned in Academic Affairs as a unit of
the Office for Undergraduate Studies, FYE is
dedicated to fostering a strong and rigorous
academic foundation for first-year students.
Our office coordinates all FYE Transition
Pathways courses, first-year learning
communities and the first-year seminars
within the liberal studies program.
We recognize that learning does not
stop at the classroom door, and in fact
improves dramatically as students have the
opportunities to connect curricular, cocurricular and residential experiences. In this
issue you will read about adventures of the
past year and dreams for the future, all of
which are accomplished in concert with an
orchestra of campus partners that includes
folks from Student Affairs, Residential Living,
academic colleges/support units, Public
Relations, Information Technology, Coulter
Faculty Commons, Admissions/Orientation,
Administration and ... well, you get the idea!
The FYE website serves as an information
portal for students and families and also
provides faculty and staff with resources and
PAGE 2 | The FYE JOURNAL
This year's FYE Journal is a champion of
Citizenship and Civility, the 2012-13
Quality Enhancement Plan interdisciplinary
initiative. As you read "Champions: The FYE
Advocate Awards," you will see just why we
are so proud to be members of the Western
Carolina community – why we are proud of
the "Western Way," which sets us apart from
the crowd and motivates us to be our best! In
"The Education Briefcase and the First Year
Experience," Nory Prochaska reminds us all
that "the real motivation for adopting the
eBriefcase – an element of WCU's Quality
Enhancement Plan – is that making this
reflective collection of your best work and
favorite experiences will help you see the
entirety of your educational experience."
Is it any wonder that with such commitment
to excellence and to advocacy our students
feel empowered to leave their mark – to
make a difference in their community? You
will see what I mean when you read "The
Bully Pulpit: One Student's Passion" by
rising junior Jessica Nipper. Commitment
follows passion as we read how service
learning is the focus in the next two features:
"Citizenship and Civility: First-Year Service
and Leadership" and "Commitment: ASP
and the Day of Service." The "Western
Way" reminds us that we are a community,
and you will understand what we mean as
you read these two features: "LC-Squared:
Learning Communities for All!" and "Whee
Teach: A Learning Community for the
Future." And finally, at the end of the day we
celebrate the learning and experience, the
first-year student, and the first-year educator
and advocate. Winner of the Director's
Choice FYE Student Advocate award, Gabby
Robinson (class of 2014), shares how the
celebration looked last year in her story, "EYE
on FYE: Celebrate the Creed."
The journey for our newest community
members will be filled with excitement,
trepidation, joy, occasional frustration and
discovery. Our mission, as faculty and staff
members, is to be mentors, guides, and
teachers – to support, listen and care. Our
job, quite simply, is to provide the resources
our students need to enjoy a successful
transition to college, to open the door to
their future, and to keep the lights turned
on. My office strives to "walk the walk" of
our QEP – to work with intentionality and
common purpose to synthesize what we each
bring to the table into a greater whole.
I look forward to the opportunity to intersect
your pathway this year!
Western Calling U!
Students: What is Western Calling U? It is a
personal phone call from an administrator
or faculty/staff member to new first-year
students. We celebrate your arrival for a full
Week of Welcome (WOW). Then, as you
begin to settle in to college life, you may
discover new questions or needs or even feel
lonely during the transition. Western Calling
U is a reminder that we are here for you.
Pay attention to this part: Sometime
during the second or third week of classes,
your phone will ring, and don't be surprised
when a faculty or staff member you have
met – or not – is on the line. It could be
your college dean or your department head
– or it could be Chancellor Belcher himself.
And no – don't answer your phone in class,
even if it is the chancellor calling, but do
return the call! We just want to say "Hello"
and ask how you are doing!
Faculty and staff: This personal
communication with students is designed to
- Welcome with a personal touch
- Reinforce early connections such as movein day and Week of Welcome
- Facilitate conversations that will open
doors for students to seek help and resources
If you want to join our calling team, please
contact Glenda Hensley | [email protected]
we would love to have you on the line!
Champions:
The FYE Advocate Awards
By Rebecca Lasher – Professor in the Department of Social Work
The arrival of a new family member is
a blissful and exceptional occasion! It
is certainly a period of adjustment and
transition for all, and one of tremendous
excitement. This year, as we welcome the
class of 2016 to our Catamount family, our
goal is to embrace and create a community
bond with our newest students arriving in
Cullowhee. This first year will be filled with
opportunities, discoveries, joy and occasional
frustration or loneliness.
We are fortunate at WCU to have many
different people that fit this description
of advocate. You know who you are – that
individual who really remembers students'
names when seen around campus, is truly
invested in students and has a genuine
interest in their success. Joe Cuseo, a First
Year Experience educator and author from
Marymount College, describes a number
of the qualities common among student
advocates. These are individuals who have:
During the First Year Experience at WCU,
staff and faculty are engaged with students to
increase their sense of personal significance,
validate them and let them know they truly
matter. This is an institution where students
are known and cared for in a nuturing
environment.
• A student-centered educational
philosophy
Outstanding First-Year Student
Advocate Award
• A willingness to work with faculty and
staff across academic disciplines and
student-support services
Beginning last year with the class of 2015, the
office of First Year Experience asked students
to nominate some of the people on campus
who made a real difference in their transition
to college life. The definition of an advocate
is someone who has the best interest of the
student in mind, someone a student can
count on to give sound advice, someone who
cares about the student deeply in and out of
the classroom. It is that one person a student
knows will be in their corner.
• A commitment to out-of-class contact
with students
• A genuine interest in mentoring
new students
• A desire to develop the student as a
"whole person"
Recognized at the EYE on FYE
Celebration in April
William "Will" Shivers of the Advising Center
was chosen by the WCU class of 2015 for
the Outstanding First-Year Student Advocate
award. Students described Will in the
following terms: "the most caring individual
It was definitely an emotional moment.
Obviously, student personnel professionals go
into the field because we find it rewarding to
work with students and watch them develop,
but it is a wonderful feeling to be recognized
and know that you've made a difference to
someone. I'm very proud to have the award
hanging on my wall." Will, having just
completed his eighth year in the Advising
Center, went on to say, "One of my favorite
times of year is the start of the fall semester,
when we hold individual meetings with our
new Catamounts. During these meetings we
get a chance to get to know them one-on-one
and check in to see how they are adjusting
to college both academically and socially.
We ask them about their involvement
on campus, discuss the expectations and
realities of college-level academics, inquire
how they're managing their time and
studies, and direct them to helpful campus
resources. These conversations can lead in
many different directions depending on the
student, so it's a great way to get to know
them. Everything is new to them and their
energy is certainly contagious. When meeting
with parents during orientation, I often
comment that I have the greatest job because
I get to relive college vicariously through
students. This typically gets a laugh, but I
mean it quite sincerely."
Other nominees from the class of 2015
included James Addison, Hunt Boulware,
Andrew Dalton, Rebecca Lasher, Aubrey
Ray, Jennifer Schiff, Tacquice Wiggan and
Jennifer Wilson. It is clear that there are
many passionate, positive and inspirational
individuals who are engaged with students.
To the Class of 2016
Congratulations on your arrival to the
Western Carolina family. The year ahead
will be full of excitement, change and new
relationships. We are here to support you and
proud to call you one of our own.
I have ever met"; "goes above and beyond
the normal duties of what is expected";
"cares about the well-being of his advisees";
and "always speedy in replying when help
is needed." Will shared the following: "I was
both honored and humbled when I found
out I had won the FYE Advocate award.
Keep your eyes open for those folks across
campus who advocate for you through your
journey. You will receive an email in February
and will be invited to nominate two people
for Outstanding First-Year Student Advocate
who have been particularly important and
have made a significant impact on your life
during the first year of college.
Have a fantastic year!
The FYE JOURNAL | PAGE 3
The Education Briefcase and the First Year
By Nory Prochaska – Director of the Mathematics Tutoring Center & Chair of the Education Briefcase Implementation Team
student found, collecting, reflecting on and
writing about many diverse experiences –
coursework, service learning, social activities,
internships, recreation – helps you to see
that your education is more than just
attending classes, studying, making grades.
The eBriefcase is a tool to help you make
synthesis happen, and then have an easy way
to impress those hiring/admission committees
with the knowledge that you understand and
appreciate that synthesis happened.
Imagine it's April of 2016. You're gearing
up for your last set of final exams before
you graduate, and thinking about the job,
graduate school or professional school
applications you've sent off. You get a reply
from your first choice, asking for more
information about yourself, including some
samples of work and evidence of experience
you have had; perhaps something that shows
your development over four years of college.
Wouldn't it be nice if all of this material were
saved in one place, already in polished form,
and ready to send out?
We thought so. That's part of the reason
we developed the Education Briefcase, or
eBriefcase, an online portfolio system to
document all aspects of your education
experience.
About the eBriefcase
This fall, all students will have the use of
this marvelous new tool, a place where you
can save evidence of your best work and
best learning experiences. You can include
some reflective writing about each piece, a
reminder of what part it played in your total
educational experience. And it will be easy to
collect a set of these "artifacts" to send on to
that employer or graduate school.
But you're a good student already, right? You
are conscientious about saving your stuff
on your hard drive, or on a thumb drive
dedicated to school work. But what if your
computer crashes? Or you download some
innocent looking game or application and
get a terminal virus? Or drop your keys into
the storm drain grate in front of Subway
and – oops! – the thumb drive was on your
keychain! Well, if you'd also saved all of that
material in a secure, remote storage location
that is backed-up routinely to industry
standards, you would have saved yourself
PAGE 4 | The FYE JOURNAL
the heartache and/or panic of one of these
scenarios. We thought of that, too, and
that's another thing that the eBriefcase can
do for you.
Synthesis Through eBriefcase
But you know what? The real motivation
for adopting the eBriefcase – an element of
WCU's Quality Enhancement Plan – is that
making this reflective collection of your
best work and favorite experiences will help
you see the entirety of your educational
experience. Last spring, a student in
recreational therapy put it best when, in the
midst of the final portfolio presentation for
her capstone class, she paused and said, "You
know, I'm really glad we had this assignment
[reflecting on the QEP Learning Outcomes
in the eBriefcase]. It allowed me to look back
over all four years, to see how much I've
learned, and to see how it all fits together to
prepare me for my future in a career in
rec therapy."
This kind of culminating experience is called
"synthesis," making a whole out of many
disparate parts, seeing connections between
curricular (in-class), extra-curricular (outside
of the academic part) and co-curricular
(outside of the classroom but still classrelated) parts of your college experience. It
is part of the higher level of thinking and
reasoning that you are expected to develop
while in college, the kind of thinking that
is valued by employers and expected by
graduate and professional schools. It's
something we wanted to make sure WCU
students get out of their education, and it's
why we developed our QEP, "Synthesis: A
Pathway to Intentional Learning," as part of
our institutional accreditation process. The
eBriefcase is a way of not only documenting
synthetic experiences, but also a way of
making them happen. Just as the rec therapy
Support for eBriefcase Users
Entering first-time college students will
formally meet the eBriefcase in their transition
course and in their first year composition
courses. This introduction will include a class
period dedicated to learning the mechanics
of eBriefcase followed by progressively
more substantial assignments that are to be
included in the eBriefcase. But eBriefcase use
isn't limited to just these classes; in fact, it
is a bit of an odd duck in that it is not tied
to any one class, major or program. In fact,
it's not even limited to just classroom work
– any experience that contributes to your
educational experience should be included.
It is an institutionwide initiative for all
undergraduate students, at all levels, including
nontraditional students and transfer students.
Students are free to include any artifacts that
they believe showcase their development as
an intentional learner. So it's important that
technical and creative support be available
to all students at a wide range of times and
levels, from the beginner to those in need of
a refresher to those who want help creating
some really dramatic artifacts for their
eBriefcase.
This help is available in the Technology
Commons, located in Hunter Library. The
support includes walk-up quick answers
to questions, workshops, scheduled oneon-one how-to and creative development
consultations, online tutorials (located on
Blackboard at the "My eBriefcase" tab) and
email questions through [email protected]
email.wcu.edu.
Instructors are offered support, as well,
through the Coulter Faculty Commons. Help
is available on the basic technical operation
of eBriefcase, development or adaptation of
assignments, and integration into ongoing
programs, courses or activities in liberal studies
courses, elective courses and the major.
FYE CABINET MEMBERS
The Bully Pulpit:
One Student's Passion
By Jessica Nipper
rights of all persons." Third, the campaign
allows students to excel in their college career
while making a stand and taking pride in
Western Carolina University. See how closely
all of this ties into the creed?
When arriving to college, there are many
mixed feelings and emotions that a firstyear student experiences. One of these
contemplative thoughts might be, "How
can just one person help a community of
thousands?" The answer is, "in many ways."
Not only do you help by choosing the path
you walk but also by helping pave the way
for your peers on Western Carolina's campus.
For the past two years, I have been exposed
to different situations and observed many
incidents on campus which made me value
and have a strong fire of passion about my
proposal. The anti-bullying campaign that
will launch in the fall is a promising step
forward because it does three important
things. First and foremost, the campaign
aims to reinforce the safe environment
that Western Carolina strives to ensure
its students. Second, the campaign helps
everyone celebrate the WCU Community
Creed. Many people may think maintaining
and practicing the creed is demonstrating
a sense of pride about your school, such as
attending football games, helping with facepainting or even wearing a WCU T-shirt. It is
all of those things, but to dig a little deeper,
it is also about being a good neighbor, or
as some would say, "looking out for one
another." By taking a stand against what is
wrong, you are practicing a sense of pride as
stated in the creed: "Respect the dignity and
When you receive an acceptance letter,
attend orientation and even walk around
campus for the first time, various thoughts
might run through your mind, such as "It
is so huge!" or "How will I find all of my
classes?" However, you will get acquainted
and campus will become very familiar. In the
process, you will begin to separate yourself
from high school and transition to becoming
an adult. Also, your strength of character
will evolve and your leadership skills will
blossom. You will branch out into different
organizations and activities and identify
changes you desire in yourself. These changes
can be small details or huge things, such
as making a proposal to end bullying on
campus. You can help make a difference, no
matter how big or how small.
You may feel like one small person standing
in a big crowd, but these thoughts can be
banished and the results are rewarding. By
launching this proposal, I am hoping to stop
many situations from even occurring. I am
hoping to bring about change that can affect
many lives on campus as well as throughout
the community. Also, I am hoping to help
students become aware of the consequences
of their actions and emphasize my passion
about WCU and doing good. My goal is
driven by a passion that creates this fire to
make it come alive. Realizing how many
people I can influence, that I can make a
difference throughout campus and inspire
others to make a difference as well, is my
motivating force.
Not only is it in our power to help shape
campus and the university setting, but as
we practice the creed, we learn to face the
challenges of the world after college. You
may still be thinking, "How can just one
person help a community of thousands?" It
is attainable. With one's passion, motivation
and dedication, you CAN make a difference.
Jessica Nipper is a rising junior at Western
Carolina University.
Cabinet Chair
Glenda Hensley
Director of First Year Experience
Undergraduate Student
Representative
Gabby Robinson
Academic Affairs
Will Shivers
Advising
Jennifer Cooper
Service Learning
Janina Dehart
Academic Success Program
Margaret Bruder
English Faculty. + ALC + FYS
John Habel
PSY Faculty + ALC + FYS
Nory Prochaska
USI Coordinator + Math Tutoring Center
Mardy Ashe
Career Services
Rebecca Wolfe
FYE GA
Murat Yazan
WRCS Dir. + ASP + EB + FYS
Rebecca Lasher
Social Work Faculty + USI
Robert Crow
Coulter Faculty Commons
Student Affairs
Tammy Haskett
Orientation
Brian Boyer
Case Manager, Residential Living
Tacquice Wiggan
Leadership + LEAD Coordinator
James Felton
Intercultural Affairs
Patrick Frasier
Admissions
Josh Whitmore
Base Camp, Outdoor Recreation
Stephanie Sue Helmers
Academic Initiatives, Residential Living
Mandy Dockendorf
Recreation & Wellness
Laura Ansley
PEAKS
Arika Morison
Counseling
Justin Barker
ARC – GA in Residential Living
Administrative Oversight
Carol Burton
Assistant Vice Chancellor for Undergraduate Studies
Sam Miller
Vice Chancellor for Student Affairs
The FYE JOURNAL | PAGE 5
Citizenship and Civility:
Service and Leadership in the First Year
By Jennifer Cooper – Assistant director of the Center for Service Learning
Mike Corelli – Associate director for leadership in the Office of Leadership and Student Involvement
As a student at WCU, you have many
opportunities to get involved: intramural
and club sports, Greek life, outdoor programs,
campus ministry activities, leadership
programs and volunteer projects are just a
few of the possibilities. These options are
open to all students, but this year our firstyear students will have special opportunities
to participate in service-learning and
leadership activities.
On Saturday, Aug. 25, as a part of Week of
Welcome, we will host our first-ever First Year
Experience (FYE) Day of Service. This event
will focus on students enrolled in first-year
seminars, transition courses and writing
rhetoric and composition studies courses,
with all first-year students encouraged to
participate. And of course, it will be open
to all interested students, faculty and staff.
Volunteers will be able to help with tasks such
as campus beautification and adopt-a-sidewalk
projects; weeding, watering and harvesting
crops at the campus garden; helping complete
the new, approximately 6-mile multiuse
trail on WCU's West Campus; assisting with
roadside cleanup projects on campus and in
the surrounding community; writing letters
to soldiers serving overseas; and more. Our
days of service usually focus on projects in the
surrounding communities, but many first-year
students have logistical barriers that make it
difficult for them to volunteer off campus. To
ensure that all interested first-year students are
able to participate, the FYE Day of Service will
emphasize on-campus projects. These projects
will give students more opportunities to get
involved, help them develop Catamount pride
and show their school spirit, and benefit our
campus. What better way to celebrate the
WCU Community Creed!
The FYE Day of Service is only the first chance
for the class of 2016 to volunteer. Many
first-year seminars and transition courses will
PAGE 6 | The FYE JOURNAL
include a civic engagement component,
so opportunities for community- and
university-based service projects will be
available throughout the year. As part of
the commitment to serving the community
and making positive social change happen,
participation in the day of service will
allow students the chance to work together
as leaders and members of the WCU
community and take the initiative to make
a difference.
Participation in service learning and
leadership opportunities provides a wide
range of benefits. Community engagement
is part of the university's mission and
also fits in perfectly with this year's QEP
interdisciplinary theme of "Citizenship and
Civility." (Citizenship is an emphasized
characteristic of leadership whereby
individuals engage in activities to effect
positive change and embrace their role as
stewards.) Giving students the opportunity
to volunteer during the first week of their
college careers will empower their civic
engagement and political efficacy. By being
involved in various service projects, WCU
students will find themselves learning about
who they are and how they, as part of a
group, can be agents of change and truly
make a difference in the local and global
community.
Research shows that students who are
involved in activities like these are more
likely to stay in school, to have a positive
college experience and to graduate. Service
also strengthens students' resumes and lets
them explore career options, helps them
get the most out of their classes, allows
them to meet people with similar interests,
provides an opportunity for them to develop
leadership and communication skills, and
supports the local community.
There are many opportunities to get involved
in service and leadership activities. Through
OrgSync, an online community filled with
opportunities to get involved, students can find
a detailed list of all the clubs and organizations
that WCU has to offer. In addition, WCU's
Center for Service Learning sponsors days of
service throughout the year; organizes serviceoriented alternative break trips during the
spring and fall semesters; coordinates activities
such as a "hunger banquet" and a trip to a
local food bank during National Hunger and
Homelessness Awareness Week; advises the
campus garden club; and promotes special
volunteer opportunities such as Mountain
Heritage Day, the Tuck River Cleanup, Dance
Marathon and Relay for Life. During the fall
semester, the Center for Service Learning is
sponsoring two days of service in addition to
the event designated for first-year students. The
office also coordinates partnerships with 122
community agencies, including environmental
groups, organizations that focus on povertyrelated issues, schools and educational
groups, medical care and health advocacy
organizations, and more.
The Office of Leadership and Student
Involvement also provides opportunities
for students to be active on campus. As a
co-sponsor of the FYE Day of Service, we
encourage students to enhance their leadership
skills through organizations such as the
Leadership Institute, Greek Life, the Student
Government Association, and any one of the
LEAD Living-Learning Communities.
The Center for Service Learning and the Office
of Leadership and Student Involvement are
here to help you get involved on and off
campus. We look forward to working with the
class of 2016!
Commitment:
ASP and the Day of Service
By Janina DeHart – ASP coordinator
Murat Yazan – Co-director of the WRCS program, ASP faculty member
Bobby Willover – ASP Staff and FYE Transitions instructor
Western Carolina University's Academic Success Program, known
as ASP, offers a foundation for service learning in and around
the community. Service learning has been an integral part of the
ASP summer session since 2004 and has expanded in scope of
community partners and benefiting community organizations.
In the early years, members of each ASP class
(approximately 60-80 total students) would
participate in a service project such as a river
cleanup or working with a local organization
such as the Community Table or Habitat for
Humanity. The program expanded in 2007
and the number of students now averages
approximately 120. This increase made it
more challenging to coordinate multiple
service projects over the span of the
summer session.
In early 2011, ASP faculty member Murat
Yazan approached the ASP coordinator about
the possibility of combining efforts into
one day of service and working with local
partner, Walmart of Sylva, to help sponsor
a large community event in conjunction
with multiple service projects. Yazan, who
had previous ties with Walmart, was integral
in the formation of the partnership and
continues to be involved with planning and
organizing the event.
Last year, the day of service provided an
opportunity for students, faculty, staff and
community members to work together.
A carnival was held at Walmart of Sylva
that featured games, food and drinks, and
many different information booths with
all proceeds benefiting two community
organizations: REACH of Jackson County and
Community Table. The net contributions,
including matching grants from Walmart,
totaled $2,614.50, with an additional
$1,000 in merchandise collected for the two
agencies. Additionally, students cleaned up
parts of the Tuckaseigee River and performed
service projects at sites with four other
nonprofit organizations: Full Spectrum Farms,
Habitat for Humanity ReStore, Skyland Care
Center and the Cullowhee Revitalization
Endeavor, also known as CuRvE.
This year, the day of service will include an
expanded carnival at the Walmart of Sylva
along with projects at several other sites
throughout the community, including Full
Spectrum Farms, Mountain Trace Nursing
Center, Appalachian Homestead Farm and
Catman2. There also will be a cleanup of
the Tuckaseigee River guided by Base Camp
Cullowhee. "ASP has incorporated service
projects into our summer session for several
years, because it is important for the students
to become engaged in the community early
in their college career at WCU," said Janina
DeHart, ASP coordinator. "Last year, we
began a partnership with Walmart in order to
increase our impact in the local community
and to provide a greater level of support to
community agencies. We hope this annual
event continues to grow and expands to
include additional constituents throughout
the community."
Students in the Academic Success Program
begin their college experience early by
participating in a six-week summer session
prior to the fall semester of their freshman
year. The program assists students in making
a successful transition to the university and
includes opportunities for students to become
fully engaged as members of the university
and the local community. In addition to
the Day of Service, ASP students have the
opportunity to be involved with various
activities on campus, such as intramurals, as
well as outings in the local area, including a
class trip to the Qualla Boundary where they
learn about Cherokee culture and history and
the connection to our campus.
The ASP Day of Service is the first step in the
students' journeys to becoming involved
with leadership opportunities here at
Western Carolina and in their future careers.
ASP students also will participate in other
projects during the school year, including
co-sponsoring the House Party Project
with the Leadership Institute and assisting
with the Safe Kids Trick-or-Treat event in
Cherokee during the fall semester. They also
plan to have a team participate in the Dance
Marathon in the spring.
The 2012 Day of Service is sponsored by
Western Carolina University's Academic
Success Program, First Year Experience,
Center for Service Learning and Quality
Enhancement Plan and by Walmart, Ryan's
and Bojangles' restaurants of Sylva, and the
town of Sylva.
The FYE JOURNAL | PAGE 7
Learning Community
LC -Squared:
Learning Communities for All!
By Glenda Hensley – FYE director | Robert Crow – Coordinator of Instructional Development and Assessment, Coulter Faculty Commons
Stephanie Sue Helmers – Assistant director for Academic Initiatives, Residential Living
A learning community intentionally links together courses or coursework to provide greater curricular and co-curricular coherence,
more opportunities for active teaming, and interaction between students and faculty.
• A Living Learning Community (LLC) consists of at least one course that is integrated with residential
and co-curricular complements.
• An Academic Learning Community (ALC) consists of two or more linked courses in which topics are
integrated by design.
• Linked courses may also include a residential component
What We Do Now
Western Carolina University features
nine Living-Learning Communities, or
LLCs. These communities provide a link
between students' in-class and out-of-class
experiences. Classes of 20-25 students are
enrolled in a LEAD transitions course and
housed on the same floor of a designated
residence hall. The course instructor(s),
resident assistants, resident directors and
academic resource coordinator work together
to promote the connection of the academic
and residential experiences. Because the
living environment serves as the second
"community" grouping in the LLC model,
the residence life staff members are key
partners in maximizing the experience of
the students. In addition to monitoring
individual student challenge and successes,
they reinforce the theme of the transitions
course through experiential educational
programs and opportunities. They also
support the in-class experience by attending
classes and partnering with the instructors
on a large-scale program each semester.
STUDENTS
Why Do You Care?
This is a college experience you choose
based on your goals and interests and an
experience that will challenge, empower
and inspire. Learning communities provide
you with the opportunity to develop
friendships and experience learning as a
dynamic exchange of ideas and perspectives
during your transition to campus life. In a
cohort with other students who share your
interests, you will easily discover how the
PAGE 8 | The FYE JOURNAL
educational experience connects with what
matters to you! Students enrolled in learning
communities enjoy a high level of academic
success and personal satisfaction during their
first semester of college and quickly become
leaders on campus.
FACULTY & STAFF
Lean Forward: Commitment To
The Future
This summer faculty and staff dedicated
themselves to significantly involved levels of
professional development through workshops
and retreats in preparation to deliver the
learning communities referenced above – and
to vision the next generation of learning
communities at WCU. The result of our
inaugural summer retreat, held in June, was a
collection of learning community ideas and
themes from a dynamic group of visionaries
from across the university in academic affairs
and student affairs.
Take advantage of the upcoming
opportunities to hone your instructional skill.
As a strategic partner, the Coulter Faculty
Commons is committed to expanding
professional development opportunities
to WCU's instructional teaching staff
and is designing workshops and other
opportunities specific to academic skills,
transitions and leadership courses. Many
academic and student affairs instructors have
taken advantage of these specially-focused
sessions, which have included "Tools & Toys
for Active Learning," "Syllabus Design &
Assessment" and "eBriefcase and the First
Year Experience." Scheduled for a pilot
rollout during this upcoming academic year
is a more intensive offering – a certificate
program that will offer a cohesive experience
as you complete in-depth training on a
variety of topics. This certification will be
available for those interested in developing
a strong instructional foundation and
perspective for enhancing students learning
experiences.
In all learning community models,
(whether living-learning, academiclearning or residential colleges), student
affairs staff members can prove extremely
valuable in supporting the development
of your community and the established
learning goals. Their knowledge of student
development theory and campus resources
as well as their connection with current
trends in student life can support community
development from both the curricular and
co-curricular perspectives. Faculty and
instructors should feel comfortable calling
upon student affairs professionals to assist
them in developing their communities,
organizing learning experiences and assisting
with student issues. You will find student
affairs staff members to be eager partners in
supporting student success.
Why Do You Care?
Short answer: Learning communities
empower an enhanced learning and teaching
experience.
Learning communities provide students with
the opportunity to develop friendships and
experience learning as a dynamic exchange
of ideas and perspectives during their
transition to campus life.
As Jean Henscheid, core curriculum director
at the University of Idaho, shared at WCU's
inaugural Learning Community Retreat this
summer, the magic of learning communities
is that they provide:
• Opportunities for interdisciplinary
teaching, deep learning
• Opportunities to transcend the tyranny
of 50-minute period
• Provost-al four (improvements in GPA,
retention, graduation rate, satisfaction)
• Opportunities to build faculty
teaching community
• Students bond around academic themes
and relationships
Guiding Visions
The overarching goal of the university's
Quality Enhancement Plan, "Synthesis:
A Pathway to Intentional Learning," is to
empower students to integrate knowledge
and skills from their academic and cocurricular experiences to become intentional
participants in their own learning. Learning
communities are an educational strategy
identified by the American Association of
Colleges and Universities as a High Impact
Educational Practice that have been shown
to be beneficial for college students: "The
key goals for learning communities are to
encourage integration of learning across
courses and to involve students with "big
questions" that matter beyond the classroom.
Students take two or more linked courses as a
group and work closely with one another and
with their professors."
Strategic Direction #2, "Enrich the Total
Student Experience," of the WCU "2020
Vision: Focusing Our Future," includes
an initiative specifically aimed toward
providing logistical and administrative
support for learning communities: "Foster
active citizenship among our students"
(Goal 2.2). Initiative 2.2.3 goes on to state:
"Increase the number of academic living
learning communities that integrate active,
collaborative, and interdisciplinary learning
experiences with curricular goals, ensuring
necessary logistical and administrative
support."
How Can You Get Involved?
Interested faculty and staff members are
encouraged to commit to a partnership team
to create new learning communities with
the support of colleagues and professional
development opportunities. We invite you
to share the vision and the "high impact"
potential for learning communities at WCU.
Collaborative partnerships will:
High-Impact Learning Practices:
How WCU is Aligned
As we continue to explore all opportunities
to enhance the teaching and learning
experience at WCU, we are on track with
national practice. We are engaged with each
of these practices, some more prominently
but all to some degree.
• First-Year Seminars and Experiences
The highest-quality first-year experiences
place a strong emphasis on critical inquiry,
frequent writing, information literacy,
collaborative learning and other skills that
develop students' intellectual and practical
competencies. First-year seminars can
also involve students with cutting-edge
questions in scholarship and with faculty
members' own research.
• Learning communities
• Continue a research and planning
process to create a first-year learning
community
• Common intellectual experiences
• Engage with professional development
opportunities
• Collaborative assignments and projects
•
Develop a network collaboration
by which you may support learning
communities in development
Teams will continue with the support (moral,
pedagogical and fiscal) of colleagues in LC²,
as well as other units on campus including
the Office for Undergraduate Studies, Coulter
Faculty Commons, Department of Residential
Living, Office for Leadership and Student
Involvement, and First Year Experience.
• Writing-intensive courses
• Undergraduate research
• Diversity/global learning
• Service learning,
community-based learning
• Internships
• Capstone courses and projects
First-Year Authority Leads Inaugural WCU
Learning Community Retreat
Dr. Jean M. Henscheid, was recognized as a central figure in the international movement to
improve entering college students' experiences at the 30th annual conference on The FirstYear Experience. Henscheid is author and co-author of four books, several book chapters and
many scholarly articles on issues related to first-year students and other students in transition,
interdisciplinary education, senior capstone courses, teaching methods and research and
assessment of the college student experience. She is also nationally recognized as an expert in
learning communities involving general education and academic major courses.
The FYE JOURNAL | PAGE 9
Whee Teach:
A Learning Community for the Future
By Janice Holt – Executive director | Belinda Petricek – Academic advisor, Teacher Recruitment, Advising, and Career Support (TRACS)
The evolution of the Whee Teach LLC began
in 2009 when the College of Education and
Allied Professions (or CEAP) established the
Office of Teacher Recruitment, Advising
and Career Support, also known as TRACS.
The mission of TRACS was to develop
a collegewide system of support for
recruitment, advising, preparation, induction
and professional development of career
educators. The vision was clear: Relationships
with students built during the recruitment
process grow and mature during teacher
preparation, flourish during transition into
the profession, and continue throughout
the profession. The CEAP academic advising
office, an integral component of TRACS,
uses a relationship-based model of academic
advising to support the success of students
seeking initial licensure. TRACS advisers work
with faculty and staff to create opportunities
for students to engage with the college
during their first year, filling the gap between
declaration of major and the time students
actually begin taking professional education
courses as sophomores.
However, many freshmen began to express
their desire for more – they wanted to be
"surrounded with like-minded people"
and take classes that provided "relevance
PAGE 10 | The FYE JOURNAL
to teaching." Discussions began in earnest
regarding the possibility of creating an
academic living-learning community for
first-year education majors. Drawing from the
successes of the Teaching Fellows Program
and other WCU learning communities, the
Whee Teach Living-Learning Community
was designed to provide a holistic college
experience by combining classroom learning,
co-curricular activities (the Whee Teach
student organization) and a residential
learning community. In spring 2011, the
Whee Teach LLC model was presented to
departments, the Leadership Council of the
College of Education and Allied Professions,
First Year Experience, residential living, and
the TRACS advisory council for approval.
If Plato is right about the beginning being
the most important part of the work,
then the journey to becoming a teacher
should include a beginning filled with
varied learning experiences, professional
development activities and opportunities
for students to engage with WCU faculty,
staff and public school teachers. This past
academic year, 50 first-year education majors
began their journey as members of the Whee
Teach LLC. Program highlights include, but
are not limited to:
• Taking two academic courses– a first-year
seminar and English 101
• Joining the Whee Teach student
organization and contributing to
organization goals
•
Participating in curricular/co-curricular
programming such as documentary films,
panel discussions, town hall meetings,
guest speakers, book studies, etc.
• Volunteering to help with the garden
project at Cullowhee Valley School and
CEAP recruitment activities
• Attending and reflecting on the First
Thursday speaker series sponsored by the
School of Teaching and Learning
• Interacting with RAs who were also
education majors
Perhaps the most significant outcome of the
Whee Teach LLC was that some members
requested to continue the LLC journey
during their sophomore year. As a result,
Whee Teach 2 was established, housed in
Harrill Hall with an upper class education
major serving as RA, and will take their first
WCU is a University of North Carolina campus and an Equal Opportunity Institution. Office of Creative Services | August 2012 | 12-577
education course together (EDCI 201). By
student request, Whee Teach 2 participants
will serve as mentors for the freshmen LLC
and will be trained and supported by a CEAP
faculty mentor.
The addition of a dozen enthusiastic WHEE
Teach 2 LLC mentors for this academic year
is creating new opportunities to integrate
information from a variety of contexts,
resulting in a rich college experience for firstyear students. Program objectives follow:
•
Provide mentor training and develop
team-building activities to Whee Teach
2 mentors that include the tools needed
to best support our first-year students and
their transition to college life (scheduled
the week of freshman move in)
•
Collaborate with the EDCI 201 instructor,
faculty mentor and Whee teach student
organization faculty sponsor to identify
connections between WHEE Teach 2 LLC,
mentoring activities and the course
•
Capitalize on academic course schedules
(transition course and first-year seminar)
offered at the same time/day to provide
opportunities for team-teaching and
collaborative activities
P R OUD PARTNER
Proud Partner
•
Meet regularly with WHEE Teach 2 LLC
mentors and RAs to identify course topics
that can be incorporated into their
activity plans, to reinforce and advance
integrated and engaged learning (from
the "classroom to the living room")
•
Increase involvement with school and
community initiatives that focus on the
development of collaborative
partnerships, providing opportunities
for civic engagement with public schools
for WHEE Teach and Whee Teach 2 LLCs
•
Create activities that lead to powerful
conversations and an exchange of ideas
but also strengthen relationships between
mentor/mentee groups as well as with
CEAP faculty
It has been said that it takes a village to
raise a child, and it can certainly be said
that it takes a village to "raise" a learning
community. Members of the CEAP "village"
who are providing direct support for WHEE
Teach/2 LLCs were intentionally selected
because of the knowledge and experiences
they brought to the program. They are
currently serving as academic advisers or are
CEAP faculty/EPA nonfaculty with public
school teaching experience, are part of a
strong network of support and are committed
to the success of CEAP LLCs.
Thoughts for the future include expanding
WHEE Teach to include additional teacher
education majors. This year, the LLC was
almost full before orientation began and
there are currently students on a waiting list.
Several faculty have also expressed interest
in adding an international field experience
tied to the first education course, EDCI 201.
Intentionality is central to the success of this
idea. For instance, students interested in this
experience could form an international LLC
or be a subgroup within WHEE Teach. These
students would take a liberal studies course
(or courses) that supports the field experience
(i.e., taking German fall of sophomore year
as a cohort and visiting German schools
during spring break to fulfill field component
of EDCI 201). Connections between the
liberal studies program and this experience
are actually limitless and without a doubt
WHEE Teach International supports QEP and
FYE goals and outcomes. What better way to
begin the journey to the classroom!
'Red Zone' Initiative Reminds Campus
Community of Dangers of New School Year
As we embark on a new school year, it is important to remember that we also enter the
"Red Zone," the six-week period when students – especially those in their first and second
years – are more at-risk of unwanted sexual experiences on college campuses. To combat this,
departments from across campus strive to not only heighten understanding of the meaning of
consent and dangers of sexual violence but also to create a community culture where violence
of any kind is not tolerated.
In 2011 alone, almost 600 individuals took the Red Zone Pledge to make a powerful statement
standing up against violence and supporting their friends, classmates, co-workers and
neighbors. Annual programs such as Take Back the Night continue to create an empowering
and judgment-free space for those affected by sexual or dating violence to shatter the silence
and find support in their community. Throughout the upcoming fall, events that touch
upon these themes (for example, Speed Dating: Staying Out of the Red Zone, Take Back the
Night, Hit the "C" Spot – Consent, etc.) will take place. With this, we are committed not
only to teaching individuals to be safe in our community and amplify awareness but also to
A Camp us Wide Collaborat ion
Coordinated by the Department of Intercultural Affairs
challenging the way we look at sexual assault and unhealthy relationships and to working
Coordinated by the department of Intercultural Affairs
together to take proactive steps to make a difference and advocate for change.
For more information, or to sign the Red Zone Pledge, please visit redzone.wcu.edu or
contact Sarah Carter at [email protected]
The FYE JOURNAL | PAGE 11
Office for Undergraduate Studies
555 HF Robinson
Cullowhee, NC 28723
Glenda Hensley, FYE Director
828.227.2786 | [email protected]
Think First
Be Involved
Discover
College
Celebrate
the creed
MY FYE
GOALS
EYE on FYE:
Celebrate the Creed
By Gabby Robinson – Class of 2014
This past year the people behind the scenes
of the EYE on FYE celebration decided to do
some tweaking of the contest rules, expand
the types of entries allowed and frame the
contest with a theme – the WCU Student
Community Creed. The creed is a set of
principles by which WCU the students are
expected to live – the kinds of behaviors and
actions that WCU students should embrace
to be good students and citizens and a way
of life that will help them to succeed on
their "climb" here at Western Carolina.
With the adoption of the theme, many other
elements of the contest evolved. Instead
of limiting entries to video documents, we
expanded the contest to include multiple
forms of creative expression, such as creative
writing, poetry, photography, paintings,
sculpture and craft. This gave students
room to show their creative talents and
individuality as they reflected on the theme.
Another major change was to establish
different award categories. The first category
was for the best individual entry by one
first-year student. The second category
was for the best group entry (two to five
first-year students working together for one
submission). The third category was for the
best entry by a student organization. This
category opened the contest up to upper
classmen and gave them an opportunity to
set an example of how they celebrate the
WCU Community Creed.
The final category was for the best entry
by a first-year residence hall (Scott, Walker,
Buchanan and Balsam). The hall with the
best floor entry was named the EYE on FYE
Residence Hall of the Year – and for the class
of 2015 that was Scott Hall. Scott received
an engraved plaque and a giant trophy,
also engraved with its name as the first hall
winning the EYE on FYE trophy. The class
of 2016 will determine where the trophy
travels next spring – who will take the
trophy this year? Will Scott Hall keep their
claim to fame or will one of the other halls
claim the distinction?
The new changes and additions to
the contest this past year led to an
amazing entry pool filled with different
interpretations and ways to celebrate the
WCU Community Creed. I am sure this
year will bring even more ideas and exciting
opportunities. Personally, I am very excited
for what the next year brings to the contest.
So, are you ready to "Celebrate the Creed"?
Visit the FYE student page online (www.wcu.edu/27934.asp) for lots of information to help you along the way.