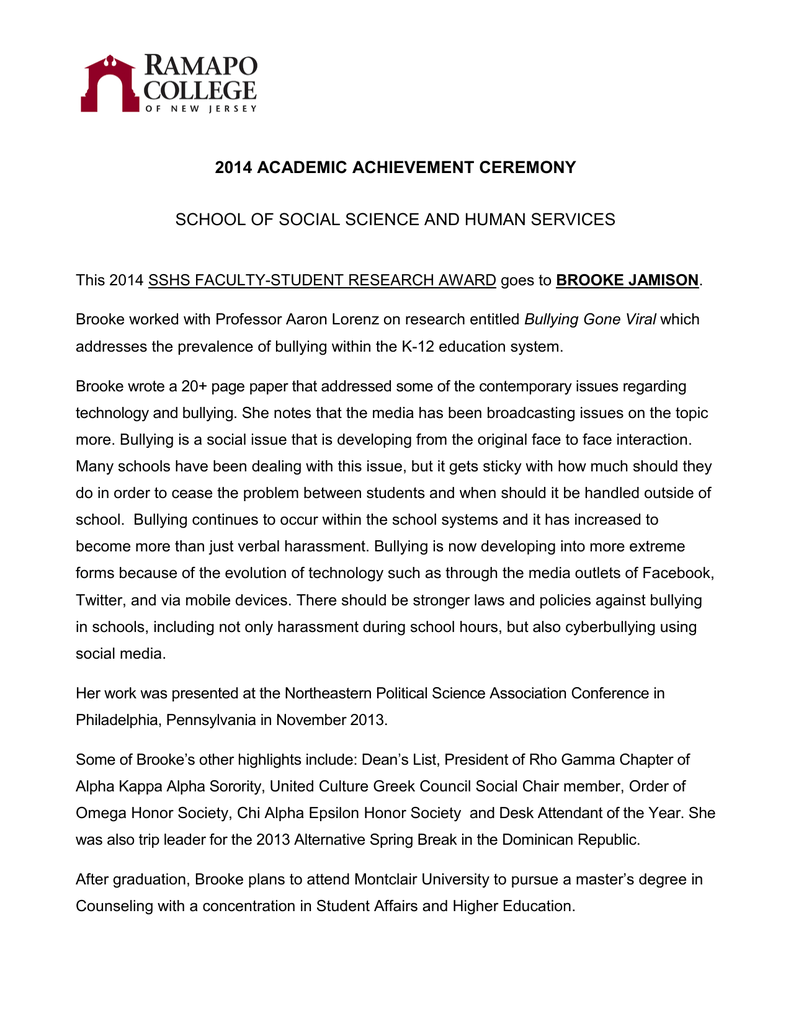 2014 ACADEMIC ACHIEVEMENT CEREMONY
SCHOOL OF SOCIAL SCIENCE AND HUMAN SERVICES
This 2014 SSHS FACULTY-STUDENT RESEARCH AWARD goes to BROOKE JAMISON.
Brooke worked with Professor Aaron Lorenz on research entitled Bullying Gone Viral which
addresses the prevalence of bullying within the K-12 education system.
Brooke wrote a 20+ page paper that addressed some of the contemporary issues regarding
technology and bullying. She notes that the media has been broadcasting issues on the topic
more. Bullying is a social issue that is developing from the original face to face interaction.
Many schools have been dealing with this issue, but it gets sticky with how much should they
do in order to cease the problem between students and when should it be handled outside of
school. Bullying continues to occur within the school systems and it has increased to
become more than just verbal harassment. Bullying is now developing into more extreme
forms because of the evolution of technology such as through the media outlets of Facebook,
Twitter, and via mobile devices. There should be stronger laws and policies against bullying
in schools, including not only harassment during school hours, but also cyberbullying using
social media.
Her work was presented at the Northeastern Political Science Association Conference in
Philadelphia, Pennsylvania in November 2013.
Some of Brooke's other highlights include: Dean's List, President of Rho Gamma Chapter of
Alpha Kappa Alpha Sorority, United Culture Greek Council Social Chair member, Order of
Omega Honor Society, Chi Alpha Epsilon Honor Society and Desk Attendant of the Year. She
was also trip leader for the 2013 Alternative Spring Break in the Dominican Republic.
After graduation, Brooke plans to attend Montclair University to pursue a master's degree in
Counseling with a concentration in Student Affairs and Higher Education.