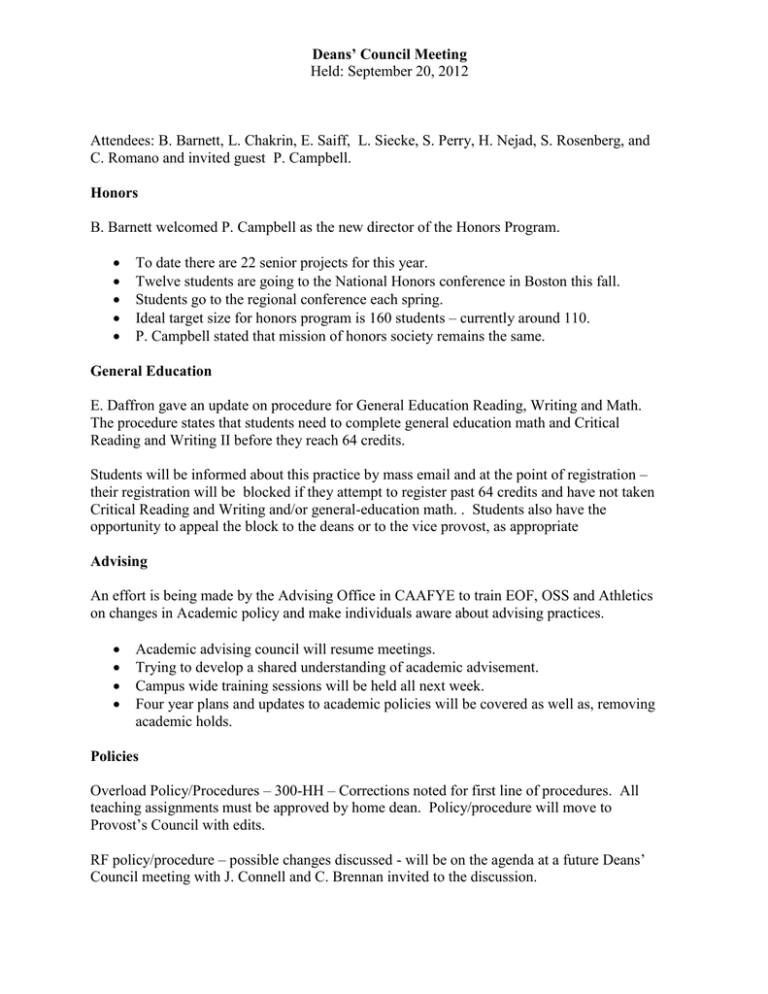 Deans' Council Meeting
Held: September 20, 2012
Attendees: B. Barnett, L. Chakrin, E. Saiff, L. Siecke, S. Perry, H. Nejad, S. Rosenberg, and
C. Romano and invited guest P. Campbell.
Honors
B. Barnett welcomed P. Campbell as the new director of the Honors Program.





To date there are 22 senior projects for this year.
Twelve students are going to the National Honors conference in Boston this fall.
Students go to the regional conference each spring.
Ideal target size for honors program is 160 students – currently around 110.
P. Campbell stated that mission of honors society remains the same.
General Education
E. Daffron gave an update on procedure for General Education Reading, Writing and Math.
The procedure states that students need to complete general education math and Critical
Reading and Writing II before they reach 64 credits.
Students will be informed about this practice by mass email and at the point of registration –
their registration will be blocked if they attempt to register past 64 credits and have not taken
Critical Reading and Writing and/or general-education math. . Students also have the
opportunity to appeal the block to the deans or to the vice provost, as appropriate
Advising
An effort is being made by the Advising Office in CAAFYE to train EOF, OSS and Athletics
on changes in Academic policy and make individuals aware about advising practices.




Academic advising council will resume meetings.
Trying to develop a shared understanding of academic advisement.
Campus wide training sessions will be held all next week.
Four year plans and updates to academic policies will be covered as well as, removing
academic holds.
Policies
Overload Policy/Procedures – 300-HH – Corrections noted for first line of procedures. All
teaching assignments must be approved by home dean. Policy/procedure will move to
Provost's Council with edits.
RF policy/procedure – possible changes discussed - will be on the agenda at a future Deans'
Council meeting with J. Connell and C. Brennan invited to the discussion.
Planning

Oct 4 Deans' Council meeting time will be used to review Education Dynamics
findings from the market study for adult and graduate students.

Review of Planning and Deans' responsibilities along with wording to be included on
4th and 5th year reappointment letters.

Discussion on Deans' Lecture series and calls for proposals.

Faculty Student Research – reports on these should be included in the unit's annual
reports.

Number of students participating in faculty/student research activities will increase by
2%.