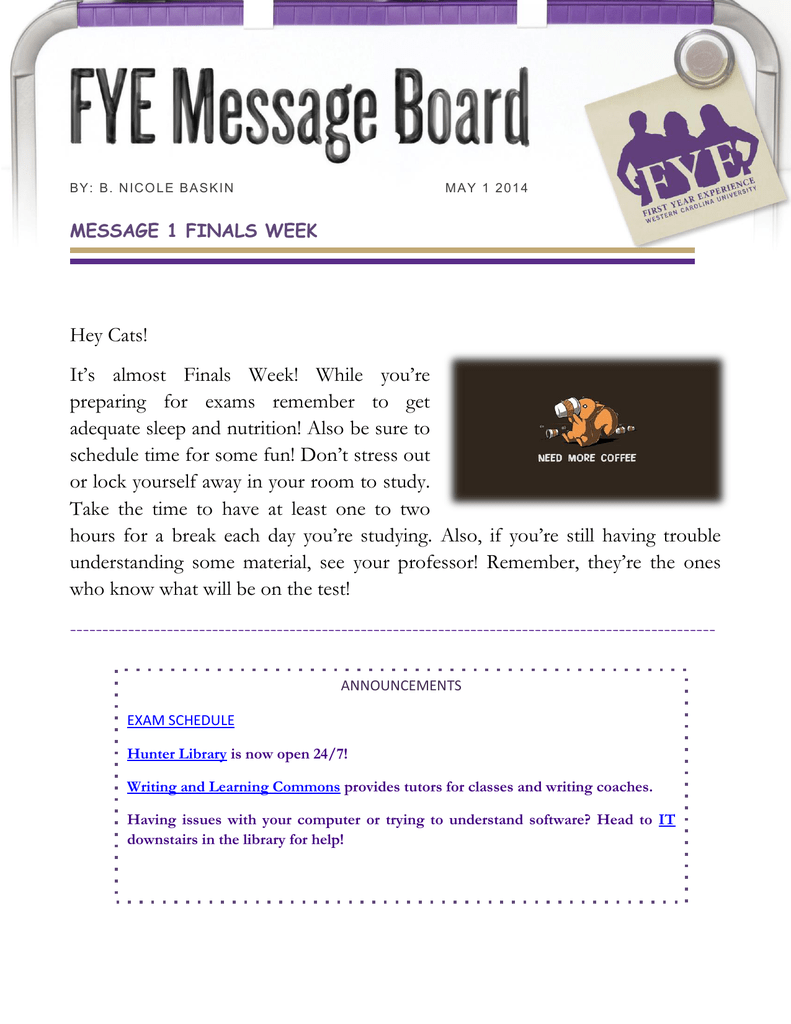 B Y: B. N ICO L E B A S K I N
M A Y 1 2 01 4
MESSAGE 1 FINALS WEEK
Hey Cats!
It's almost Finals Week! While you're
preparing for exams remember to get
adequate sleep and nutrition! Also be sure to
schedule time for some fun! Don't stress out
or lock yourself away in your room to study.
Take the time to have at least one to two
hours for a break each day you're studying. Also, if you're still having trouble
understanding some material, see your professor! Remember, they're the ones
who know what will be on the test!
---------------------------------------------------------------------------------------------------ANNOUNCEMENTS
EXAM SCHEDULE
Hunter Library is now open 24/7!
Writing and Learning Commons provides tutors for classes and writing coaches.
Having issues with your computer or trying to understand software? Head to IT
downstairs in the library for help!
Want to be in an issue of the Message Board?
A new section called "CUB's Corner" IS NOW OPEN! This section is all about YOU!
Show off your creativity! We need new cubs to submit their own works such as an original poem,
video, drawing/ comic strip, short story, almost anything!
There will also be a lucky cub featured in one week's issue for getting involved on campus.
Whether it's through volunteer work, club/organization, or an event on campus! Simply send in a
picture or short video and a short description of yourself and what you're doing to stay involved
on campus! Need advice? Cub's Corner will also feature an Ask Mitten's column!
All submission types are to be sent to [email protected]!
MESSAGE 2 EVENTS
Your journey ---- Your goals
WCU's Controlled Chaos Film Festival!
Bardo Art Center Friday May 2nd at 7:00PM
On May 2nd WCU's Film and Television Production Program will be hosting their sixth annual Controlled Chaos Film
Festival! The event will be held at the Bardo Arts Center at 7:00pm. It is open to WCU students and the rest of the
public. Early Bird tickets can be purchased for $8.00 at the Stage and Screen office starting March 31. Tickets at
the door will be $10.00. So come, have fun, and see some student films!
The Art of Worship Go North
Bardo Art Center Monday May 5th at 5:00PM
Monday May 5, at A dance concert and worship by Trivium Dance.
BASEBALL
WCU VS APP STATE MAY 2 @ 5PM AT HENNON STADIUM
WCU VS APP STATE MAY 3 @2PM AT HENNON STADIUM
WCU VS APP STATE MAY 4 @1PM AT HENNON STADIUM
Find out more on what's happening on campus at Events Page!
Discover College
Adapt to new environments and responsibilities - discover and use the resources available to you!
Be Involved
Identify and act upon your role and responsibility as an engaged citizen - be an active participant in your learning
experiences!
Connect the Dots
Connect your personal interests and abilities, academics, and co-curricular activities as you make sense of the
world.
Think First
Identify complex issues or problems – evaluate your options to make an informed decision - reflect on the
implications of your choice.
Exchange Ideas
Communicate appropriately and respectfully in a variety of formats and contexts.
Calibrate Your Compass
Examine your values and goals - take responsibility for your own learning and development - act with integrity!