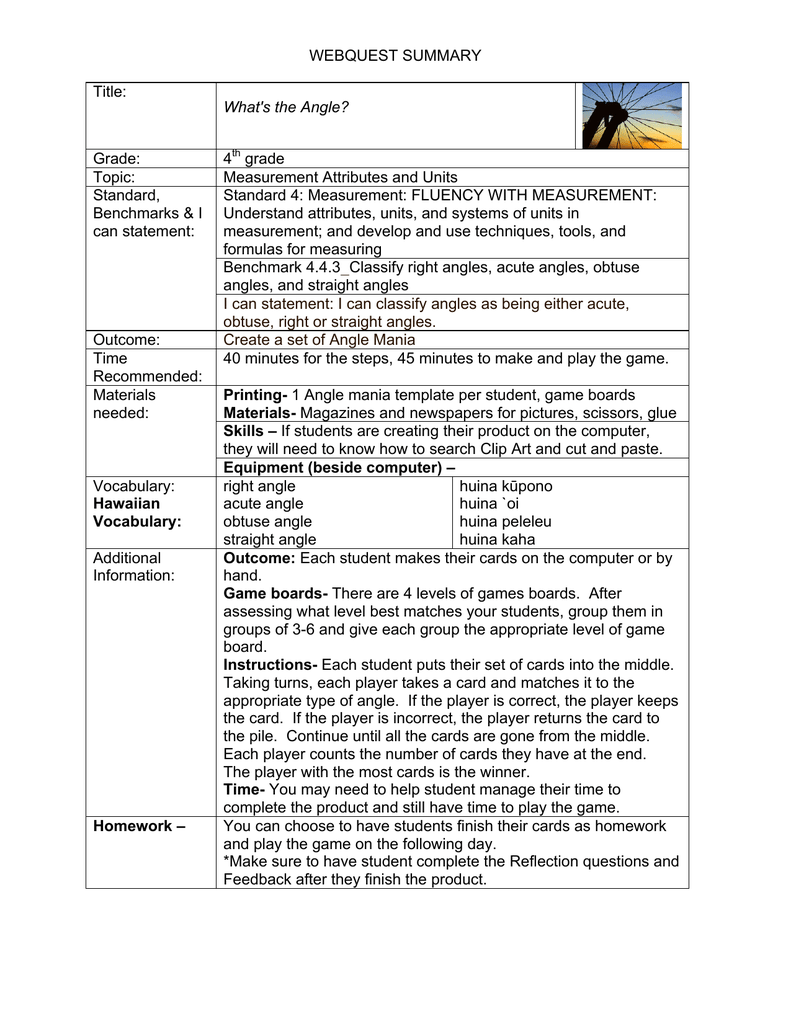 WEBQUEST SUMMARY
Title:
Grade:
Topic:
Standard,
Benchmarks & I
can statement:
Outcome:
Time
Recommended:
Materials
needed:
Vocabulary:
Hawaiian
Vocabulary:
Additional
Information:
Homework –
What's the Angle?
4th grade
Measurement Attributes and Units
Standard 4: Measurement: FLUENCY WITH MEASUREMENT:
Understand attributes, units, and systems of units in
measurement; and develop and use techniques, tools, and
formulas for measuring
Benchmark 4.4.3 Classify right angles, acute angles, obtuse
angles, and straight angles
I can statement: I can classify angles as being either acute,
obtuse, right or straight angles.
Create a set of Angle Mania
40 minutes for the steps, 45 minutes to make and play the game.
Printing- 1 Angle mania template per student, game boards
Materials- Magazines and newspapers for pictures, scissors, glue
Skills – If students are creating their product on the computer,
they will need to know how to search Clip Art and cut and paste.
Equipment (beside computer) –
right angle
huina kūpono
acute angle
huina `oi
obtuse angle
huina peleleu
straight angle
huina kaha
Outcome: Each student makes their cards on the computer or by
hand.
Game boards- There are 4 levels of games boards. After
assessing what level best matches your students, group them in
groups of 3-6 and give each group the appropriate level of game
board.
Instructions- Each student puts their set of cards into the middle.
Taking turns, each player takes a card and matches it to the
appropriate type of angle. If the player is correct, the player keeps
the card. If the player is incorrect, the player returns the card to
the pile. Continue until all the cards are gone from the middle.
Each player counts the number of cards they have at the end.
The player with the most cards is the winner.
Time- You may need to help student manage their time to
complete the product and still have time to play the game.
You can choose to have students finish their cards as homework
and play the game on the following day.
*Make sure to have student complete the Reflection questions and
Feedback after they finish the product.