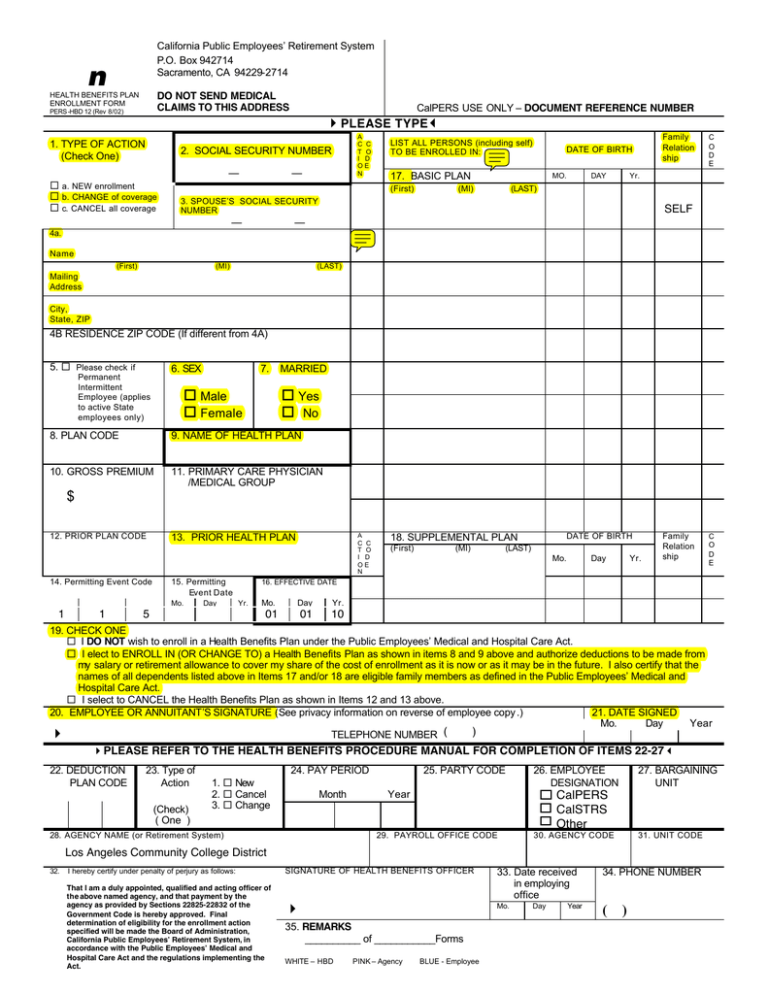 California Public Employees' Retirement System
P.O. Box 942714
Sacramento, CA 94229-2714
n
HEALTH BENEFITS PLAN
ENROLLMENT FORM
DO NOT SEND MEDICAL
CLAIMS TO THIS ADDRESS
PERS -HBD 12 (Rev 8/02)
CalPERS USE ONLY – DOCUMENT REFERENCE NUMBER
PLEASE TYPE
1. TYPE OF ACTION
(Check One)
A
C C
T O
I D
OE
N
2. SOCIAL SECURITY NUMBER
—
 a. NEW enrollment
 b. CHANGE of coverage
 c. CANCEL all coverage
—
LIST ALL PERSONS (including self)
TO BE ENROLLED IN:
17. BASIC PLAN
(First)
MO.
(MI)
Family
Relation
ship
DATE OF BIRTH
DAY
Yr.
(LAST)
SELF
3. SPOUSE'S SOCIAL SECURITY
NUMBER
—
C
O
D
E
SELF
—
4a.
Name
(First)
(MI)
(LAST)
Mailing
Address
City,
State, ZIP
4B RESIDENCE ZIP CODE (If different from 4A)
5.  Please check if
6. SEX
Permanent
Intermittent
Employee (applies
to active State
employees only)
7.
 Male
 Female
MARRIED
 Yes
 No
8. PLAN CODE
9. NAME OF HEALTH PLAN
10. GROSS PREMIUM
11. PRIMARY CARE PHYSICIAN
/MEDICAL GROUP
$
12. PRIOR PLAN CODE
14. Permitting Event Code
13. PRIOR HEALTH PLAN
15. Permitting
Event Date
Mo.
1
1
Day
5
A
C C
T O
I D
OE
N
DATE OF BIRTH
18. SUPPLEMENTAL PLAN
(First)
(MI)
(LAST)
Mo.
Day
Yr.
Family
Relation
ship
C
O
D
E
16. EFFECTIVE DATE
Yr.
Mo.
01
Day
Yr.
01
10
19. CHECK ONE
 I DO NOT wish to enroll in a Health Benefits Plan under the Public Employees' Medical and Hospital Care Act.
 I elect to ENROLL IN (OR CHANGE TO) a Health Benefits Plan as shown in items 8 and 9 above and authorize deductions to be made from
my salary or retirement allowance to cover my share of the cost of enrollment as it is now or as it may be in the future. I also certify that the
names of all dependents listed above in Items 17 and/or 18 are eligible family members as defined in the Public Employees' Medical and
Hospital Care Act.
 I select to CANCEL the Health Benefits Plan as shown in Items 12 and 13 above.
20. EMPLOYEE OR ANNUITANT'S SIGNATURE (See privacy information on reverse of employee copy .)
21. DATE SIGNED
Mo.
Day
Year

TELEPHONE NUMBER (( ) )
PLEASE REFER TO THE HEALTH BENEFITS PROCEDURE MANUAL FOR COMPLETION OF ITEMS 22-27
22. DEDUCTION
PLAN CODE
23. Type of
Action
(Check)
( One )
24. PAY PERIOD
1.  New
2.  Cancel
3.  Change
Month
28. AGENCY NAME (or Retirement System)
25. PARTY CODE
Year
29. PAYROLL OFFICE CODE
26. EMPLOYEE
DESIGNATION
CalPERS
CalSTRS
Other
30. AGENCY CODE
27. BARGAINING
UNIT
31. UNIT CODE
Los Angeles Community College District
32.
I hereby certify under penalty of perjury as follows:
That I am a duly appointed, qualified and acting officer of
the above named agency, and that payment by the
agency as provided by Sections 22825-22832 of the
Government Code is hereby approved. Final
determination of eligibility for the enrollment action
specified will be made the Board of Administration,
California Public Employees' Retirement System, in
accordance with the Public Employees' Medical and
Hospital Care Act and the regulations implementing the
Act.
SIGNATURE OF HEALTH BENEFITS OFFICER
33. Date received
in employing
office
34. PHONE NUMBER

Mo.
( )
35. REMARKS
__________ of ___________Forms
WHITE – HBD
PINK – Agency
BLUE - Employee
Day
Year
PRIVACY INFORMATION
Submission of the requested information is mandatory. The information requested is collected
pursuant to the Government Code Sections (20000. et seq.) and will be used for administration of
the Board's duties under the Retirement Law, the Social Security Act, and the Public Employees'
Medical and Hospital Care Act, as the case may be. Portions of this information may be
transferred to another governmental agency (such as your employer), but only in strict
accordance with current statutes regarding confidentiality. Failure to supply the information may
result in the System being unable to perform its functions regarding your status.
You have the right to review your membership files maintained by the System. For questions
concerning your rights under the Information Practices Act of 1977, please contact the
Information Practices Act Coordinator, CalPERS, PO Box 942702, Sacramento, CA 942292702.
Section 7(b), of the Privacy Act of 1974 (Public Law 93—579) requires that any federal, state, or
local governmental agency which requests an individual to disclose his Social Security account
number shall inform that individual whether that disclosure is mandatory or voluntary, by which
statutory or other authority such number is solicited, and what uses will be made of it.
The Office of Employer and Member Health Services of the California Public Employees'
Retirement System request each enrollee's Social Security account number on a voluntary basis.
However, it should be noted that due to the use of Social Security account numbers by other
agencies for identification purposes, the Office of Employer and Member Health Services may
be unable to verify eligibility for benefits without the Social Security account number.
The Office of Employer and Member Health Services of the California Public Employees'
Retirement System uses Social Security account numbers for the following purposes:
1.
2.
3.
4.
5.
Enrollee identification for eligibility processing and eligibility verification
Payroll deduction and state contribution for state employees
Billing of contracting agencies for employee and employer contributions
Reports to the California Public Employees' Retirement System and other state agencies
Coordination of benefits among carriers
BINDING ARBITRATION
Enrollment in certain plans constitutes an agreement to have any issue of medical malpractice
decided by neutral arbitration and waiver of any right to a jury or court trial. Refer to the
HBD-DO-29 or HBD-DO-22 to determine if this provision is applicable to your plan.