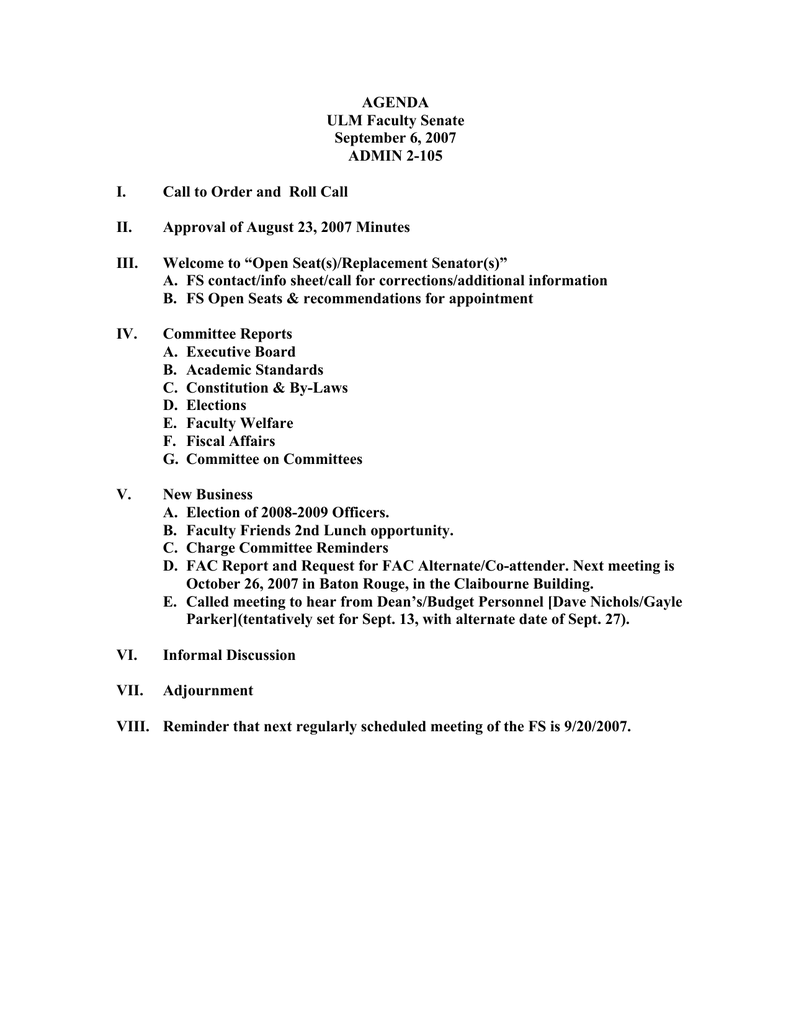 AGENDA
ULM Faculty Senate
September 6, 2007
ADMIN 2-105
I.
Call to Order and Roll Call
II.
Approval of August 23, 2007 Minutes
III.
Welcome to "Open Seat(s)/Replacement Senator(s)"
A. FS contact/info sheet/call for corrections/additional information
B. FS Open Seats & recommendations for appointment
IV.
Committee Reports
A. Executive Board
B. Academic Standards
C. Constitution & By-Laws
D. Elections
E. Faculty Welfare
F. Fiscal Affairs
G. Committee on Committees
V.
New Business
A. Election of 2008-2009 Officers.
B. Faculty Friends 2nd Lunch opportunity.
C. Charge Committee Reminders
D. FAC Report and Request for FAC Alternate/Co-attender. Next meeting is
October 26, 2007 in Baton Rouge, in the Claibourne Building.
E. Called meeting to hear from Dean's/Budget Personnel [Dave Nichols/Gayle
Parker](tentatively set for Sept. 13, with alternate date of Sept. 27).
VI.
Informal Discussion
VII.
Adjournment
VIII. Reminder that next regularly scheduled meeting of the FS is 9/20/2007.