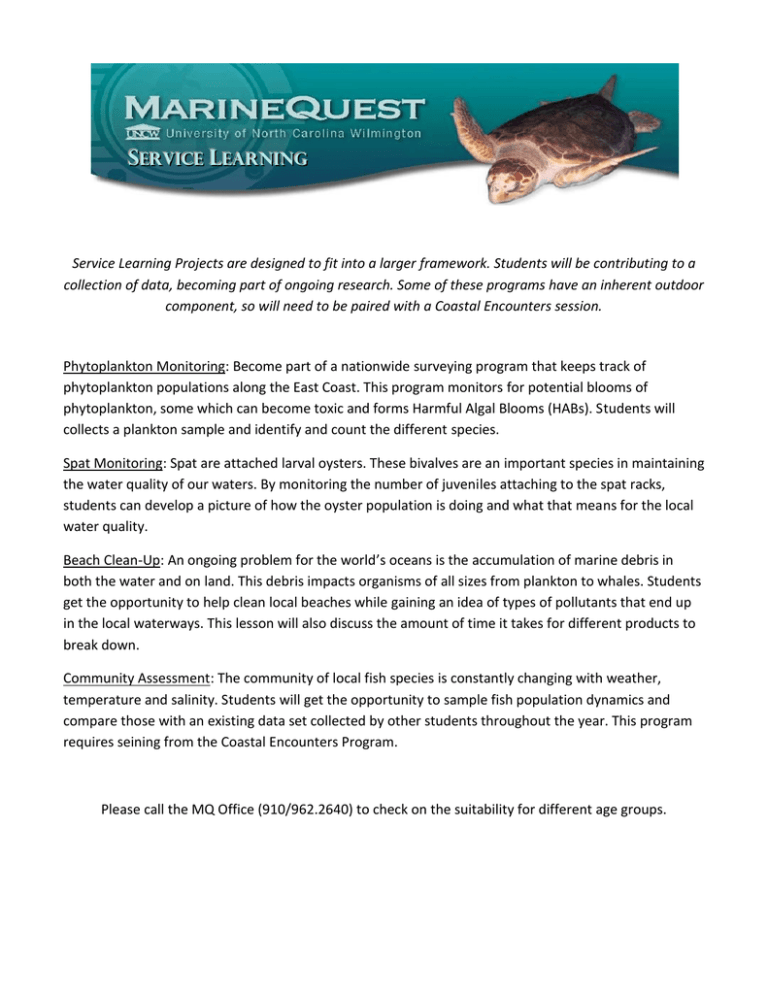 SSEER
RV
VIIC
CEE L
LEEA
AR
RN
NIIN
NG
G
Service Learning Projects are designed to fit into a larger framework. Students will be contributing to a
collection of data, becoming part of ongoing research. Some of these programs have an inherent outdoor
component, so will need to be paired with a Coastal Encounters session.
Phytoplankton Monitoring: Become part of a nationwide surveying program that keeps track of
phytoplankton populations along the East Coast. This program monitors for potential blooms of
phytoplankton, some which can become toxic and forms Harmful Algal Blooms (HABs). Students will
collects a plankton sample and identify and count the different species.
Spat Monitoring: Spat are attached larval oysters. These bivalves are an important species in maintaining
the water quality of our waters. By monitoring the number of juveniles attaching to the spat racks,
students can develop a picture of how the oyster population is doing and what that means for the local
water quality.
Beach Clean-Up: An ongoing problem for the world's oceans is the accumulation of marine debris in
both the water and on land. This debris impacts organisms of all sizes from plankton to whales. Students
get the opportunity to help clean local beaches while gaining an idea of types of pollutants that end up
in the local waterways. This lesson will also discuss the amount of time it takes for different products to
break down.
Community Assessment: The community of local fish species is constantly changing with weather,
temperature and salinity. Students will get the opportunity to sample fish population dynamics and
compare those with an existing data set collected by other students throughout the year. This program
requires seining from the Coastal Encounters Program.
Please call the MQ Office (910/962.2640) to check on the suitability for different age groups.