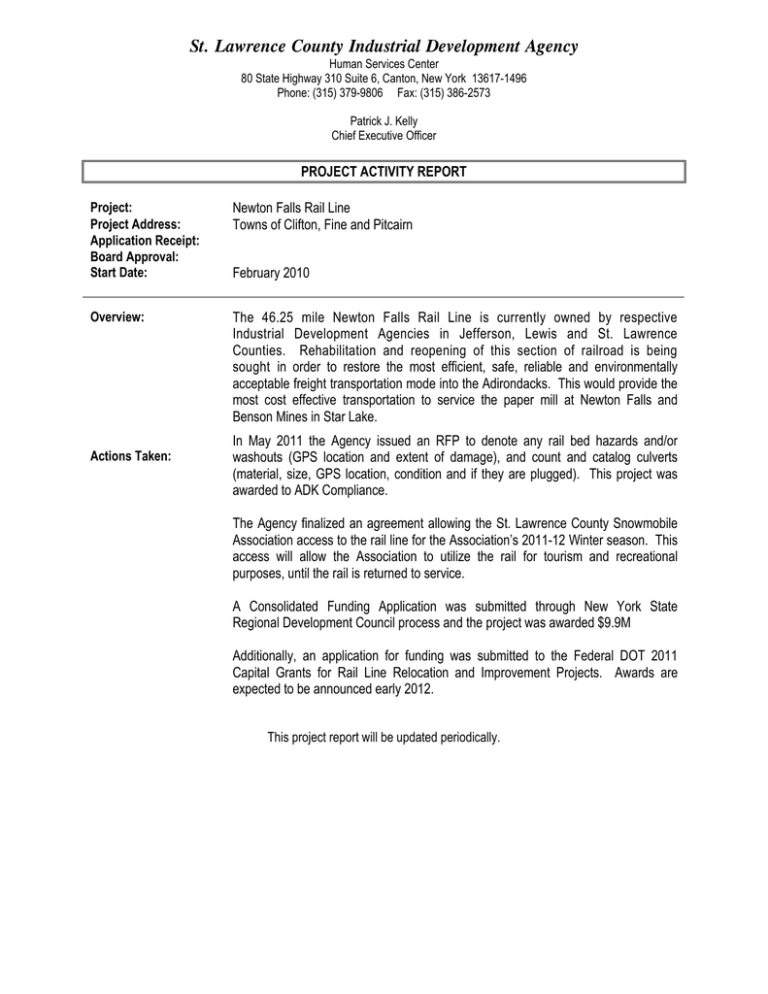 St. Lawrence County Industrial Development Agency
Human Services Center
80 State Highway 310 Suite 6, Canton, New York 13617-1496
Phone: (315) 379-9806 Fax: (315) 386-2573
Patrick J. Kelly
Chief Executive Officer
PROJECT ACTIVITY REPORT
Project:
Project Address:
Application Receipt:
Board Approval:
Start Date:
Newton Falls Rail Line
Towns of Clifton, Fine and Pitcairn
Overview:
The 46.25 mile Newton Falls Rail Line is currently owned by respective
Industrial Development Agencies in Jefferson, Lewis and St. Lawrence
Counties. Rehabilitation and reopening of this section of railroad is being
sought in order to restore the most efficient, safe, reliable and environmentally
acceptable freight transportation mode into the Adirondacks. This would provide the
most cost effective transportation to service the paper mill at Newton Falls and
Benson Mines in Star Lake.
Actions Taken:
February 2010
In May 2011 the Agency issued an RFP to denote any rail bed hazards and/or
washouts (GPS location and extent of damage), and count and catalog culverts
(material, size, GPS location, condition and if they are plugged). This project was
awarded to ADK Compliance.
The Agency finalized an agreement allowing the St. Lawrence County Snowmobile
Association access to the rail line for the Association's 2011-12 Winter season. This
access will allow the Association to utilize the rail for tourism and recreational
purposes, until the rail is returned to service.
A Consolidated Funding Application was submitted through New York State
Regional Development Council process and the project was awarded $9.9M
Additionally, an application for funding was submitted to the Federal DOT 2011
Capital Grants for Rail Line Relocation and Improvement Projects. Awards are
expected to be announced early 2012.
This project report will be updated periodically.