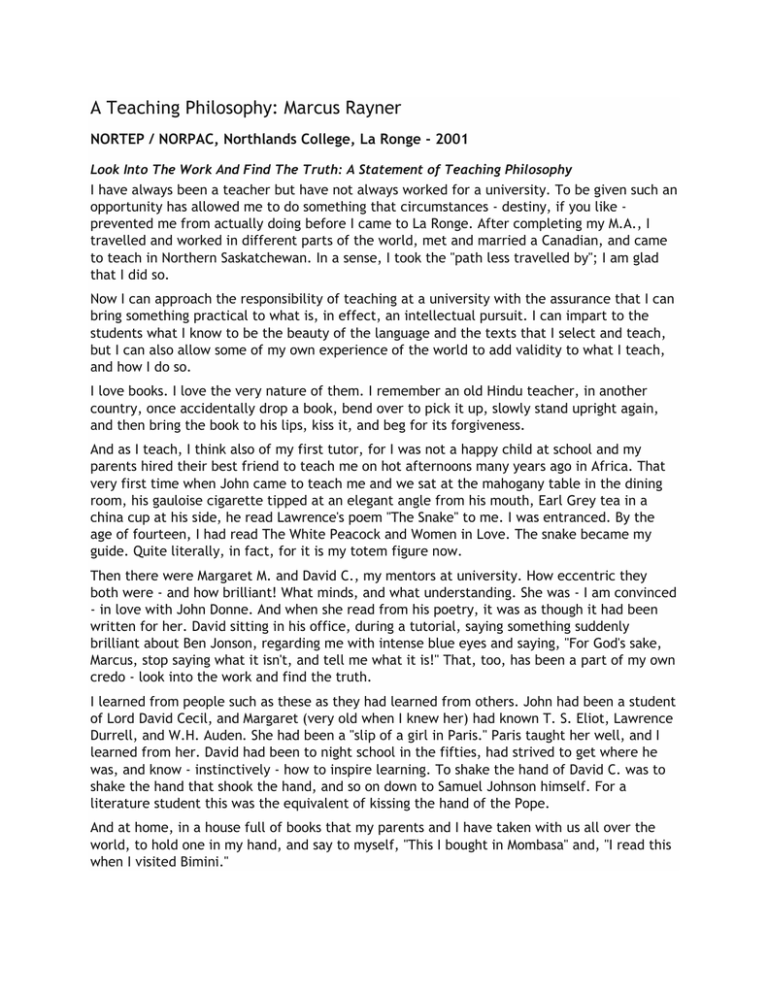 A Teaching Philosophy: Marcus Rayner
NORTEP / NORPAC, Northlands College, La Ronge - 2001
Look Into The Work And Find The Truth: A Statement of Teaching Philosophy
I have always been a teacher but have not always worked for a university. To be given such an
opportunity has allowed me to do something that circumstances - destiny, if you like prevented me from actually doing before I came to La Ronge. After completing my M.A., I
travelled and worked in different parts of the world, met and married a Canadian, and came
to teach in Northern Saskatchewan. In a sense, I took the "path less travelled by"; I am glad
that I did so.
Now I can approach the responsibility of teaching at a university with the assurance that I can
bring something practical to what is, in effect, an intellectual pursuit. I can impart to the
students what I know to be the beauty of the language and the texts that I select and teach,
but I can also allow some of my own experience of the world to add validity to what I teach,
and how I do so.
I love books. I love the very nature of them. I remember an old Hindu teacher, in another
country, once accidentally drop a book, bend over to pick it up, slowly stand upright again,
and then bring the book to his lips, kiss it, and beg for its forgiveness.
And as I teach, I think also of my first tutor, for I was not a happy child at school and my
parents hired their best friend to teach me on hot afternoons many years ago in Africa. That
very first time when John came to teach me and we sat at the mahogany table in the dining
room, his gauloise cigarette tipped at an elegant angle from his mouth, Earl Grey tea in a
china cup at his side, he read Lawrence's poem "The Snake" to me. I was entranced. By the
age of fourteen, I had read The White Peacock and Women in Love. The snake became my
guide. Quite literally, in fact, for it is my totem figure now.
Then there were Margaret M. and David C., my mentors at university. How eccentric they
both were - and how brilliant! What minds, and what understanding. She was - I am convinced
- in love with John Donne. And when she read from his poetry, it was as though it had been
written for her. David sitting in his office, during a tutorial, saying something suddenly
brilliant about Ben Jonson, regarding me with intense blue eyes and saying, "For God's sake,
Marcus, stop saying what it isn't, and tell me what it is!" That, too, has been a part of my own
credo - look into the work and find the truth.
I learned from people such as these as they had learned from others. John had been a student
of Lord David Cecil, and Margaret (very old when I knew her) had known T. S. Eliot, Lawrence
Durrell, and W.H. Auden. She had been a "slip of a girl in Paris." Paris taught her well, and I
learned from her. David had been to night school in the fifties, had strived to get where he
was, and know - instinctively - how to inspire learning. To shake the hand of David C. was to
shake the hand that shook the hand, and so on down to Samuel Johnson himself. For a
literature student this was the equivalent of kissing the hand of the Pope.
And at home, in a house full of books that my parents and I have taken with us all over the
world, to hold one in my hand, and say to myself, "This I bought in Mombasa" and, "I read this
when I visited Bimini."
Here's a book from my shelves. Open it. Eliot's The Use of Poetry and the Use of Criticism.
Now read on the flyleaf a person's name, an address - a street in Bloomsbury, London - a
date, October 1940, and the inscription, "Heavy raids last night." In all that horror and
destruction, someone, probably an air-raid warden, read those eminently intellectual essays
as the world tumbled down around him. Did he survive? I sense that he did not. But the book
did. And we, as teachers, are honour-bound to teach that most crucial lesson that this man
knew half a century ago - that the written word has a power to transcend everything.
Civilizations will fall: the intellect survives intact.
If I am to consider myself a teacher of any calibre, then it must be because I have been shown
how to do so by the very best. And I have read books that belonged to others who also valued
and took strength from poetry and stories, novels and essays. I have an obligation to impart
this to all my students, whoever they are and wherever they come from.
Bespectacled and rather vague, the old man who dropped his book chose, purely by accident,
the path for another. I kiss the book.